Here are 3 on Mariners' wish list -- and guess what, none is Joe Girardi
Chip Hale, Ron Wotus and Pete Mackanin are three of many of the Mariners' "short" list.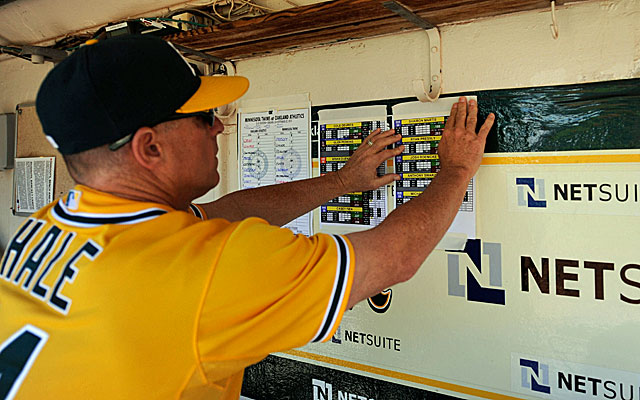 Hey, here's a switch. Joe Girardi does not top at least one team's managerial wish list.
The Mariners have composed a very long "short" list of perhaps 20 or more names, but Girardi's name is nowhere to be found. That, of course, is not because they don't view Girardi as a very good manager but very likely because they understand the six-year Yankees manager, New York resident and Illinois native who already has his choice of at least the Yankees and Cubs is unlikely to reject those overtures to move 3,000 miles away to join a team that's posted losing records four years running.
Three names believed to be on the Mariners' lengthy list include A's coach Chip Hale, Giants coach Ron Wotus plus Pete Mackanin, the ex-Reds interim manager who was announced Tuesday as Ryne Sandberg's third base coach in Philadelphia. Those are just three of probably close to a couple dozen names on their list, though.
Interviews are not expected to commence for another week or so for the job Eric Wedge bizarrely vacated one day after saying he'd like to be back managing the team.
Hammerin' Hank wants to see Kaepernick get another shot in the NFL

Will Tanaka or Upton try their luck in free agency again in the offseason?

Pujols smacked his 610th career home run Tuesday night
Who will be the wild cards? Who will be most healthy? Who will be hot? This could be fun.

The story of a game that had 22 innings, one run, one mascot ejection and so much more

Plus Adrian Gonzalez and J.D. Martinez reach milestones and everything else from Tuesday b...