Here's plan for Andrus and Profar, baseball's best shortstop tandem
The Rangers have tried to lock up starting shortstop Elvis Andrus, but if they can't do it they'll likely trade him next winter. Jurickson Profar is in a tight squeeze to make the roster this season as a super utilityman, but if Andrus is dealt the SS job should be Profar's by next year.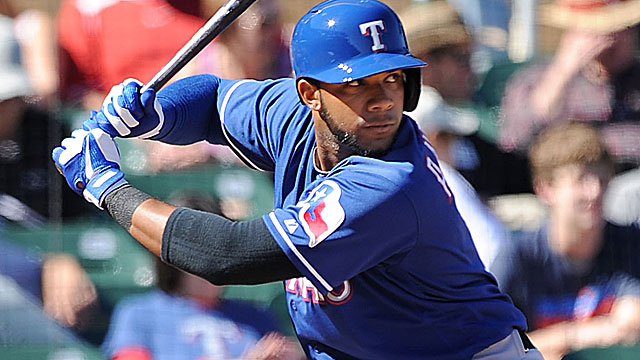 SURPRISE, Ariz. -- The Texas Rangers have twice tried to lock up All-Star shortstop Elvis Andrus to a long-term contract and are expected to make one more run at it this year, but people familiar with their thinking suggest that if the Rangers can't secure him to a multiyear deal they will likely trade him in "10 to 12 months.''
That means there's a pretty good chance he'll be on the block next winter -- which would open a spot for Jurickson Profar, who's considered by many to be baseball's top prospect but appears caught in a tight squeeze this year for a roster spot.
Rangers people are said not to be overly optimistic they can lock up Andrus but apparently would prefer to trade him rather than simply lose him as a free agent after 2014. They made their two prior efforts to sign Andrus in previous years but haven't yet broached the subject this year.
Texas declined all trade offers for Andrus this winter, including Arizona's bid to obtain Andrus for Justin Upton, which provides a pretty fair indication of how highly they regard Andrus. However, should they trade Andrus next winter, they are well covered with Profar, who seems ready to break through. The Rangers also declined to part with Profar for Upton, probably a smart call since they understand Andrus may only be a Ranger for another year, or possibly two.
As for this year, the 20-year-old Profar was said to still be "in the mix'' for a possible super utilty role with the Rangers as he left the Rangers to join Team Netherlands in the World Baseball Classic, although it still appears to be somewhat of a tight squeeze for Profar in Texas.
Rangers people say they were impressed by Profar, who got more playing time while Andrus was playing for Venezuela, and there's a Rangers decision-making contingent that would like him to make the major-league team. But unless they can ensure him 300 at-bats at the very least, he seems more likely to begin the season at Triple-A. And that won't necessarily be easy.
There doesn't appear to be a lot of room at the moment for Profar, who is hitting .222 this spring, since a Rangers' strength is the infield with Adrian Beltre, Ian Kinsler and Mitch Moreland joining Andrus as starters. With veteran Lance Berkman as the DH, there wouldn't appear to be a lot of at-bats, barring injury. They haven't workout out Profar in the outfield this spring, and Kinsler has thus far declined to move from second to the outfield.
Some of Profar's hopes to make the team will be up to manager Ron Washington, who may need to convince the brass he can squeeze more than 300 at-bats out of Profar to keep him. Profar got into only 16 games after being called up last year, batting .176. The kid has quite a flair, though, and he has a history of coming up big in big moments; he homered in his first Rangers at-bat and also homered at the Futures Game in Kansas City. Rangers people have noticed that he has filled out a bit since last year, when he was 6-foot and 165 pounds.
Profar, who hit 14 home runs with 62 RBI and a .281 batting average at Double-A Frisco last year, may have to wait for the big leagues. But his shot at the everyday shortstop job isn't too far away; in fact, it may well come as soon as next year.
Maxwell joins a growing movement across sports

The Yankees punched their ticket to the playoffs with a win over the Blue Jays on Saturday

Sabathia's stance seems to be an increasingly popular one among athletes
Plus the A's and Brewers have hope, Giancarlo goes deep again, and much more

Matt Chapman and Matt Olson give the A's hope

Despite an awful month, the Dodgers are again NL West champions