He's not Cliff Lee, but Rangers hoping for similar magic with Garza
Devastated by injuries to starting pitchers this year, the Rangers have agreed to a deal with the Cubs and hope Matt Garza can give them the boost they need.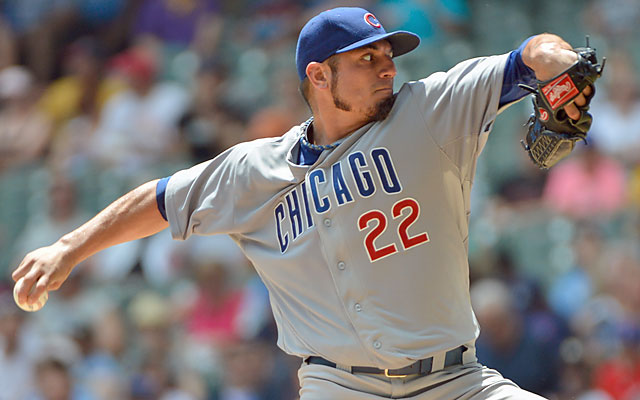 ARLINGTON, Texas -- Ron Washington, whose slumping Rangers had lost four in a row, sat back in his chair at 3 p.m. Monday afternoon and pondered the question.
Matt Garza was set to start for the Chicago Cubs in Arizona on Monday night. The Rangers, who have battled rotation injuries all year, had an opening for Thursday.
Someone joked, could Garza start on two days of rest?
"I don't know, that's what the Cubs have to decide," the Texas manager quipped.
What he meant, clearly, was that the Cubs have to decide whether to pull the trigger with the Rangers.
That they finally did is just the boost a gassed Rangers club needs to kick-start its post-All-Star break run in the AL West.
Garza was expected to fly into the Dallas-Fort Worth area on Monday night and likely will make his first start for the Rangers on Wednesday against the Yankees.
"He's one of the better big-game pitchers in the game today," Rangers general manager Jon Daniels said. "And he's as hot as anybody."
Let's be clear, Garza is no Cliff Lee. He is not a savior. He simply is the best of what appears to be a fairly weak trade market this July.
He is a strong, hard-throwing, fiery right-hander who will take the ball like the steering wheel of a bulldozer and aim it at the heart of his opponents' lineup every five days.
Lately, that has worked very well. Garza is 5-0 with a 1.24 ERA during his past six starts with Chicago.
"He's an extremely talented pitcher, and he's had success in the toughest divisions and on the biggest stages," Daniels said. "He's throwing the ball as well as anybody.
"He gives us a different look that we have, and he was available. In our opinion, he's the best pitcher who was on the market."
The Rangers didn't want him to make that start for the Cubs on Monday because they're playing from behind in the AL West and they want Garza now, for as many starts as he can give them.
The Rangers need him. They need something.
They've lost four in a row, seven of their past eight and were swept over the weekend by the Orioles.
Washington is juggling two-hole hitters like a circus act, something up in the air every day. Monday, it was Mitch Moreland.
Through all of this, they trailed the Athletics in the AL West by only three games Monday.
Better yet, this is not a team anywhere close to panic mode. All of the winning they've done around here over the past three or four years has steadied the foundation, strengthened the confidence.
"The things going wrong are easily correctable," Washington said. "We've got to correct them. There is no panic.
"We know what we need to do. We've just gotta get it done.
"We're fine. We're still in July. We're only three games out.
"I'm not pulling my hair out."
Grin.
No, he's not. Nor are the Rangers.
Yu Darvish came back from his first-ever disabled-list stint to start Monday night's opener with the Yankees. It was his first start since July 6.
The Rangers also are without starters Alexi Ogando (due to return Tuesday night for the first time since June 5), Neftali Feliz (out for the season, Tommy John surgery), Colby Lewis (who has not pitched this year after flexor tendon surgery and will not be back until at least August or September), Matt Harrison (back, hasn't pitched since April 11) and Nick Tepesch (elbow, went onto the disabled list July 7).
Lesser teams, lesser organizations, would be in a ditch right now.
But as Daniels explained, because of a deep farm system and pitching depth, even with all of those injuries, pitching has not been a weakness.
"We're really excited to add him to, really, what's been the strength of our club this year, our pitching staff," Daniels said. "With the addition of him, 1 through 12, arguably, we'll put out as strong a staff as we've ever had."
And with Washington setting the tone, the Rangers remain loose, optimistic and in good shape.
What should they expect from Ogando on Tuesday?
"If my ears start hurting, I'll have to go get him," Washington cracked. "If I don't hear all of those loud sounds, I know he's still in there."
Garza has been silencing bats for Chicago since returning from a lat injury that delayed his season debut until May 21. Since then, he's gone 6-1 with a 3.17 ERA. A free agent following the season, Garza is a classic stretch-run rental.
The Rangers are sending right-handed pitchers Justin Grimm and C.J. Edwards and third baseman Mike Olt to the Cubs, plus a player to be named later. Edwards is the key in the Cubs' eyes, with 122 strikeouts in 93 1/3 innings at Class A Hickory this season to go with an 8-2 record and 1.83 ERA.
Olt, a slugger who has regressed this season at Triple-A Round Rock, had a chance to step into the Texas outfield this spring and help pick up the slack for Josh Hamilton's absence. But he wasn't impressive this spring and the opportunity passed.
So the Rangers remain a team in flux, but it is a team that has played in two of the past three World Series. Who knows what's around the next corner, and Ryan Braun's suspension Monday could mean trouble in Texas. Outfielder Nelson Cruz's name is on that Biogenesis list, too.
But that's tomorrow's issue for a team doing everything it can to return to the World Series.
Today, Garza.
No, he doesn't have the instant-recognition name -- or the hype -- Lee had back in 2010.
But it's also easy to forget that before Lee dominated the first two rounds of the playoffs in 2010 and pitched the Rangers to their first World Series appearance ever, he went 4-6 with a 3.98 ERA in 15 starts after Texas acquired him from Seattle at midseason.
Healthy again, Garza is at the top of his game.
That's all the Rangers need to know as they head toward the July 31 trade deadline, the stretch run and, they hope, beyond.
Or, as Daniels said, trying to "give our club a chance to get into the tournament, and see where it goes."
No, you're not imagining things. This MLB offseason has been very slow compared to the last...

Francesa will retire from radio next month, so he'll have plenty of free time next summer

Get your sports fans something that they'll wear all year
Get 15 percent off any order of more than $75 at CBS Sports Shop

The Twins need help in the rotation, and they may look to the trade market to find arms

Here are the bullet-points of what went down Tuesday regarding MLB and the Braves' punishm...