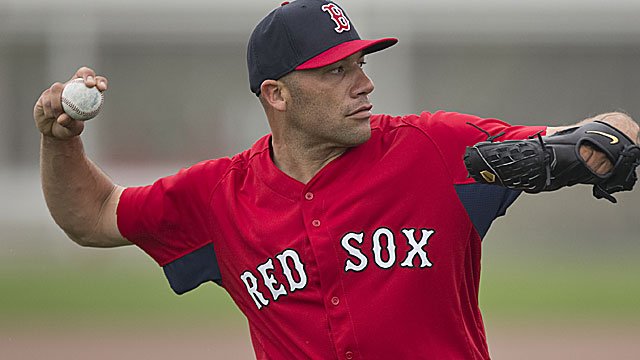 Troubled Red Sox reliever Alfredo Aceves returned to camp with a few fresh welts on the right side of his head and a very fresh quote from Team Canada coach Larry Walker, the former big-league star, who suggested Aceves might contain the devil within him.
Walker might merely be following the Aceves story from afar, but you don't have to read between the lines to know that Aceves has been nothing but trouble for the Red Sox in recent months. To suggest there's evil in him ("I had a hold of him, and I think I saw Satan in his eyes,'' Walker said about the Mexico-Canada WBC brawl) is over-the-top hyperbole of course, but even a casual follower of the Red Sox should know trouble when they see it.
At this point, a release from the Red Sox would be warranted.
Aceves shouldn't be cut from the team because he was one of many players in the Mexico-Canada brawl, nor because of any negative review from Walker, a known quipster. And he shouldn't be let go simply because today is Major League Baseball's first deadline to save loot on cuts.
He should be excised. He's done enough harm.
Red Sox decision-makers see it differently, though, and a release of Aceves is not going to happen for any reason, at least not yet.
"No, wouldn't expect that,'' Red Sox general manager Ben Cherington texted back to a question about whether Aceves might be cut.
"Can't see that happening,'' another Red Sox-connected person said.
The reasons to retain Aceves are obvious, at least to a baseball person focused on the paucity of pitching around the league, and especially to a person with the knowledge that Red Sox bullpen is shorthanded at the moment, with relievers Franklin Morales and Craig Breslow currently hurt. But that isn't reason enough to keep Aceves around.
The reasons to dump Aceves should trump that bit of pragmatism at this point.
Sure he is versatile. But he is also volatile.
Sure he has a good arm. But we're not talking about Pedro Martinez here. He was 2-10 with a 5.36 ERA last year, so we aren't exactly talking about an All-Star.
Sure, it would cost Boston $441,666.66 (one-sixth of his $2.65 million salary) if they cut Aceves today. But the price tag goes up starting Thursday, when players on nonguaranteed salaries would be due one-fourth their salary.
And now consider the benefit in the message.
This is a guy who openly defied manager Bobby Valentine, in full view of everyone, on the mound last year. A guy who ripped off his uniform in anger, who fought in the dugout with Dustin Pedroia and who started this spring by protesting the news that he was still being viewed as a reliever, and not a starter, by throwing batting practice at half speed in an absurd fit of misplaced passive-aggressive anger.
That should have been the end for Aceves right there. Of course he was warned last year that he was one step from going out the door. Perhaps he got a fresh start with Farrell. But that doesn't mean he gets a completely clean slate, because his slate is fairly messy.
The Red Sox, of all teams, need to show the inmates aren't running the asylum following a year in which the players had their way, and following a year in which the players met to air grievances about the manager and coaching staff, as Yahoo's Jeff Passan first reported.
The players make a team, of course, but the Red Sox have sided with the players in far too recent many controversies, and the result has been a needlessly weakened manager and a hopelessly problematic clubhouse.
Their clubhouse has been an issue since at least September of 2011, and they made steps toward changing things by signing Shane Victorino, Jonny Gomes, Mike Napoli and others this winter. They should be applauded for counting personalities in their pursuits.
But that should go for the holdover players, as well. And if they are serious about sending the right message and restoring their clubhouse to what it once was, they should release Aceves. If not today, then before he does any more damage.