High-end depth makes Tigers a dangerous draw in the postseason
Few teams can match the lineup and rotation depth the Tigers will bring into the postseason.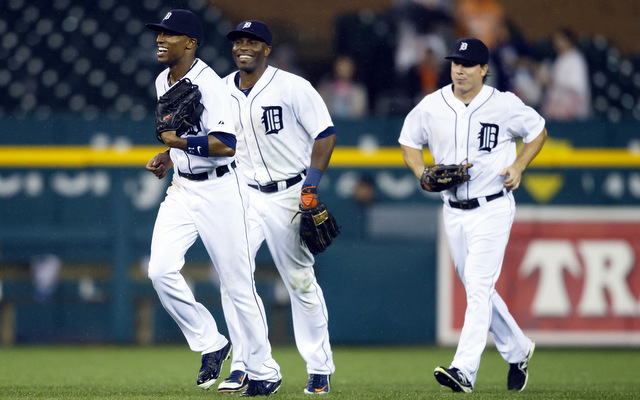 More MLB: Scoreboard | Standings | Probable Pitchers | Sortable Stats | Odds
For the third consecutive season, the Tigers are the AL Central champions. They were the preseason favorites after winning the AL pennant last year and they didn't disappoint. Everyone knew Detroit would be a dangerous team in 2013 and they've backed up all the talk and expectations.
The Tigers cruised to the division title thanks to an enviably amount of depth. Detroit has a deep lineup that ranks second in baseball with 788 runs scored and a deep rotation that ranks third in the game with a 3.49 ERA. Here are the top five hitters in manager Jim Leyland's lineup, for example:
Those are just the top five hitters too. In the bottom four lineup spots you'll find a guy hitting .316 (Omar Infante), a catcher with 11 HR (Alex Avila), and arguably the best defensive shortstop in baseball (Jose Iglesias). Heck, even the backup catcher (Brayan Pena) is hitting .300 (.302, to be exact).
At some point next week, the Tigers figure to welcome Jhonny Peralta and his 121 OPS+ back to the lineup as well. He's currently serving a 50-game suspension for his ties to Biogenesis and is working out in left field as the team tries to find a way to keep both his bat and Iglesias' glove on the field. Their already deep lineup is getting that much deeper.
Of course, offense is only half the game. The other half is pitching and defense, and the Tigers will trot out maybe the best four-starter unit of any team in the postseason. Here, look:
Who's the weak spot? Fister? He's got a 3.23 ERA in his last 13 starts. Verlander? He won the AL MVP and Cy Young Award just two years ago and struck out a dozen batters in his last start. If there is a weakness, it's the fact that all four starters are right-handers. It would be nice to have at least one lefty mixed in there, but we aren't talking about four push-overs right here. Those four guys can all handle left-handed batters with aplomb.
Wright was arrested at his home Friday

The former Tigers teammates were voted into Cooperstown by the 16-person Modern Era Commit...

The Yankees still have room for a good-sized signing even after Saturday's trade with Miam...
St. Louis gets some much needed help for their bullpen

Keep tabs on the top 50 free agents right here

Morrow thrived with the Dodgers last season