Higher powers or Giant powers? Either way, San Francisco halfway to another World Series crown
Some crazy things have happened the last few days, and most of them have helped lead to Giants wins. But it's a lot more than just luck that has the Giants up two games to none over the Tigers in the World Series.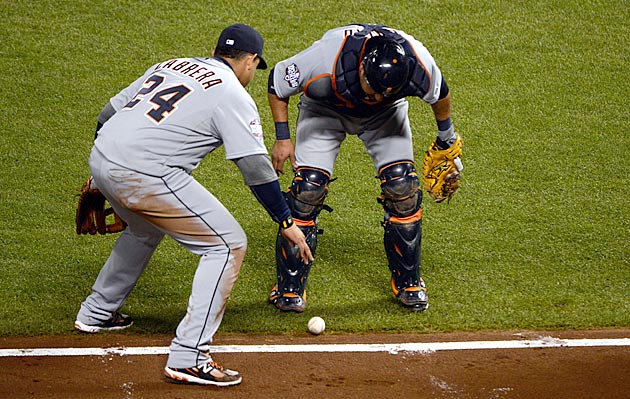 Miguel Cabrera and Gerald Laird wait for a foul ball that never occurs. (Getty Images)
SAN FRANCISCO -- Some things they planned.

Some they didn't.

Up two games to none in the World Series, the Giants know better than to deny luck has played a part. We know better than to think it's all luck.

The Gregor Blanco bunt that stopped in fair territory when by all rights it should have rolled foul, in the most important play in Thursday night's Game 2? Luck.

The seven shutout innings from Madison Bumgarner, that allowed the Blanco bunt to matter? Not luck.

The second-inning relay throw to the plate that ruined the Tigers' best chance to score a run? Mostly not luck.


More Tigers-Giants coverage
More World Series Coverage
It's not fair to the Giants to credit everything that has happened over the last week to some greater power. It's not fair to the powers of truth to deny that some absolutely nutty things have helped bring the Giants to where they are now, two wins from what would be their second title in three years.

In only the past three games -- Game 7 against the Cardinals, and Games 1 and 2 against the Tigers -- the Giants have benefited from a Hunter Pence line drive that changed directions in mid-air, an Angel Pagan ground ball that caromed off third base and Blanco's bunt that the Giants were certain would roll foul -- until it didn't.

"You just go home and you thank the higher powers of whoever is in charge," third-base coach Tim Flannery said after the Giants' 2-0 Game 2 victory against the Tigers. "And try not to piss the others off."

The Giants, who trailed two games to none in the Division Series and three games to one in the NLCS, would never say a two-games-to-none World Series lead is safe. But with their two most consistent starting pitchers -- Ryan Vogelsong and Matt Cain -- set to pitch the next two games in Detroit on Saturday and Sunday, it would be crazy not to say they're feeling pretty good.

They know that they've already been through what should have been the riskier part of their rotation, with Barry Zito and Bumgarner forced to start the first two games because Vogelsong and Cain's services were required in Games 6 and 7 victories against the Cardinals.

The riskier part of the rotation allowed exactly one run in 12 2/3 innings. Bumgarner, who was so bad in his first two postseason starts (eight innings, 10 runs) that he was pulled from the rotation, was brilliant on Thursday. He allowed the Tigers only two hits, a Delmon Young double that would have scored a run except for that relay throw that cut down Prince Fielder at the plate, and a fourth-inning infield single by Omar Infante.

Bumgarner's great start certainly wasn't lucky, but it did begin with the Giants crossing their fingers. Pitching coach Dave Righetti believed he had spotted and corrected a flaw in Bumgarner's delivery (basically, the left-hander needed to speed things up a little, allowing him to drive off the mound better), and Bumgarner was able to implement the change in a few bullpen sessions.

"It speaks volumes about Madison," Vogelsong said. "It's hard to fix something and carry it into a game. Not only that, but into a big game. He was off pretty bad [before]. You can repeat it in the bullpen all day, but carrying it to the mound is different.

"Hats off to him. Quite honestly, I don't think I'd have been able to do that."

Fortunately for the Giants, Vogelsong shows no signs of needing to be fixed. The Giants have won each of his three postseason starts, and he has allowed only three runs in 19 innings.

Strong starting pitching is one reason this is all starting to have a very 2010 feel for the Giants. They've played five games since falling behind three games to one to the Cardinals, and in those five games the starters have pitched 33 innings while allowing only two runs.

The cumulative score in those five games: Giants 30, Cardinals/Tigers 4.

Pretty hard to argue that's all luck.

Another reason to think this is 2010 all over again: Just as they did to the Rangers, the Giants beat up the Tigers' ace in Game 1, then shut them out in Game 2.

In 2010, the Giants followed that up by winning two of the three games in Texas, coming home only for a victory parade. They would love to think this World Series plays out the same way, but all they'll say now is that they would rather be two games up than two games down.

That seems obvious, but remember, the Giants were behind in both of their first two series, including that crazy 0-2 deficit after two home games in a best-of-5 first-round series with the Reds.

"0-2? No, that would not be recommended," Jeremy Affeldt said. "Statistically, it's probably better to be 2-0 than 0-2."

Statistically, he would be right. Teams that have gone up two games to none have won the World Series nearly 80 percent of the time (41 times out of 52).

Logically, he would be right, too. But not all of what has happened to the Giants the past few days has followed any logic.

"I've never been one to say luck had a lot to do with what happens," Vogelsong said. "I think you make your own luck. But we've had a lot go our way."

The Blanco bunt was the biggest thing that went their way Thursday.

In the seventh inning of a scoreless game, the Giants had runners at first and second with no outs. Blanco, the Giants' best bunter, had a 3-1 count after taking three close pitches and fouling off one bunt attempt.

His next bunt went a few feet down the third-base line. It stayed on the dirt, and at AT&T Park, that invariably means it's bound to roll foul.

"That was unbelievable," said Blanco, who crossed first base and pumped his fist as if he had driven in the winning run. "As soon as I bunted it, I was thinking, 'Oh my God, it's going to go foul.' "

Flannery, in the third-base coaching box, was thinking the same thing.

"You always have to keep the ball on the grass here, or it will roll off foul," he said. "I don't know if it was the rain or what, but it didn't. As soon as he bunted it, I hoped someone would grab it, because I thought it was going foul."

Tigers catcher Gerald Laird thought the same thing and let it roll -- and then watched helplessly as it stopped in fair territory.

The Giants had the bases loaded with no outs, and when Brandon Crawford followed with a double-play grounder, the Giants had the only run they would really need.

That was true thanks in large part to Bumgarner -- and also to that relay that was mostly skill, with perhaps a touch of Giants luck mixed in.

Bumgarner had begun the second inning by hitting Fielder with a pitch. Young followed with a shot down the left-field line, and when it took a bounce off the side wall, Tigers third-base coach Gene Lamont sent Fielder to try to score the game's first run.

Blanco eventually got the ball in left field and fired it in. He overthrew Crawford, the first cutoff man, and the ball went to Marco Scutaro, the second cutoff man.

"I don't know what Scoot was doing there," Blanco said. "Thank God he was there."

Luck?

"[Blanco] is an outfielder, he doesn't know," Scutaro said. "I'm supposed to be there."

In any case, Scutaro took the ball and made a strong throw to catcher Buster Posey, whose swipe tag caught Fielder's back just before Fielder's foot touched the plate. Had Fielder slid away from the throw, he no doubt would have been safe. But he didn't.

Saved from the early run, Bumgarner got stronger.

"That was huge," Bumgarner said. "I think that might have been a momentum shifter for me."

It was huge, but it didn't win the game all by itself, because the Giants still had to score a run, and for six innings against Doug Fister, they couldn't. Without the bunt that stopped, maybe they don't score in the seventh inning, either.

Luck? Or maybe just a sign that this is all supposed to happen for the Giants?

"As the great Carlos Santana -- guitar player, not catcher -- said in 2010, sometimes you have to know when to get out of the way of yourself," Flannery said.

The Giants are doing that very well. The Giants are basically doing everything very well.

No, it's not all luck.

But even the Giants would tell you, it's not all according to plan, either.
The Grapefruit League and Cactus League seasons started on Friday

Data will be collected and then used to determine whether humidors are necessary in 2019

Spring training play began on Friday, and the Stoneman Douglas tragedy was on the mind of MLB...
Baseball players forced to take pictures usually lead to fun for all of us

One of the most celebrated programs in baseball is looking to continue its run

A closer look at the teams in the Cactus League and Grapefruit League