Hints of fraying seen in Blue Jays clubhouse, but GM says mood OK
Blue Jays GM Alex Anthopoulos denies there's a clubhouse issue, and says manager John Gibbons is doing a good job and is safe.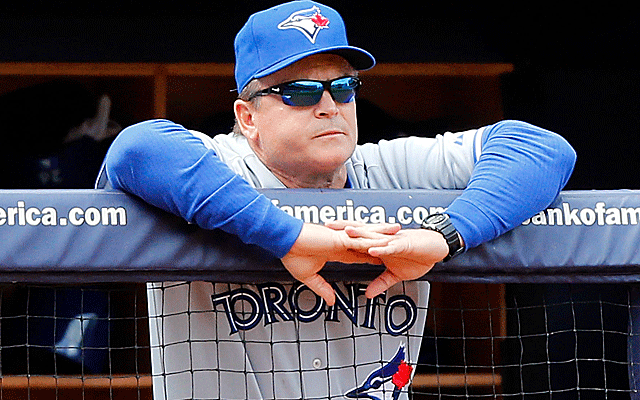 The remade Blue Jays are under-performing like almost no one else, and hints about a questionable clubhouse atmosphere are starting to surface -- although they've been kept mostly behind the scenes to this point.
A players-only meeting already has been called, and while that may be a necessity, in this case it's a sure sign at least someone is seeing indications of trouble. The 10-19 record is the second-worst in the AL to Houston, which is playing for the distant future.
"The mood is as good as can be considering," insisted well-respected Jays general manager Alex Anthopoulos, denying he has seen any serious clubhouse fraying to this point. "Guys are unhappy. No one enjoys what's going on. But they are staying together."
One clubhouse source, though, suggested he has seen signs of "selfishness," which is the last thing an underachieving team team needs. Anthopoulos, though, suggests nothing could be further from the truth.
"These guys have not quit at all," he said. "You could see when guys fold up. But it's been the opposite. The guys are still pulling for each other."
While one competing GM wondered aloud whether John Gibbons, the surprise managerial choice, might soon find himself under a bit of pressure if this continues, Anthopoulous insisted there's not even a hint of that. And a move with the manager would be a bit shocking, as he's only 29 games into his second tour with Toronto.
"No. No chance. That's not even in the equation," Anthopoulos answered about whether his hand-picked choice to return to manage in Toronto could possibly be in jeopardy if this continues.
The choice of Gibbons to replace the departed John Farrell (some Toronto people questioned whether Farrell "had one eye on Boston," while in Toronto) seemed to come out of nowhere. Gibbons hadn't gotten a whiff of a major-league job since his firing from Toronto in 2008.
Anthopoulos quietly interviewed just a couple guys (the names have never come out), but he's the guy Anthopoulos felt most comfortable with.
"I knew how he handled the bullpen. I knew how he'd handle the clubhouse," the GM said of Gibbons, who was .500 in his first go-round in Toronto, not bad considering the Yankees and Red Sox dominance at the time.
And, as far as Anthopoulos is concerned, this start isn't on Gibbons at all. In fact, he gives him credit for what's happened so far.
"We have players who aren't performing," Anthopoulos said. "He's done a great job of keeping games close."
The GM isn't expecting to make big changes anytime soon, though if he could find a strong shortstop fill-in to spell injured star Jose Reyes until he returns sometime between late June and the All-Star break, he'd take him.
"We're not playing well, but we need to ride it out," Anthopoulos said.
Anthopoulos said they've been "staying together," but so far they are also sinking together, to the surprise of many so-called experts (this so-called expert picked them to finish second in the AL East and win a wild-card berth). They went 1-6 on a recent road trip, which hasn't brightened the mood.
The team has been hampered most of all by underachievement but also by injuries (the loss of Reyes has hurt the defense that was beginning to look better once Brett Lawrie returned) and narrow defeats. Though they've had all kinds of losses, they haven't been especially clutch in close games, going 3-7 in one-run games and 2-5 in two-run games.
Reyes was off to a nice start, but the other stars have been dreadful relative to expectation. Edwin Encarnacion is hitting .229, Lawrie .220, Jose Bautista .200, Emilio Bonifacio .171 and Melky Cabrera .235 (though it's fair to wonder what the expectation for Cabrera should be). Overall, the Jays are hitting a sport-worst .228 to the surprise of many, while they are slightly better 22nd in OPS (.689) and 23rd in runs (91).
The pitching hasn't exactly been fabulous, either. No one who has started a game has a winning record, and only one has an ERA below 4.50 (J.A. Happ, who is at 3.98 and made the rotation at the last minute when Ricky Romero was determined not to be ready and sent to the minors).
There have been occasional positive signs, like roughing up Red Sox ace Jon Lester in a 9-7 victory Tuesday where the team also fought back. But that was followed by two defeats to first-place Boston.
"The batting averages are all in the low .200s and high .100s. If you do that you're not going to win," Anthopoulos said. "We have to hope guys who are hitting .170, .180 or .200 and normally don't do that over a six-month schedule start to do better."
The Jays are actually 7-0 when they score five runs, they just haven't done it enough.
"We're just not scoring enough runs," Anthopoulos said, opting for the simplest explanation for their troubles. "We're not getting anybody on base."
L.A. manager Dave Roberts indicated that Puig's benching was related to more than one inci...

Manager Torey Lovullo said so on Monday
Let's see how SportsLine forecasts the race for MLB's 10 playoff spots

Monday kicks off the final week of MLB action. Let's take a look at everything that went d...

No other rookie in baseball history has hit more home runs than Judge has this year