Historically bad Astros head for third consecutive 106-loss season
The Astros said this spring that they would outperform the dire predictions. They won't lose 120, but at 105 and counting, it's not good.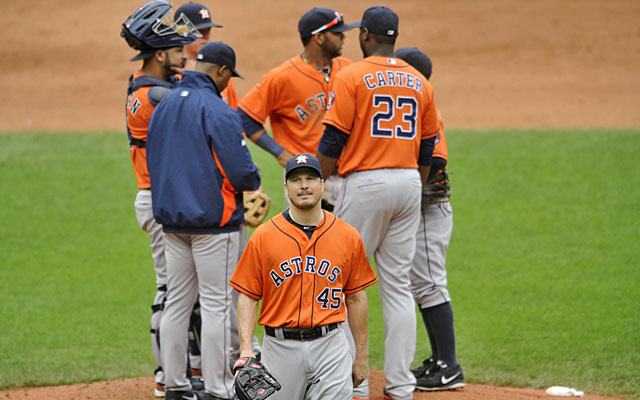 The Cubs have never lost 106 games in a season. The Indians have never lost 106 games in a season.
The Astros are about to lose 106 games for a third consecutive season.
This spring, when others around baseball were quick with dire predictions that the Astros would lose 120 games, club officials strongly disputed the grim forecasts.
"We will outperform the expectations," general manager Jeff Luhnow said then.
Well, they won't lose 120, even if they don't win another game the rest of the way. The Astros have lost nine in a row, with six games remaining against the Rangers and Yankees, but the most they could lose is 111.
But even another 106-loss season would make the Astros historically bad.
Only one other team has lost 106 games in back-to-back-to-back years. The expansion Mets actually did it in each of their first four seasons.
But six other franchises have played for more than a century without ever losing 106. In all, nine of the 30 MLB franchises have never had a 106-loss season*.
The Astros are one loss away from their third straight.
Not all of those are Luhnow's fault. None of them, not even this year's, were totally his fault, because the Astros were already in real trouble when he took over as GM in December 2011.
Luhnow's long-range plan could well work. Short-term, his hands may well be tied, and owner Jim Crane may deserve more of the blame for how bad this year's team is.
The problem, as one rival executive said the other day, is that once you chase your fans away, there's no guarantee they'll ever come back. And the Astros, in more ways than one, have chased their fans away, so much so that the Nielsen rating for Sunday's Astros-Indians game was a stunning 0.0 in greater Houston (where many don't even get the Astros' CSN network).
Astros attendance is also down. The club has announced an average of 19,803, the lowest in the 14-year history of Minute Maid Park and a 31 percent drop from only three years ago (and 48 percent from the high-water days of the mid-2000s).
Hard to blame those who have stayed away. Would you want to go watch a team lose, day after day, year after year?
*Franchises that have never had a 106-loss season: Angels, Cubs, Dodgers, Giants, Indians, Mariners, Reds, Rockies, Yankees.
They still would much rather grab the AL East, however

Sale becomes the first AL pitcher to reach 300 strikeouts since 1999

Steve Balboni's long-standing record of 36 has finally fallen
Several players called for the netting to be extended down the base lines following Wednesday's...

Maria made landfall as a Category 4 on Wednesday

The players are trying to do their job and don't want to see anyone hurt