Hitters who pitch: Clint Robinson of Nationals strikes out Aaron Hill
Robinson first of three position players to allow a hit in 2015.
Slugger Clint Robinson hit 141 home runs and produced a .302 batting average with an .891 on-base plus slugging percentage over eight seasons in the minors, and after a strong spring training, the Washington Nationals put him on their opening-day roster. The accomplishment was a first for Robinson, 30, who came into 2015 with 13 at-bats in brief stints with two major league clubs.
Robinson's hitting results as a part-timer with the Nats haven't been productive yet, but his pitching was downright stingy Tuesday night in a 14-6 loss at Arizona. Filling a need for manager Matt Williams after Stephen Strasburg got knocked around, and with the Nats bullpen thinning out, Robinson struck out Aaron Hill — on three pitches — in a scoreless eighth inning.
Via the Washington Post, the unexpected appearance allowed the Nationals to laugh off an otherwise down game:
 "We come back from that inning, everybody was laughing a little bit with him," catcher Wilson Ramos said of Robinson, who became the first-ever Nationals position player, from 2005 to now, to pitch in a game. (In fact, the last time it happened in franchise history was in 1990 when Dave Martinez and Junior Noboa appeared in a game for the Expos.)
Robinson, an outfielder-first baseman by trade, threw a fastball that topped at 81 mph. Hill, who otherwise is enjoying a bounce-back season, could not keep up with the medium-low heat. Lefties who go about 6-foot-5 are tough!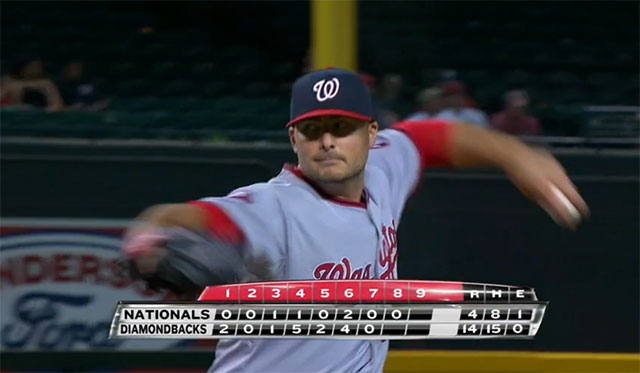 There is something to be said for low expectations, and for entering with a 10-run deficit, as Robinson did. And all of the extra pressure is on the batter to get a hit against the "non-pitcher." But he's still facing major league hitters — and he didn't let any score. That's not the only measure of success for a pitcher, but it's a big one.
Robinson is the third "non-pitcher" to pitch in 2015, following Cubs catcher David Ross on Saturday and Athletics first baseman Ike Davis in April. None of them allowed a run, in fact Robinson was the first to allow anyone on base. The secret to their collective success over combined three innings: Robinson, Ross and Davis threw 22 of 29 pitches for strikes.

By early June 2014, 10 different position players had taken the mound. Let's pick up the pace, outfielders, infielders and catchers!
Williams said he asked for volunteers with the game likely out of reach and the bullpen in need of a rest. Robinson spoke up before Tyler Moore could.
So Robinson went down in the batting cage to warm up his arm. He hasn't pitched since his senior year at Northview High in Dothan, Ala. in 2003. He was a two-way player then who, he said, reached the low-90s with his fastball. But he didn't pitch often then because, he said laughing, it took him weeks to recover. But for one inning against the Diamondbacks, he was willing to try. He wasn't nervous.

"Just go out there and throw strikes," Robinson said. "You can't expect to go out there and throw it by everybody. I'm not a major league pitcher so just go out there and throw it over the plate and hopefully they hit it right at people."

Before taking the mound, Robinson conferred with Ramos on mound to go over his pitching repertoire and the signs.

"He just told me fastball-slider," Ramos said. "That's it. I called it. He never shake me off."
Did Williams have this in mind for Robinson way back in spring training? Probably not, considering it had been 12 years since he pitched. But every little bit of experience helps the 24th and 25th man on major league rosters.
CBS Sports HQ Daily Newsletter
Get the best highlights and stories - yeah, just the good stuff handpicked by our team to start your day.
Please check the opt-in box to acknowledge that you would like to subscribe.
Thanks for signing up!
Keep an eye on your inbox for the latest sports news.
Sorry!
There was an error processing your subscription.
Price tossed six scoreless innings on short rest in ALCS Game 5

Devers has driven in seven runs in limited postseason action

From Alex Cora to Dave Dombrowski, there's a lot of history on the line
The Red Sox defeated the reigning champion Astros 4-1 in the American League Championship...

Cora turned 43 on the same day the Red Sox clinched the ALCS

It's quite a pivot for a player who struggled at the plate during the regular season