Hitting well but unhappy, Ortiz could be nearing the end of the line with Red Sox
David Ortiz isn't happy. People who know him have been hearing it, and Thursday he told the world. Ortiz focused his anger Thursday on recent media reports about the Red Sox, but his feelings are said to go beyond that, to the point where some people strongly doubt he will remain with the Red Sox beyond this season.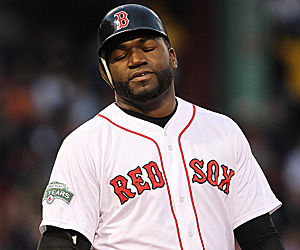 It's not just the media.

It's not just this week.

The complaints that David Ortiz aired to reporters Thursday at Fenway Park simply mirrored complaints that people who know Ortiz have been hearing for a while now.

Ortiz isn't happy, and hasn't been happy, to the point where some of those people strongly doubt that he would even want to sign a contract that would bind him to the Red Sox past this season.

Ortiz didn't answer that specific question Thursday, but he certainly hinted at it.

"This is baseball," he said, according to audio posted on weei.com. "We're supposed to have fun."

Is he having fun?

"Not really."

Ortiz's public comments were brought on by a series of stories this week about the Red Sox clubhouse. ESPN's Buster Olney described it as "toxic," a loaded term that led to mass denials (and led Ortiz to call the report "horrible"). But even some of those denials listed the real problems that have existed in Boston, all the way back to spring training (and to last September).

"Every day it's something new," Ortiz complained Thursday. "More drama. I'm tired of that, man. . . . People need to leave us alone."

Ortiz was one of manager Bobby Valentine's earliest and strongest supporters in a clubhouse that was slow to take to the new manager (and may never take to him).

Ortiz has also been one of the Red Sox's best players this season, with a .313 batting average, 18 home runs, 49 RBI and a 1.012 OPS in 68 games. There's no question he has played well enough for the team to want to bring him back for next year and beyond, but there's more question than ever whether he'll want to stay.

Listen to him talk about playing in Boston, and you'll guess that the answer is no.

"It's becoming the [expletive] it used to be," he said. "Look around, bro. Look around. Playing here used to be so much fun. Now, every day is something new, not related to baseball."

Ortiz, 36, is in his 10th year with the Red Sox. He wanted a multiyear deal when he was a free agent last winter, but eventually accepted salary arbitration (before signing a one-year contract for $14.575 million).


The reliever had a very good 2017 season with the NL Central champs

We don't need to discuss Chipper's Hall of Fame case, so let's have fun instead

Dioner Navarro still hopes to return someday
Christian Yelich's agent says his client's relationship with Marlins is 'irretrievably bro...

The free-agent market has been slow and one player is bracing for an even longer wait

The Mets didn't want to trade a young outfielder for an older one