Holding onto Justin Upton correct -- and obvious -- move for D-Backs
It was surprising to see 24-year-old star Justin Upton's name in trade rumors. A report Tuesday indicates, however, the Diamondbacks will hold onto Upton. Keeping him is a no-brainer.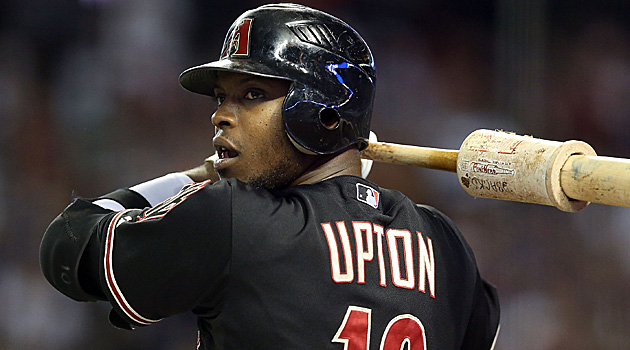 Upton should be staying put in Arizona. (Getty Images)
Being that this is July, tons of rumors circulate as Major League Baseball's trade deadline lurks at the end of the month. One surprising name surfaced earlier this month, that of Diamondbacks star right fielder Justin Upton.
Tuesday, however, Arizona owner Ken Kendrick said it was a "reasonable assumption" that Upton isn't going anywhere. The fact that general manager Kevin Towers was accepting calls from other clubs about Upton is meaningless because -- as I believe all GMs should do -- Towers is always open to at least discussing anyone. That doesn't mean he's interested in actually trading Upton.
"I think what people need to know, specifically in Justin's case, is I didn't throw his name out there and say 'Hey, he's available,"' Towers said (Associated Press).
As well he shouldn't be available. It is the very definition of a no-brainer to keep him.
Justin Upton has the tools to be an elite baseball player for years to come. Last season, he hit .289/.369/.529 with 31 homers, 88 RBI, 105 runs, 39 doubles, five triples, 21 stolen bases and finished fourth in NL MVP voting behind Ryan Braun, Matt Kemp and Prince Fielder.
He is having a down year in 2012, but he's still hitting .276/.362/.412 with eight homers and 11 steals. He's hitting more balls on the ground and less of his fly balls are leaving the yard this season, but these things can be quite fickle in younger players.
Speaking of which, there's this: Justin Upton is only 24 years old. That means he has about a decade of prime left in the tank.
With the Diamondbacks entering Tuesday six games out in the NL West, 4.5 out of the second wild card and already sporting a good, young nucleus for the future, I can't think of a single thing they could do that would be more dumb than trading Upton. If one could do things like guarantee a Texas/Teixeira-sized return (Elvis Andrus, Matt Harrison, Neftali Feliz, Jarrod Saltalamacchia), maybe they should think about it. But that's not possible, because there's no crystal ball. And Towers didn't see anything he liked, either:
"There really hasn't been any sort of deal that presented itself that really made us even think about doing anything with Justin," Towers said (AP). "Right at this point in time I would say it's highly unlikely, based on the way the team's playing and the way he's been performing the last two or three weeks. We think we've still got a chance to win right now. I haven't seen anything out there that makes us a better ball club in 2012 that's better than Justin Upton."
The Diamondbacks have one of the most talented, young players in all of baseball. You don't deal that guy, you build around him. It is evident the D-Backs agree with that sentiment and will make the correct -- and obvious -- move in holding onto Upton.
For more baseball news, rumors and analysis, follow @EyeOnBaseball on Twitter, subscribe to the RSS feed and "like" us on Facebook.
The Pirates recently shipped Gerrit Cole and Andrew McCutchen to Houston and San Francisco,...

Surely, Martinez and his agent are holding out for more

The reliever had a very good 2017 season with the NL Central champs
We don't need to discuss Chipper's Hall of Fame case, so let's have fun instead

Dioner Navarro still hopes to return someday

Christian Yelich's agent says his client's relationship with Marlins is 'irretrievably bro...