Homer Bailey loses no-hitter with two outs in seventh inning
Reds starter Homer Bailey was looking for his third career no-hitter, but allowed a hit to Buster Posey in the seventh inning.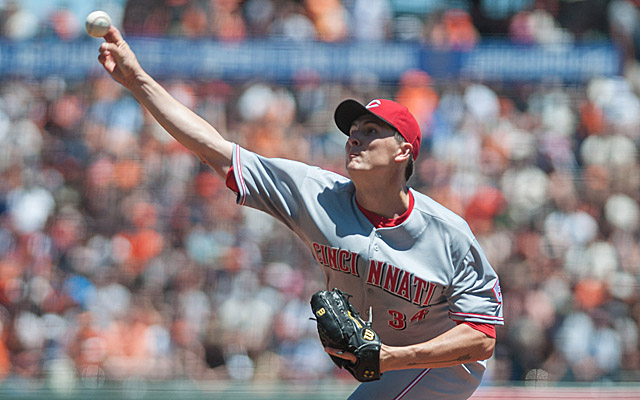 Homer Bailey almost did it again.
The Reds right-hander had a no-hitter going through 6 2/3 innings in AT&T Park. Had he been able to complete the no-no, it would have been the third of his career. It would also have marked the second no-hitter in AT&T Park within the span of five days, as Tim Lincecum spun a no-no against the Padres on Wednesday.
Only a walk to Gregor Blanco had kept Bailey from perfection to that point.
Bailey already has two no-hitters in his career. He threw his first no-no against the Pirates on Sept. 28, 2012 and followed it up by no hitting the Giants on July 2, 2013.
Had Bailey completed the no-hitter, he would have joined Addie Joss and Lincecum as the only players in history to no-hit the same team twice.
Not only that, but Bailey would've joined Nolan Ryan (seven), Sandy Koufax (four), Bob Feller (three), Cy Young (three) and Larry Corcoran (three) as the only pitchers in MLB history with more than two.
The only pitchers in MLB history with no-hitters in three straight seasons are Nolan Ryan, who threw two in 1973, one in 1974 and one in 1975 and Sandy Koufax, who threw one each in 1962-65.
So, basically, Bailey was flirting with some major history Sunday.
Kinsler will slot in at second base for the Angels

The Marlins got a better return for Ozuna than Stanton or Gordon

The two teams are going about things in very different ways
The Marlins are indeed in teardown mode under new ownership

The Marlins still have more attractive pieces

The A's need outfield help, and the Cardinals have a glut