Homerless streak just the start of Albert Pujols' awful April
Albert Pujols' first month with the Angels was statistically by far the worst month of his career, and not just because he didn't hit a home run in a calendar month for the first time.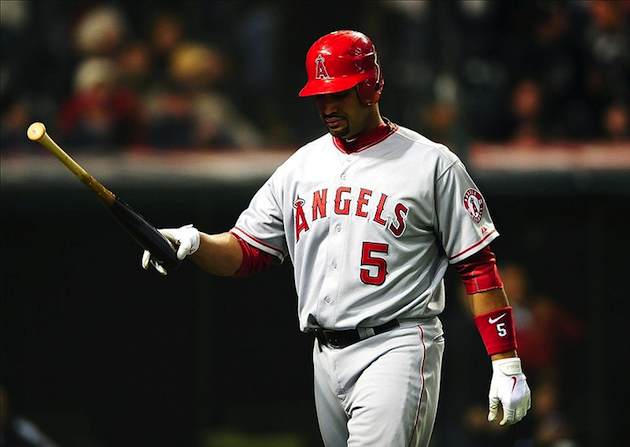 At this point it almost seems like piling on and redundant to point out the Albert Pujols is struglging. But Monday was the last day of the first month of the season, and who doesn't love nice little packages?
So, with that in mind, I wanted to see how bad -- by Pujolsian standards -- April of 2012 was for the Angels' new slugger. So how bad was it? It was by far the worst regular-season month of his career. Not only was he held homerless in a month for a first time, it was by far his worst OPS (on-base percentage plus slugging percentage) for a month in his career, putting up just a .569 OPS in April. It was the first time in his career he had an OPS of less than .700 in a month and just the eighth month of his career with an OPS of less than .900. From 2001 to 2011, the league average in OPS is 749, a mark he's been below just twice.
Here, in order of OPS for simplicity's sake, are the worst months of Pujols' career.
April 2012 .217/.265/.304 .569 OPS, 0 HR, 8 XBH, 98 PA
June 2006* .256/.356/.359 .715 OPS, 1 HR, 2 XBH, 45 PA
May 2011 .288/.365/.387 .752 OPS, 2 HR 7, XBH, 126 PA
April 2011 .245/.303/.453 .758 OPS, 7 HR, 8 XBH, 118 PA
July 2001 .241/.333/.460 .793 OPS, 4 HR, 11 XPH, 99 PA
May 2002 .272/.348/.456 .804 OPS, 5 HR, 9 XBH, 115 PA
April 2007 .250/.343/.489 .832 OPS, 6 HR, 10 XBH, 105 PA
July 2010 .267/.333/.515 .848 OPS, 6 HR, 12 XBH, 114 PA
* Pujols was on the disabled list for a strained oblique in June of 2006
And just for fun, his ninth-worst month of his career was July of 2009, when he hit .289/.415/.485 with four home runs. Of the 190 players qualified for a batting title right now, only 35 have an OPS of .900 or better, which should put in perspective just how good -- and consistent -- Pujols has been over his career. Or you could look at Matt Kemp, who many believed deserved to be the National League MVP last season, and he had two months with an OPS of less than .900 last season, including a .776 OPS in July. Ryan Braun, who won the NL MVP last season, had a .791 OPS in May.

Where might the Orioles third baseman land?

Kinsler will slot in at second base for the Angels

The Marlins got a better return for Ozuna than Stanton or Gordon
The two teams are going about things in very different ways

The Marlins are indeed in teardown mode under new ownership

The Marlins still have more attractive pieces