Hot seats: Few managers sweating out final weeks of season
Don Mattingly has gone from doghouse to penthouse. New York's skippers appear safe. Mike Scioscia might have reached the end, but the hottest seat belongs to Eric Wedge.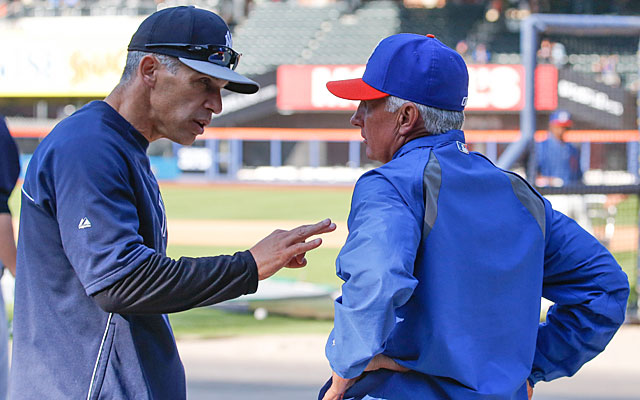 New York's two managers -- Joe Girardi of the Yankees and Terry Collins of the Mets -- are part of a handful of skippers in the last year of their contracts expected to be invited back after the season, according to people familiar with those two situations.
"Hal loves Joe," one person who knows the Yankees' situation well said about managing partner Hal Steinbrenner and their manager, now in his sixth season in the Bronx.
It doesn't hurt that Girardi also has the full support of the front office, notably general manager Brian Cashman, who hired him in the first place.
Collins, too, looks to be in excellent shape, as the Mets appear only to be waiting to make sure they aren't caught in a steep late decline before renewing their third-year manager.
While a fair number of managers are in somewhat uncertain situations, it is not expected to be a major firing season, barring some real collapses. Only a few managers appear to be in real jeopardy heading into the final five weeks of the season.
The Mariners' Eric Wedge, headed for a third straight losing season under him and fourth overall for Seattle, is one who looks like he could be on fairly shaky ground while the AL West rival Angels could decide to part ways with highly successful 14-year manager Mike Scioscia.
Wedge appears to be the manager in most jeopardy while Scioscia's case could be the most interesting considering his stature. Word seems to be that Angels owner Arte Moreno will have to pick between Scioscia and GM Jerry Dipoto, as the rough working dynamic between Scioscia and Dipoto seems to preclude a third year together despite Scioscia's denial that there are working issues between the two of them.
Ned Yost, whose Royals have been up and down, is a third manager who could be in some peril. Kansas City has looked like a contender at times after some bold moves this winter but has a tough road now after a recent seven-game losing streak.
Nationals manager Davey Johnson has said he's stepping down, so there will be at least one opening for sure.
But there could still be a few more.
Here is a rundown of 11 other managers whose contracts are up or who could be on the bubble, and where they stand, from Wedge to Don Mattingly, who's a sure bet to stay with the Dodgers ...
Eric Wedge, Mariners: He just got back to the dugout after missing a month following a stroke. But unless sympathy guides the call, it seems unlikely Wedge would be back next year. Last winter the Mariners quietly gave GM Jack Zduriencik a one-year extension through 2014 apparently without addressing Wedge's own lame-duck situation. That wouldn't seem to bode well for Wedge. One caveat: It's tough guessing with the Mariners. Chances to keep job: 25 percent.
Mike Scioscia, Angels: Logic tells you Moreno isn't going to want to eat the $25 million remaining on his contract. But Scioscia hasn't been clicking with this $155 million team, and 14 years is a long time managing in one place. In some ways it would be easier to let go of Dipoto, who's barely getting started as GM. But that would also send a curious message for a team supposedly committed to a fresh front-office start only two years ago. Chances to keep job: 50 percent.
Ned Yost, Royals: Kansas City has come back from a rough start to move to the cusp of the AL wild-card race, but the recent slide has left the Royals as quite the long shot now. With the improved pitching and fine positional nucleus combined with a record around .500, a change here wouldn't be a shock. Yet another lame duck. Chances to keep job: 66 percent.
Ron Gardenhire, Twins: Minnesota is having another rough year, though the Twins' modest improvement probably will be enough to satisfy ownership. Gardenhire, in his 12th season, has long had the support of GM Terry Ryan in an organization that emphasizes stability over all else. Chances to keep job: 75 percent.
John Gibbons, Blue Jays: Toronto has been one of baseball's most disappointing teams. But this is only Gibbons' first year in his second stint with the Blue Jays, and it's hard to see him paying for the pitching deficiencies that led to the disastrous season. Chances to keep job: 80 percent. (*note: Gibbons received a vote of confidence from G.M. Alex Anthopoulos after this list was posted.)
Ron Roenicke, Brewers: Some scouts have suggested they noticed a lack of hustle on the field early, and others have said the clubhouse is a bit loose. But Roenicke seems to have support from his bosses. The real problems in this difficult year were not his doing: Ryan Braun's 65-game PED suspension, which cast a pall on things, plus Corey Hart's season-long knee issues and Yovani Gallardo's off year. Has a year to go on contract. Chances to keep job: 85 percent.
Ryne Sandberg, Phillies: The Phillies' interim would appear to be in good shape. The Hall of Fame player has the respect of Phillies brass, and it's a bit of a surprise that he wasn't given an extra year or two to start. Slapping the interim tag on him does give GM Ruben Amaro options should something big become a possibility, such as hometown product Scioscia becoming available, but the expectation seems to be that Sandberg will get a full chance. He hasn't hurt himself by starting 7-4, either. Chances to keep job: 90 percent.
Terry Collins, Mets: Mets management is quite comfortable going forward with Collins, who has mellowed to the point of getting along with bosses, media and most importantly the players in New York. His issues in previous stops in Houston and Anaheim/Los Angeles are nowhere in evidence. Collins has the support of team captain David Wright and the respect of the young players the Mets are building around. Chances to keep job: 90 percent.
Walt Weiss, Rockies: Weiss can have another one-year deal if he wants it, and there's no reason to think he doesn't. Rockies people are impressed with the ease with which he has transitioned from high school coach to the majors, though while the team has made the step to become competitive it's hard to say they are overachieving. Chances to keep job: 95 percent.
Joe Girardi, Yankees: Some Yankees people believe this is Girardi's finest job yet, though the team's record so far (69-62) is the worst of his six years in the Bronx. It's a foregone conclusion he's staying, assuming a deal can be worked out. It is Yankees policy to wait until contracts are up before dealing with them, and while he could technically try going elsewhere, no one sees Girardi leaving a team with a $230 million payroll, even if it's reduced in 2014 to something below $189 million, as they are threatening. Chances to keep job: 97 percent.
Don Mattingly, Dodgers: Funny to think how close he was to losing his job a few months ago. Now he is the NL's leading Manager of the Year candidate. The team holds an option for 2014, but an extension would appear to be in the offing. His presence in the Dodgers' dugout could also mean the Angels might not be quite as worried about letting go of Scioscia, as there was perception of a fear Scioscia would simply go back home to the Dodgers if they had a job available (something the Angels would definitely want to avoid, as the Scioscia hiring has long been seen as a coup in the Southland). Chances to keep job: 99 percent.
They're alive in the NLCS after their Game 4 win over the Dodgers

You never know what you might get from Arrieta, but what we got was brilliance in Game 4

The 2017 World Series begins Oct. 24
There will be a Game 5 after all on Thursday night

Tanaka shut the Astros down in ALCS Game 5 and has overcome a down season and past injurie...

The Yankees wouldn't chase Keuchel's bread-and-butter, those tempting pitches just at the knees...