Hot starts fuel A's, but some early stars bound to fall back to earth
From Jesse Chavez to Brandon Moss, the A's are getting the most out of some surprising sources. Around baseball, how many of these hot starts are for real?
More MLB: Power Rankings | Expert Picks | Latest news & notes | Fantasy news
It wasn't hard identifying 25 players who are outperforming expectations. Some, like Dallas Keuchel and Yangervis Solarte, came out of nowhere. Others are defying age, career trends or their entire résumés.
It's no surprise why the A's have been the majors' best team, with four players making the list, and others coming close.
Anyway, the trickier part of the process is guessing who among the 25 hot starters will continue to outperform. Here is a rundown of the 25 great starts/stories, and the best guesses as to their staying power to keep it going. Cases are rated for staying power from 5 (for real) to 1 (just a mirage).
1. Dallas Keuchel , SP, Houston Astros  (5-2, 2.92 ERA): Rival execs looked at the lefty as a soft-tossing potential No. 5 starter, but as one scout noted, Keuchel "has a very good feel for three pitches." He also has an excellent idea how to set hitters up. Kudos to Astros scouting director Bobby Heck for picking him in the seventh round of the 2009 MLB Draft. Keuchel has a five-to-one strikeout-to-walk ratio and has been dominant at times. No one saw that coming, probably not even Heck. Staying power: 4.
2. Yangervis Solarte , INF, New York Yankees  (.310 avg., 5 HR, 24 RBI): No one could have imagined that this unknown, who stunned folks just by beating out longtime backup Eduardo Nunez and made the team on the final day of spring, would be leading the Yankees in average, RBI and walks (19). His uncle Roger Cedeno asked agents Peter and Ed Greenberg to take Solarte as a favor to the young man, and good thing for them the veteran reps listened. Yankees scouts Jay Darnell, Don Wakamatsu (now a Royals coach) and Dave Keith did see him as a potential major-leaguer when the Yankees signed him as a six-year minor-league free agent, but no one envisioned him "playing like an All-Star" as one Yankees person put it. He had seven years in the minors with the Twins and Rangers, and while he kept showing improvement, these are his best stats by far. Brian Cashman admits Solarte is playing "far above expectations" and that no one would have guessed quite this. Regardless, they'll ride him while he's hot. Staying power: 2.
3. Charlie Blackmon , OF, Colorado Rockies  (.329, 9, 32): He's starting to slow a bit after a torrid April that had him as the second-best player in the league to superstar teammate Troy Tulowitzki. Teams are starting to keep him on an offspeed diet, and he's going to need to make adjustments. The Rockies, who saw something in him last year and traded Dexter Fowler to make room, do love him. "He's a competitor and a tough kid," Rockies GM Dan O'Dowd said. Staying power: 3.
4. Aaron Harang , SP, Atlanta Braves  (4-4, 3.32): It's downright odd how pitchers seem to do better when they get to Atlanta. In Harang's case, his velocity and breaking stuff look better, and one rival GM said he can't believe the command he's showing after seeing him in Seattle last year. Staying power: 1.
5. Brian Dozier , 2B, Minnesota Twins (.257, 11, 25): Sabremetrics guys love him for his defense, power and walks. And really, everyone should with his 11 home runs, 30 walks and .838 OPS. Folks around the team see extra maturity in Dozier, who has been spending a lot of time viewing video and talking to hitting guru Paul Molitor, two worthwhile endeavors indeed. Staying power: 3.
6. Alfredo Simon , SP, Cincinnati Reds (6-2, 2.31): He has been solid in relief for the Reds of the past couple of years. Seemingly out of nowhere, the journeyman pitcher is having an All-Star year as a starter with a 1.01 WHIP and that 2.31 ERA. New manager Bryan Price, a whiz with pitchers, is very likely the reason behind the 33-year-old Simon's resurgence. The strikeout total is underwhelming (36 in 58 2/3 innings), raising a question about whether he can keep this up. Staying power: 2.
7. Phil Hughes , SP, Twins (5-1, 3.15): Some said he needed to get out of New York. No, he just needed to get out of Yankee Stadium, which was killing him. He hasn't walked any of his past 147 batters and has an amazing 47 strikeouts to go with six walks overall. He's on the upswing, too, as he is 3-0 with a 1.03 ERA. That $24 million, three-year deal may turn out to be the bargain of the winter. Staying power: 4.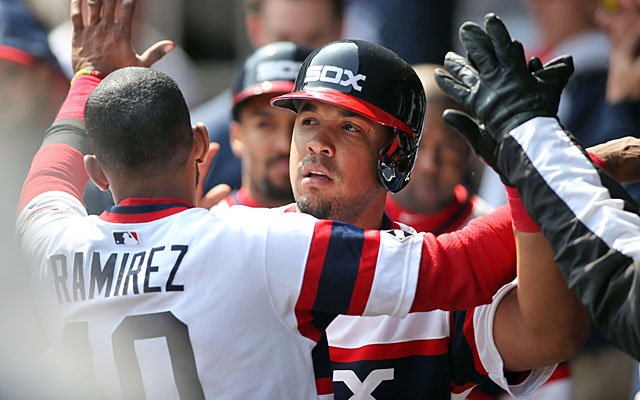 8. Jose Abreu , 1B, Chicago White Sox (.260, 15, 42): The things that stand out are his politeness and his power. He still leads the majors in homers after going down with an ankle injury last week. Obviously, the White Sox saw his potential or they wouldn't have given him a $68 million, six-year deal. But after hitting just three homers in spring training, no one could have foreseen this. Staying power: 5.
9. Jesse Chavez , SP, Oakland Athletics (4-1, 2.54): Yet another A's success story. He did a nice job as a middle reliever last year, but while they saw starting potential for him the A's didn't expect him to be foist into that role so soon. Thanks to Tommy John surgeries for Jarrod Parker and A.J. Griffin, whose ailments were diagnosed within 24 hours of each other late in spring, he was. With a strikeout-an-inning, that record and ERA are no fluke. Staying power: 3.
10. Garrett Richards , SP, Los Angeles Angels (4-1, 2.90): He has great stuff, so maybe he just needed a little time and a full chance. Looks like a potential ace the way he's pitching. He has a 95-97 mph fastball with "nasty two-way life," said one exec, plus an increasingly effective curveball and slider. Said Angels GM Jerry Dipoto: "He's improved and become more consistent in each of the last three seasons, and he has matured in every way over the past 12 months." Staying power: 4.
11. A.J. Pollock , OF, Arizona Diamondbacks (.303, 5, 11): He has been a shining light in a bleak D-Backs beginning, with five home runs, six stolen bases and a 2.2 WAR. He's the fastest guy on the team, and a very good base stealer, so it's a wonder he's often buried at or near the bottom of a generally unproductive order. He has batted leadoff 10 times total, but eventually that needs to be his spot. Staying power: 4. 
12. Tom Koehler , SP, Miami Marlins (4-3, 2.25): With Jose Fernandez sidelined for the season after Tommy John surgery, this Stony Brook University product is a surprise ace. Everyone who has seen him says it's no fluke, that he has the stuff. Limiting opponents to a paltry .191 batting average. Staying power: 4.
13. Drew Pomeranz , SP, A's (4-1, 0.94): After not making it in Cleveland and Colorado, he's doing what folks expected when he was a high pick out of Ole Miss. He has thrown five shutout innings in each of his past five starts. "It really wasn't that long ago that he was the fifth overall pick," A's GM Billy Beane pointed out. Word is, he had some serious maturing to do, and it's a credit to him that he did that. Plus, as Beane pointed out, he was pitching in hitters parks before. Staying power: 3.
14. Seth Smith , OF, San Diego Padres (.336, 6, 18): He's a powerhouse vs. right-handed pitching. "You can't throw a fastball by him," one rival GM said. Certainly not this year. Beane said he hated to give him up in trade. "He was very popular and very productive -- a great teammate." Staying power: 3.
15. Alexei Ramirez , SS, White Sox (.316, 6, 32): He's playing a superb all-around game, with eight stolen bases and terrific defense, too. That 2.0 WAR is no fluke. He has been overshadowed a bit by Abreu, but maybe Abreu's presence has helped tremendously. That's what people around the team think. Staying power: 2.
16. Derek Norris , C, A's (.340, 4, 20): Yes, yet another Oakland player. He's also the prototypical A's hitter, with 20 walks and a .980 OPS. That's great for anyone, much less a catcher. Observers cite improved plate discipline and the use of all fields in his resurgence. Staying power: 2.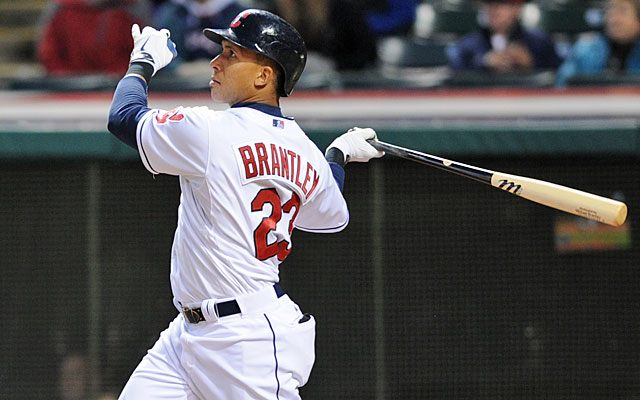 17. Michael Brantley , OF, Cleveland Indians (.303, 9, 37): He has been a pretty consistent player, which is why the Indians rewarded him with a four-year, $25 million deal over the winter. While that contract was considerably more than they offered the winter before, it looks like an extremely wise deal for the team the way he's playing. He has always been a solid hitter, but he's showing real power for the first time. Staying power: 3.
18. Rick Porcello , SP, Detroit Tigers (7-1, 2.91): Hard to believe this fellow is still only 25 years old. He has been a solid starter practically since he became a big-bonus pick out of a New Jersey high school but he's finally showing signs of being more than that. A nearly five-to-one strikeout-to-walk ratio is impressive (33 K's, seven BBs). His timing couldn't be better as free agency awaits. Staying power: 2.
19. Tyson Ross , SP, Padres (5-4, 2.64): He has "a great arm" and "great stuff," one rival GM said, but a slightly funky delivery makes some wonder about the command. The 2.64 ERA looks a bit better since he has given up a league-high eight unearned runs. Staying power: 3.
20. Dellin Betances , RP, Yankees (2-0, 1.73): He has found a home as a setup man, where his two-pitch mix has made him unhittable. His strikeout rate of 15-plus over nine innings (45 K's in 26 innings) is off the charts. The concern as a starter was command, but so far he has been able to hold it together for two innings at a time. A plus: Brooklyn product. Staying power: 3.
21. Brandon Moss , 1B, A's (.291, 10, 40): He hit 30 home runs as little more than a platoon player last year, so this may not be a complete surprise. The A's put him in a position to succeed, and he continues to do so. The .958 OPS is stellar. Staying power: 4.
22. Kurt Suzuki , C, Twins (.303, 2, 27): He's a big part of the Twins' early resurgence, and he has been a help to Hughes. He's also yet another guy on the list that spent considerable time with the A's. Staying power: 3.
23. Dee Gordon , 2B, Los Angeles Dodgers (.296, 1, 12): He's becoming one of the better second basemen in the league, and maybe the best base stealer. Don Mattingly looked for some extra dimensions when he gave Gordon the job, and he has provided just what Mattingly was looking for. He has a league-leading 25 steals, in just 28 attempts no less. Staying power: 4
24. Mark Buehrle , SP, Toronto Blue Jays (8-1, 2.16): He's a marvel the way he gets the most out of the least. It doesn't hurt that he works fast, holds runners as well as anyone and fields his position better than anyone. His traditional numbers are often better than his secondary numbers, but it may be hard even for him to sustain the pace giving up nearly a hit an inning. The 2.16 ERA is eight best in baseball, the 1.22 WHIP is 45th best. Year to year, he has been amazingly consistent, so look for him to gravitate toward the mean. Staying power: 1.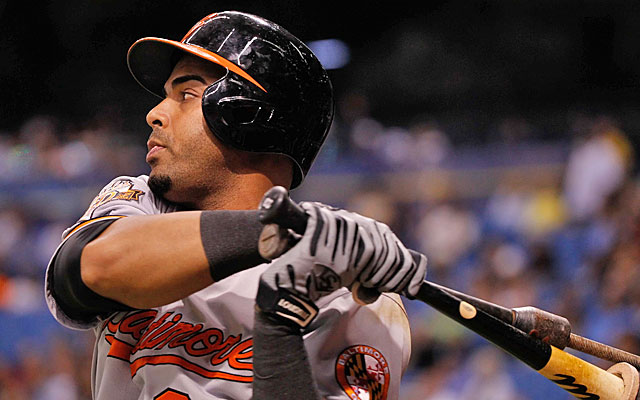 25. Nelson Cruz , OF/DH, Baltimore Orioles (.285, 14, 42): After finding a stunningly weak market following a very good season spoiled by his Biogenesis suspension, Cruz is playing like he has something to prove. He was on pace for his first 100-RBI season last year, and he looks like a sure bet to do it this year. It isn't the ballpark, either, as he has been even better on the road than at home. GM Dan Duquette sounds anything but shocked at the production of his bargain $8 million signing (though if others expected this, presumably his market would have been much better). Said Duquette, "Cruz has hit for the O's like he did in 2013. Good approach and stroke. Real professional player." Nice comeback story, too. Staying power: 5
The report also says that Jeter had outgoing president David Samson do the firing

This wasn't a traditional hidden ball trick, but the Blue Jays pulled it off

The Tigers essentially fired Brad Ausmus on Friday, but things are going to be ugly for a...
The club made the announcement on Friday

Plus the Tigers will make a change in the dugout and all of Friday's action

The Rockies are clinging to the second NL wild card spot at the moment