Hot stove: Will free agency begin to heat up after Zimmermann deal?
Jordan Zimmermann has agreed to a deal with the Tigers. Does that mean the rest of free agency will begin the heat up?
At long last, the first significant free agent signing of the offseason went down Sunday morning. The Tigers agreed to sign righty Jordan Zimmermann to a five-year contract worth $110 million. The deal is pending a physical.
The 2015-16 free agent class is one of the best in recent memory, and we've all spent the last few weeks waiting for the first big name free agent to sign, hoping it would open the floodgates. Is that actually how it works though? Does that first big deal jump start the market?
Here are the timelines of the major free agent signings in recent offseasons. For the purposes of this exercise, we'll define "major" signings as deals worth $50 million or more.
2014-15 OFFSEASON
Nov. 14: Victor Martinez re-signs with Tigers (four years, $68 million)
Nov. 17: Russell Martin signs with Blue Jays (five years, $82 million)
Nov. 25: Hanley Ramirez (four years, $88 million) and Pablo Sandoval (five years, $95 million) sign with Red Sox
Dec. 1: Nelson Cruz signs with Mariners (four years, $58 million)
Dec. 10: Jon Lester signs with Cubs (six years, $155 million)
Dec. 11: Ervin Santana signs with Twins (four years, $54 million)
Dec. 15: Chase Headley signs with Yankees (four years, $52 million)
Jan. 19: Max Scherzer signs with Nationals (seven years, $210 million)
Feb. 9: James Shields signs with Padres (four years, $75 million)
The free agent frenzy started fairly early last offseason, which, as you'll see later in this post, is the exception and not the norm. Martinez kicked things off by re-upping with the Tigers, then Martin, Ramirez and Sandoval followed suit and signed before Thanksgiving.
Once Martinez kicked things off, we never went more than nine days between major signings until the holiday lull. Scherzer, as the top Scott Boras client, waited out the market and didn't until mid January. Shields' market was hurt by the qualifying offer and concerns about his age and workload. We didn't wait long for signings to happen last year. It's hard to say whether Martinez's deal pushed the market along.
2013-14 OFFSEASON
Nov. 25: Jhonny Peralta signs with Cardinals (four years, $53 million)
Dec. 3: Jacoby Ellsbury (seven years, $153 million) and Brian McCann (five years, $85 million) sign with Yankees
Dec. 9: Curtis Granderson signs with Mets (four years, $60 million)
Dec. 12: Robinson Cano signs with Mariners (10 years, $240 million)
Dec. 27: Shin-Soo Choo signs with Rangers (seven years, $130 million)
Jan. 26: Matt Garza signs with Brewers (four years, $50 million)
Feb. 19: Ubaldo Jimenez signs with Orioles (four years, $50 million)
Peralta signed with the Cardinals then we waited a little more than a week for Ellsbury and McCann to sign with the Yankees. (Interestingly, Ellsbury was the big Boras client this offseason, and he signed quickly rather than wait until January.) That all happened before the Winter Meetings. There was roughly a week between major signings until the holidays during the 2013-14 offseason. It doesn't appear the floodgates opened once Peralta signed that first major deal.
2012-13 OFFSEASON
Nov. 28: Melvin Upton signs with Braves (five years, $75.25 million)
Dec. 9: Zack Greinke signs with Dodgers (six years, $147 million)
Dec. 15: Josh Hamilton signs with Angels (five years, $125 million)
Dec. 17: Anibal Sanchez signs with Tigers (five years, $85 million)
Jan. 2: Edwin Jackson signs with Cubs (four years, $52 million)
Jan. 3: Nick Swisher signs with Indians (four years, $56 million)
The 2012-13 offseason lacked star power. Greinke was the best of the bunch by far, and pretty much everyone else came with some sort of red flag, so the free agent market was really slow to develop. Upton signed with Atlanta, then more than a week later Greinke, Hamilton and Sanchez all came off the board in rapid succession before the holidays. Jackson and Swisher signed quickly after the start of the new year. I'm not sure there were floodgates to open that winter.
2011-12 OFFSEASON
Nov. 13: Jonathan Papelbon signs with Nationals (four years, $50 million)
Dec. 2: Jose Reyes signs with Marlins (six years, $106 million)
Dec. 7: Mark Buehrle signs with Marlins (four years, $58 million)
Dec. 8: C.J. Wilson (five years, $75 million) and Albert Pujols (10 years, $240 million) sign with Angels
Jan. 24: Prince Fielder signs with Tigers (nine years, $214 million)
The 2011-12 offseason was the first with the qualifying offer system and teams waited for the new Collective Bargaining Agreement to be finalized before dipping into free agency. They weren't sure what the draft pick compensation rules would be.
The Phillies didn't care and signed Papelbon early, but it wasn't until a few weeks later that other major deals went down. These floodgates didn't open until the new CBA was put in place. That pushed things along, not Papelbon.
(And again, the top Boras client waited until January to sign.)
2010-11 OFFSEASON
Nov. 23: Victor Martinez signs with Tigers (four years, $50 million)
Dec. 2: Adam Dunn signs with White Sox (four years, $56 million)
Dec. 4: Derek Jeter re-signs with Yankees (three years, $51 million)
Dec. 5: Jayson Werth signs with Nationals (seven years, $126 million)
Dec. 8: Carl Crawford signs with Red Sox (seven years, $142 million)
Dec. 13: Cliff Lee signs with Phillies (five years, 120 million)
Jan. 4: Adrian Beltre sign with Rangers (five years, $80 million)
Under the old draft pick compensation rules with Type-A and B free agents, Martinez signed with Detroit, then we waited almost two weeks for the next major deal. Then it was almost a signing a day for a full week. I remember the Martinez deal being a bit of a surprise. It seemed to come out of nowhere with few rumors. It took a while for the second domino to fall, however.
* * *
Based on the last few offseasons, it seems as though the first major free agent typically doesn't sign until late November, then it's not until early December that the rest of the big names came off the board. That coincides with the Winter Meetings more than anything.
Now that Zimmermann is signed, the market for guys like Greinke and David Price and Jason Heyward will pick up, but that's doesn't mean their deals are related. The Winter Meetings are approaching and clubs like to handle their biggest pieces of offseason business before the holidays. That's the real driving force. Someone needs to be the first free agent to sign and it doesn't appear that first signing has any real impact on the pace of the market.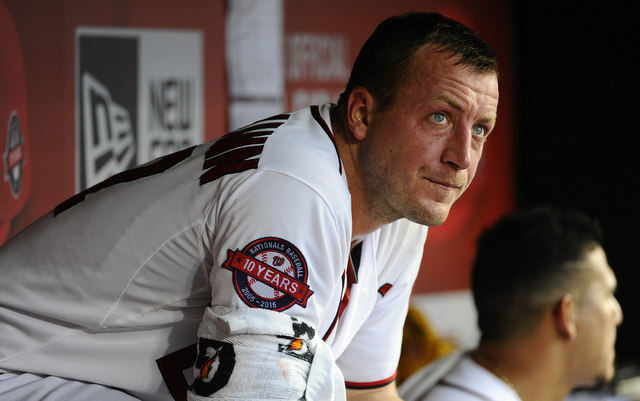 CBS Sports HQ Daily Newsletter
Get the best highlights and stories - yeah, just the good stuff handpicked by our team to start your day.
Please check the opt-in box to acknowledge that you would like to subscribe.
Thanks for signing up!
Keep an eye on your inbox for the latest sports news.
Sorry!
There was an error processing your subscription.
The Brewers fell a game short of the World Series, so now it's time to try and build on th...

What does the CBS Sports MLB staff think about the upcoming World Series? Well, it's unani...

Will the Dodgers or Red Sox prevail in the 2018 World Series?
The Dodgers have made some shrewd trades and done very well in the draft

The 2018 Red Sox are heavy on players who were acquired through the draft and in trades

The Angels have identified the successor to Mike Scioscia