After generations of sports-related heartbreak, Cleveland is on the verge of becoming the City of Champions. The Indians hold a 3-1 series lead over the Cubs in the World Series and are one win away from their first championship since 1948. Game 5 is Sunday night. Here's how you can watch.
Earlier this year, the NBA's Cleveland Cavaliers won the city's first championship since 1964, and they did it in dramatic fashion. The came back from a 3-1 series deficit against the 73-win Golden State Warriors, who had the most wins in NBA history and also the unanimous MVP (Stephen Curry) on their roster. The Warriors played Games 5 and 7 at home, too.
Cleveland's comeback in the NBA Finals was so dramatic that it spawned a long-living internet meme. I even slipped one in our ALCS review a few weeks back.
Its 9/13/2016
ts 9/13/201
s 9/13/20
9/13/2
/13/
13
13 flipped around is 31
31
3-1
The Warriors blew a 3-1 lead in the Finals

— LL Cool Joe (@SportsTalkJoe) September 13, 2016
The Indians now are facing the opposite situation. They hold the 3-1 series lead and are looking to finish it off. They Cavs were trying to come back. The best team during the regular season, the Warriors and Cubs, are involved, too. There are some interesting parallels here, aren't there?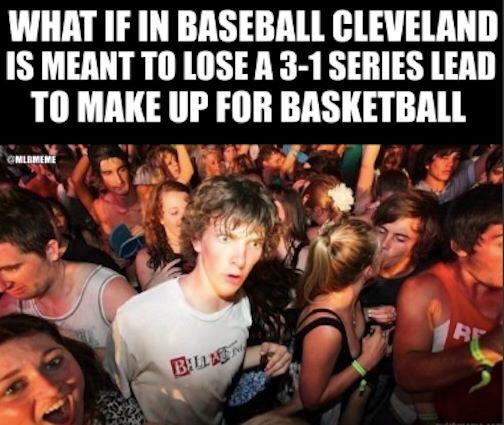 The Indians, of course, want to avoid becoming a internet meme themselves. They want to end the World Series in Game 5 on Sunday night. When they come back to Cleveland on Monday, they want it to be for a parade, not Game 6. Winning in front of the home fans would be cool, but not as cool as just getting it over with.
How can the Indians avoid doing the opposite of the Cavaliers? Four keys immediately jump to mind heading into Game 5.
1. Have a short hook with Bauer
This has not been a great postseason for Trevor Bauer, who is pretty unpredictable anyway. He had to leave one start after four batters because the cut on his pinky -- the cut he suffered repairing his drone -- opened up and bled all over the place, and in the other two starts he failed to complete five innings. Bauer has allowed five runs and 16 baserunners in nine innings this postseason. He'll be on short rest in Game 5 as well. At the first sign of trouble, manager Terry Francona should look to the bullpen, especially with an off-day Monday.
2. Keep leaning on Miller and Allen
Francona has been riding Andrew Miller and Cody Allen hard this postseason and there's no reason to stop now. They've both been dominant -- their combined numbers: 0.33 ERA and 0.81 WHIP with 47 strikeouts in 27 innings -- so much so that they've been shortening games to five innings. Even 4 2/3 in some cases. Cleveland's best chance to win is with those guys in the game. Keep using 'em.
3. Stay with Santana, even over Napoli
With no DH in the NL park, the Indians had to play Carlos Santana in left field in Game 1. It worked. He drew two walks and caught the only ball hit his way. In Game 4, Santana started at first base over Mike Napoli, and it worked again. He hit the game tying solo home run in the second inning. Napoli had a tremendous regular season, but he's really struggled in October (.179/.256/.333), so as much as it pains Francona, keeping him on the bench and putting Santana at first base in Game 5 is the right move.
4. Remain disciplined at the plate
Uncharacteristically, the Cubs have been very aggressive at the plate in the World Series, taking big swings and ugly hacks at pitches out of the zone. Look at each team's walks total in the series:
| | | |
| --- | --- | --- |
| | Indians walks | Cubs walks |
| Game 1 | 2 | 4 |
| Game 2 | 5 | 8 |
| Game 3 | 3 | 1 |
| Game 4 | 3 | 1 |
| Total | 13 | 14 |
The Cubs have drawn more total walks in the World Series so far, but that is heavily skewed by Game 2, during which Cleveland's pitchers basically forgot how to throw strikes.
The Indians have been more patient and more willing to accept those free passes for most of the series, especially in Games 3 and 4, and that's one of the reasons they have a 3-1 lead. It can be tempting to think big and try to be a hero in games like this. The Indians have done a nice job avoiding that and they must continue to have that approach going forward.
---
Real talk forthcoming: The Cavaliers and Warriors have nothing to do with the Indians and Cubs. There is no higher sports power that will even things out in the World Series after letting the Cavs have their comeback. The Cavaliers came back because LeBron James, who is no worse than the second-best basketball player ever, took over the series.
The Indians have a 3-1 series lead because they've simply been better than the Cubs through four games. Better at the plate, better on the mound, better in the field and even better in terms of managerial moves. If they blow this series, it'll be because they made some mistakes and the Cubs got their act together in Games 5-7. It won't be some sort of karmic retribution. These Indians aren't the Warriors, and these Cubs certainly aren't the Cavs.