How definite was Rockies' pledge to keep Jim Tracy as manager 'indefinitely?'
Manager Jim Tracy has somehow avoided making some managerial hot-seat lists after word in spring was that he could stay as long he wants. But after a season in which the Rockes may lose 100 games, nothing is guaranteed.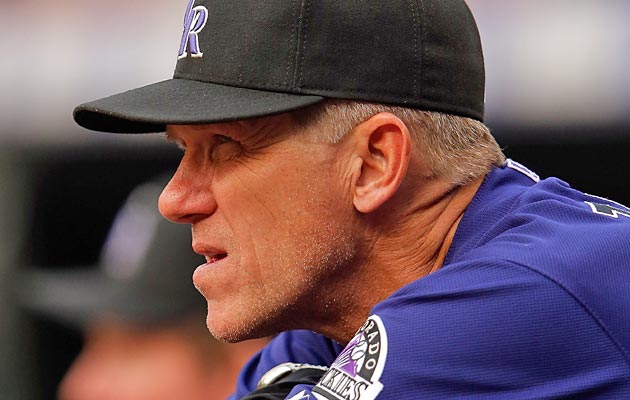 Jim Tracy could feel some heat with the Rockies approaching the franchise record for losses in a season. (Getty Images)
Colorado Rockies manager Jim Tracy hasn't received very prominent mention in the annual "managers on the hot seat" lists that appear around this time. But that doesn't mean Tracy is totally safe.
There still seems to be a decent chance he stays. But in recent days there have been occasional suggestions from outside the organization that the Rockies plan to discuss the manager position, despite a spring suggestion that Tracy has an "indefinite" contract. As one person familiar with the situation said, "When a team is on its way to 100 losses, of course the manager is going to be up for discussion." (It appears they may avoid 100 defeats now, but that won't necessarily change the equation.)
Word is the Rockies, an organization known for loyalty and stability, aren't likely to rush into firing Tracy right after the season, but will instead take a few weeks to let the stench of the terrible summer fade away before making more logical and less emotional decisions on a number of fronts.
The Rockies did already see a couple of major changes, as longtime pitching coach Bob Apodaca stepped down in late June. The front office underwent a shakeup last month, with longtime GM Dan O'Dowd taking on more minor-league and scouting responsibilities and assistant GM Bill Geivett being promoted to become more involved in the day-to-day big-league operation. The Rockies are planning to hire a pitching coordinator, and Danny Knobler of CBSSports.com reported that Mark Wiley of the Marlins is being targeted for that new role, and it's possible other changes could be afoot.
Two straight victories over the Cubs gave the Rockies 60 victories, so their chance to avoid 100 losses looks very good now. But the year-to-year trend hasn't been very positive. Tracy rallied the Rockies to a 74-42 finish and wild-card berth in 2009, then won 83 games the next year and 73 last year. With a little more than a week left, the Rockies are guaranteed to win somewhere in the 60s this year.
With the team having added payroll before this season (starting pitcher Jeremy Guthrie and second baseman Marco Scutaro were two late additions) and having to fight to avoid the 100-loss plateau, it would seem obvious that Tracy would qualify for hot seat lists. My list from a couple weeks ago didn't include Tracy at all among seven names, and others have failed to list him as well. There are very good reasons for this, beyond the fact that Tracy is a very nice man, though he is that.
Here's is a list of reasons why Tracy hasn't made many of the hot-seat lists:
1. The Rockies are one of the most loyal organizations in sports. President Keli McGregor, one of the best-respected executives in baseball, died suddenly early in the 2010 season, but the club-owning Monfort Brothers also have championed stability since taking the mantle from original Rockies owner Jerry McMorris, who was one of the most reasonable owners in baseball. For instance, Clint Hurdle managed eight years in Colorado, and while he is beloved, he had only one winning season.
2. The Rockies' best player, shortstop Troy Tulowitzki, has missed most of the season with a serious groin pull (he's hoping to return to play a couple games before the season ends, but that's obviously no guarantee at this point) and their best starting pitcher, Jorge de la Rosa, missed the whole season.
3. Allowances may be made for the difficulty of Coors Field. The humidor seemed to alleviate the pitching problem for a couple years, but Coors is back to yielding more runs than any of the other 29 parks. O'Dowd rather colorfully called the team's pitching staff "one of the worst in the history of the game" while touting hit rookie catcher Wilin Rosario. Statistically, it has certainly been the best hitters park in baseball this year. Guthrie, so spooked by Coors Field he could scarcely get anyone out while with the Rockies, but is back to pitching very well with the Kansas City Royals.
4. The Rockies this spring suggested Tracy had a handshake agreement to stay as manager "indefinitely." In February, O'Dowd, in an apparent attempt to ensure that the subject of Tracy's tenure would not be a topic of discussion following their 73-89 season (and it worked), told Rockies writers, "To say it extends beyond 2013 would not do justice to Jim. It could be until he's using a cane and having trouble getting on the field. Quite honestly, it can be for whatever number of years Jim wants it to be for."
Though Rockies upper management stopped short of guaranteeing Tracy would be the manager for a long time, it sounded at the time like Tracy would likely be staying well beyond the expiration of his paper contract, which is 2013. However, 100-defeat seasons (or even near-100-defeat seasons) sometimes have a way of changing things.
Kent had a good career, particularly with the bat

This would undoubtedly be the worst trade in Miami Marlins history

The Pirates recently shipped Gerrit Cole and Andrew McCutchen to Houston and San Francisco,...
Surely, Martinez and his agent are holding out for more

The reliever had a very good 2017 season with the NL Central champs

We don't need to discuss Chipper's Hall of Fame case, so let's have fun instead