How exactly are the Chicago White Sox in first? Here's a closer look
The White Sox are currently in first place in the AL Central. They're doing it mostly with pitching and defense in the early going.
The Cubs are the most talked about team in baseball right now, and for pretty obvious reasons. They are 14-5 overall, and they lead baseball in runs scored (119) and run differential (plus-68) by a lot. The Cardinals have the next best run differential at plus-40. That's a huge gap.
The Cubs are not the only first place team in Chicago, however. The White Sox beat the Rangers on Sunday (CWS 4, TEX 1) to complete the three-game sweep at home. They improved to 13-6 with a plus-14 run differential with the win. Only the Royals (plus-15) have a better run differential in the AL.
Run prevention has been the name of the game for the White Sox this year. They have allowed an average of only 2.47 runs per game in the early going, the fewest in baseball and more than a half-run better than the next best AL team (Royals at 3.06). The White Sox have allowed two runs or fewer 10 times in 19 games. Only the Cubs (12) have done it more.
Obviously allowing only 2.47 runs per game is pretty extreme and likely unsustainable. Even the very best run prevention teams will allow more than three runs per game across a full 162-game season. A year ago the White Sox allowed 4.33 runs per game, a tick above the 4.25 MLB average, so they are clearly improved. There are a few reasons.
1. The defense is substantially better.
By almost any measure, the White Sox were one of the very worst defensive teams in all of baseball last season. They had the worst Ultimate Zone Rating (-39.5) and third worst Defensive Runs Saved total (-39) in 2015, and their Defensive Efficiency was third worst at 0.689. That means they turned only 68.9 percent of balls in play into outs.
So far this season the White Sox are first in Defensive Efficiency (0.754), fifth in DRS (+9), and seventh in UZR (+3.2). It's still early, so we have to take these numbers with a grain of salt. For now they indicate the South Siders have gone from being one of the worst defensive clubs last year to one of the best through 19 games this year.
The defensive improvement comes mostly on the infield. GM Rick Hahn remade the entire infield over the winter with the exception of first base, where Jose Abreu is entrenched. Todd Frazier replaced Conor Gillaspie, Mike Olt, and others at third base, Jimmy Rollins replaced Alexei Ramirez at short, and Brett Lawrie replaced Carlos Sanchez at second base.
Ramirez and Rollins are essentially a wash defensively, but Frazier and Lawrie are big time upgrades in the field. Backup infielder Tyler Saladino is a defensive wiz as well, so even when one of the starting infielders needs a day to rest, the White Sox are plugging a high-end gloveman into the lineup.
Also, replacing Avisail Garcia with Austin Jackson in the outfield is a massive upgrade. The Adam LaRoche retirement freed up the DH spot for Garcia, who is simply one of the worst defenders in all of baseball. Among the 75 players to play at least 1,500 innings in the outfield from 2014-15, Garcia ranked 65th in UZR (-12.4) and 69th in DRS (-19). Yuck.
Jackson, on the other hand, was much closer to league average at -2 DRS and -1.4 UZR. There is nothing sexy about league average, but going from one of the worst defensive outfielders to an average defensive outfielder -- for what it's worth, I think Jackson is better defensively than the numbers say -- is a big improvement.
It's pretty simple: the White Sox replaced a bunch of bad defenders (Gillaspie, Olt, Sanchez, Garcia) with some good defenders (Frazier, Lawrie, Jackson). Those moves go a very long way to cleaning up the sloppiness in the field.
2. Latos has been incredible.
The White Sox were able to sign veteran right-hander Mat Latos to a cheap one-year deal worth $3 million over the winter because he was really bad last season. He had a 4.95 ERA (78 ERA+) in 116 1/3 innings with three teams, though sabermetric measures were a bit more kind (3.70 FIP).
Through four starts this season, Latos is 4-0 with a 0.74 ERA (500 ERA+). That's two earned runs allowed in 24 1/3 innings. Check out his game log:
2016 Game Log: Mat Latos
DATE
OPP
W
L
IP
H
ER
BB
K
4/7
@OAK
1
0
6.0
1
0
1
2
4/14
@MIN
1
0
6.0
3
1
1
4
4/19
LAA
1
0
6.1
2
0
3
5
4/24
TEX
1
0
6.0
7
1
2
2
Latos is not suddenly a true talent 500 ERA+ pitcher. No one is. Not even Pedro Martinez in his prime. At some point Latos' hilariously low .167 batting average on balls in play and hilariously high 96.9 percent strand rate will even out. Those numbers are not sustainable.
That said, Latos had a 3.25 ERA (113 ERA+) as recently as 2014. He had a 3.27 ERA (116 ERA+) in over 900 innings from 2010-14. This is a talented pitcher. Latos dealt with some knee and elbow issues in 2014 and 2015, and now he's healthy. He's also still only 28 years old, so he's in what should be the prime years of his career.
Thanks in large part to pitching coach Don Cooper, the White Sox have had a ton of success with reclamation project pitchers in recent years. They've been able to squeeze quality innings from cheap pickups like Hector Noesi, Phil Humber, and Gavin Floyd. Latos is next in line.
The White Sox have a dynamite rotation front three in Chris Sale, Jose Quintana and Carlos Rodon. Those three have combined for a 2.41 ERA in 74 2/3 innings in 2016. John Danks has not been very good since having shoulder surgery a few years back, so the team needed to find some stability at the back of the rotation. Latos has provided it.
3. The bullpen has been phenomenal.
Hahn spent an awful lot of money last offseason to fix his bullpen. He committed $46 million to closer David Robertson and $15 million to setup man Zach Duke. Robertson was great last year, but Duke was disappointing, as the was the bullpen overall. Chicago's relief corps ranked middle of the pack with a 3.67 ERA and 3.2 WAR in 2015.
So far in 2016, the White Sox's bullpen ranks first with a 1.51 ERA and third with 1.2 WAR. Check out some of the individual performances:
2016 Stats: White Sox Bullpen
Player
ERA
IP
H
R
ER
HR
BB
SO
AVG
Matt Albers
0.00
9.2
6
0
0
0
2
6
.194
Nate Jones
0.93
9.2
3
1
1
0
2
9
.091
Dan Jennings
1.50
6.0
6
1
1
0
0
4
.250
David Robertson
1.08
8.1
3
1
1
0
2
11
.115
Jake Petricka
1.35
6.2
5
1
1
0
6
5
.227
Zach Putnam
4.26
6.1
5
3
3
1
1
5
.217
Zach Duke
2.57
7.0
7
2
2
0
2
6
.269
Getting Albers and Jones back has been huge. Injuries limited those two to only 56 1/3 total innings last season (only 5 2/3 in the first half, all by Albers), during which they had a 1.92 ERA. Albers and Jones are both healthy from the get-go this season, adding that much depth to the bullpen. They push others like Duke and Petricka in a lower profile middle relief roles.
Last season manager Robin Ventura had to cross his fingers whenever he brought in a reliever other than Robertson last summer. He has more weapons this year, and the added depth means he can spread out the workload and keep these guys rested.
---
The White Sox are hardly a perfect team. They're averaging only 3.21 runs per game offensively, second fewest in baseball overall, so at some point they need to get going on the plate. It's also fair to wonder how long Latos and the bullpen will hold up, especially considering some of the recent physical issues.
For now, the White Sox have ridden a dynamite run prevention unit to the top spot in the wide open AL Central. The Royals are the defending World Series champs -- and only a half-game back of Chicago -- and are the division favorite because they've earned it. If nothing else, Chicago's strong start to the season puts them in better position to be there at the end of the season.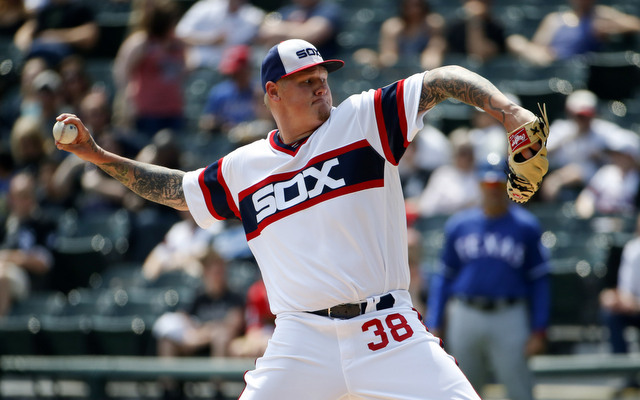 Dodgers manager Dave Roberts on Sunday announced his World Series rotation for the first four...

How should the Astros play it when one of their two aces isn't on the mound against the Do...

The former big-league infielder also worked as GM of the Puerto Rico national team
The Indians pitching coach would be getting his first MLB managerial job

In the last several years, lots of droughts have ended in MLB

The most likely scenarios are Dodgers winning in five or six games