How I'd vote in MLB All-Star balloting
The first release of All-Star voting tallies is to be released Tuesday. Here's one man's ballot.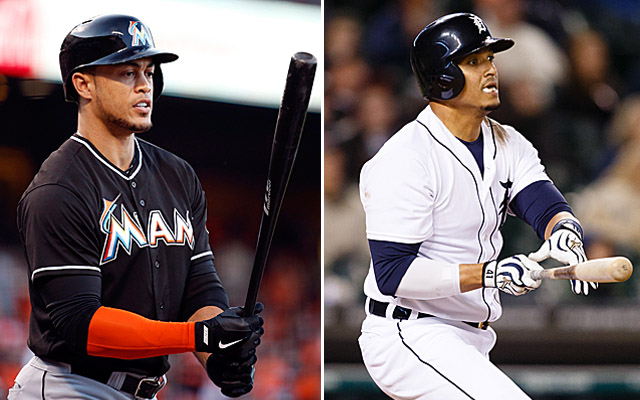 More MLB: Power Rankings | Expert Picks | Latest news & notes | Fantasy news
Major League Baseball is set to reveal the voting tallies of the All-Star balloting Tuesday. Ahead of that, I figured I'd throw out what my ballot would be as things stand right now.
Obviously, voting is subjective and there's no right or wrong answer. Even the criteria can change from voter to voter. For example, I know many are of the mindset that the Midsummer Classic should be a showcase of the stars, meaning that past history plays a role in which players should go. I don't do that. I go strictly in the performance we've seen in the current season. I look at it as a reward for a good first half of the season. So only 2014 matters, to me.
Let's get to it.
To cast your own ballot, hop on over to MLB.com
AMERICAN LEAGUE
First base: Miguel Cabrera, Tigers
Talk about starting off with a difficult decision. Miggy is the best hitter on the planet -- yes, still -- but he got off to a bit of a slow start and faces tough competition here from Albert Pujols and Jose Abreu. I'm going with Cabrera here based upon average/on-base percentage and with confidence that he'll bridge the gap in power before the game is played. I wouldn't argue with those who would choose Pujols or Abreu, though. [NOTE: Edwin Encarnacion is listed as a DH on the ballot, so he wasn't an option]
Second base: Ian Kinsler, Tigers
He's making Dave Dombrowski look like a genius for the Prince Fielder trade, hitting .330/.360/.477. Both Robinson Cano and Jose Altuve have similar batting lines, though Kinsler gets the nod on power and with the glove. Again, I wouldn't argue with those who would rather vote for Cano or Altuve. Brian Dozier and Howie Kendrick also have cases, but they're a bit further back.
Shortstop: Alexei Ramirez, White Sox
As things stand right now, this wasn't particularly difficult. Ramirez is doing everything this season, hitting .320/.355/.483 with seven homers, 36 RBI, 30 runs, nine steals and some quality work with the leather. No one else was really considered, though I'm sure many would want to vote for Derek Jeter in his final go-round -- in fact, I'll be beyond shocked if he isn't elected the starter this summer.
Third base: Josh Donaldson, Athletics
He should have gone last year, but was snubbed. This vote doesn't have anything to do with that, though, as it's based upon merit in 2014. Donaldson is establishing himself as a bit of an unheralded star for the A's and he's outplaying established stars Evan Longoria and Adrian Beltre.
Catcher: Derek Norris, Athletics
He's still splitting time behind the dish for the A's, but Norris is hitting .316/.416/.513 and calls a great game. He gets the nod over established backstops like Brian McCann and Salvador Perez and also the surprising Tyler Flowers and underrated Yan Gomes.
Designated hitter: Victor Martinez, Tigers
What a powerful group. Edwin Encarnacion is in the middle of a power surge, Nelson Cruz has been one of the best power hitters in baseball, Brandon Moss has been having a great season and, of course, we must mention David Ortiz. Martinez trumps them all so far this season, though, throwing up a .341/.395/.609 line with a surprising 12 homers.
Outfield: Jose Bautista, Blue Jays; Mike Trout, Angels; Michael Brantley, Indians
Trout and Bautista are actually the only outfielders on the ballot with double-digit home run totals, but they're here for much more than that. Bautista has been an on-base machine and Trout is still probably the best all-around player in baseball -- an early-May slump at the plate notwithstanding. Neither was a particularly tough choice.
The third option was tougher. I thought about Shin-Soo Choo, Alex Rios, Alex Gordon, Adam Jones and Melky Cabrera. Brantley, though, has the power-speed combo in addition to a quality rate-stat line (.307/.377/.516). He's also the only outfielder on the ballot with a K-rate of lower than 10 percent.
NATIONAL LEAGUE
First base: Freddie Freeman, Braves
We may as well flip a coin here between Freeman and Paul Goldschmidt. When that's the case, my tiebreaker is team performance, so it's Freeman with ease. This is a crowded position, too, because Justin Morneau and Adrian Gonzalez merit consideration while Adam LaRoche and even Anthony Rizzo stand on the outskirts.
Second base: Chase Utley, Phillies
The 35 year old is still getting the job done with a .337/.394/.556 line. Dee Gordon's stolen bases and Neil Walker's power both deserve mention, but Utley is well ahead of the pack here.
Shortstop: Troy Tulowitzki, Rockies
No one else should even get a vote here. Tulo is crushing the rest of the field.
Third base: Todd Frazier, Reds
It's a shame Nolan Arenado went down with the finger injury. I think he would have been my choice here. Instead, we'll go with Frazier. The average (.264) isn't great -- though it's plenty above league average these days -- but he gets on base (.340) and hits for good power (nine HR, .483 SLG). David Wright's a feasible choice, but his power is lacking. Similar sentiment applies to Matt Carpenter.
Catcher: Yadier Molina, Cardinals
Jonathan Lucroy has a strong case, but Molina is the best catcher in baseball and is again having a brilliant season. Buster Posey also deserves a look, but Molina is having a much better year.
Outfield: Giancarlo Stanton, Marlins; Yasiel Puig, Dodgers; Carlos Gomez, Brewers
The list of snubs here is pretty long: Justin Upton, Andrew McCutchen, Seth Smith, Charlie Blackmon and lots of others. I like these three, though. Stanton might be the most exciting power hitter in the game while Puig and Gomez are among the most exciting all-around players. All three are performing well enough to warrant election both offensively and defensively.
Remember, the NL will have a DH, but there isn't a fan vote on that.
Also, fans don't vote for pitchers. So we're done. This is my ballot.
Just for fun, here are my starting lineups (I'll pick the pitchers and an NL DH, again, just for fun).
AL
1. Kinsler, 2B
2. Trout, CF
3. Cabrera, 1B
4. Bautista, RF
5. Martinez, DH
6. Donaldson, 3B
7. Brantley, LF
8. Ramirez, SS
9. Norris, C
SP: Masahiro Tanaka
NL
1. Gomez, CF
2. Tulowitzki, SS
3. Stanton, LF
4. Puig, RF
5. Freeman, 1B
6. Justin Upton, DH
7. Molina, C
8. Utley, 2B
9. Frazier, 3B
SP: Adam Wainwright
Mark Appel was one of the players being moved about on Monday night

Garrett Cooper is the answer to a trivia question

We still don't know if Ohtani will be jumping to the majors yet
Kinsler is a free agent next winter

Opening Day will be Thursday, March 29 -- the earliest opening day in MLB history

The World Series champion and big-time wrestling fan was on hand Sunday night