How long will Mariano Rivera sit atop the all-time career saves list?
Yankees closer Mariano Rivera will retire as baseball's all-time saves king following the 2013 season, but how long will his record last?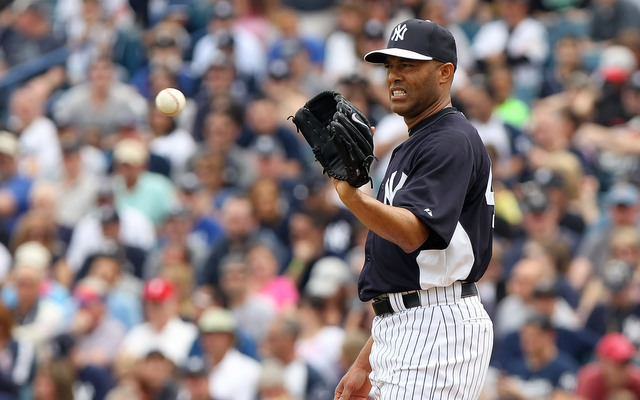 In September 2011, Mariano Rivera earned his 602nd career save to pass Trevor Hoffman for the most in baseball history. He'll enter the 2013 season -- which he said will be his last as a player -- with 608 career saves after missing most of 2012 with a knee injury, but if all goes according to plan, he'll leave the game with something like 640-650 saves to his credit.
Because Rivera and Hoffman are recent players, it's easy to lose track of just how incredible 600-plus saves is. Here is the career saves leaderboard for active pitchers:
Rivera, Yankees -- 608 saves
Francisco Cordero, no team -- 329
Jason Isringhausen, no team -- 300
Joe Nathan, Rangers -- 298
Francisco Rodriguez, no team -- 294
Jose Valverde, no team -- 277
Jonathan Papelbon, Phillies -- 257
Huston Street, Padres -- 201
J.J. Putz, Diamondbacks -- 183
Brian Wilson, no team -- 171
Five of those 10 pitchers are currently unemployed, and the closest to Rivera is barely more than halfway there. The 32-year-old Papelbon appears to have the best chance of becoming the next all-time saves leader, but he'll need to save an average of 35 games a year for the next decade just to get to where the Yankees closer is right now.
Aside from Papelbon, the most obvious candidate to eventually replace Rivera as baseball's all-time saves king is Craig Kimbrel, who owns 89 career saves and will turn 25 in May. He'll need to average 35 saves a year for the next 15 years to get to 608, nevermind whatever Rivera tacks on this year. Aroldis Chapman just turned 25 and he has 39 career saves to his credit, so he has a chance to catch Rivera if the whole move into the starting rotation thing doesn't work out.
Other youngsters like Neftali Feliz (74 saves at age 24), Drew Storen (52 at 25), Kenley Jansen (34 at 25) and Addison Reed (29 at 24) are candidates to one day eclipse Rivera's total, but all except Reed aren't closers right now. Storen and Jansen are currently stuck behind Rafael Soriano and Brandon League, respectively, and Feliz is returning from Tommy John surgery. He was working as a starter before blowing out his elbow last summer.
Closers -- relievers in general, really -- tend to have very short shelf lives. Just three years ago the top three saves totals belonged to Wilson, Heath Bell and Soriano. Six years ago it was Valverde, Joe Borowski and Cordero. It's a job with a lot of turnover, and that's part of what makes Rivera so remarkable. He's been both highly effective and highly durable, as last season was only the second time he failed to appear in 50-plus games since becoming a full-time big leaguer in 1996.
There's a good chance -- a very, very good chance, in fact -- the player who one day passes Rivera atop the all-time saves list isn't even in MLB yet. He might be playing in the minors or in high school or in little league somewhere. Rivera's all-time saves record isn't unbreakable like Cy Young's all-time wins record or Joe DiMaggio's all-time hitting streak, but it's going to be a very long time before someone gets close to threatening it. We might have to wait for an entirely new generation of closers to emerge.
For more baseball news, rumors and analysis, follow @EyeOnBaseball on Twitter, subscribe to the RSS feed and "like" us on Facebook. Also, individually interact with us on Twitter: @MattSnyder27, @daynperry and @mikeaxisa.

Wright was arrested at his home Friday

The former Tigers teammates were voted into Cooperstown by the 16-person Modern Era Commit...

The Yankees still have room for a good-sized signing even after Saturday's trade with Miam...
St. Louis gets some much needed help for their bullpen

Keep tabs on the top 50 free agents right here

Morrow thrived with the Dodgers last season