How long will the Odrisamer Despaigne honeymoon last?
Though his stuff doesn't seem overwhelming, Padres starter Odrisamer Despaigne has a 1.31 ERA through five starts. Can this last?
More MLB: Power Rankings | Expert Picks | Latest news & notes | Fantasy news
Padres rookie hurler Odrisamer Despaigne took a no-hitter into the late innings Sunday and is now turning heads nationally. The 27-year-old Cuban is 2-1 with a 1.31 ERA and 0.90 WHIP in five career MLB starts, after all. That's definitely worthy of notice.
There are a few reasons to remain skeptical, though.
First, he's new to all the hitters he has been facing and with such a deceptive delivery along with a mix of deceptive pitches, it's not difficult to see why he has had such great fortune thus far. More hitters will get looks at his stuff and familiarize themselves with him through video and advanced scouting reports and then it'll be up to Despaigne to prove he can adjust to the adjustments.
Speaking of the stuff, we're talking about a four-seam fastball that tops out at 92 mph. He plays off it well with a very slow curveball and a pretty good cutter among other pitches in his wide arsenal. Once the delivery and changing speeds are more familiar to the hitters, however, this isn't anything overpowering at all.
Also, Despaigne hasn't exactly had it rough in terms of the venues.
In five starts, Despaigne has had three in Petco Park, one in AT&T Park and one in Dodger Stadium. In terms of runs scored per game this season, those parks rank 26th, 25th and 24th in all of baseball.
Now, at least on that front, the good news is Despaigne gets roughly half his starts in Petco and the NL West -- aside from Coors Field, of course -- has good pitchers' park. So that gives him plenty of opportunities in pitchers' paradises.
The problem is Despaigne's good fortune hasn't only been tied to the parks. He doesn't miss many bats, boasting only 17 strikeouts in 34 1/3 innings. He has allowed an insanely low batting average on balls in play, too, at a .190 clip. Throwing in the left-on-base percentage 88.6 -- again, with a low strikeout rate -- and it's obvious Despaigne has had incredibly good luck in regard to where his opponents are hitting the ball. Yes, there's plenty of weak contact built in there, to which we can at least partially credit his deception, but this is where the "it all evens out" theory comes about. He's either some sort of magician when it comes to wooing the opposition into hitting the ball right at his defenders, or things aren't going to continue to happen like this.
The next matchup doesn't bode real well for Despaigne, either, as he's set to take on the Braves on Friday in Turner Field. The Braves have power and rank ninth in the majors in BABIP (.302). If there's one area where the inconsistent offense can be exploited, it's with strikeouts. That has been Despaigne's weakness. He very well could mix and match his pitches, changing speeds and locations, baffling the Braves' batters. He could also just as well see his luck on balls in play reverse and suffer the first awful outing of his career. Remember, he had a 7.61 ERA in five Triple-A starts before his promotion.
Despaigne has been awesome so far and the Padres aren't even paying him $1 million this season (great signing by now-fired GM Josh Byrnes, no?). He has been a great story and it would have been an even better story had he twirled the first no-no in the history of the Padres franchise. I believe, however, that the honeymoon will be coming to an end pretty soon. It might be Friday in Atlanta (that would be my bet) or it may well be down the road. But it's coming.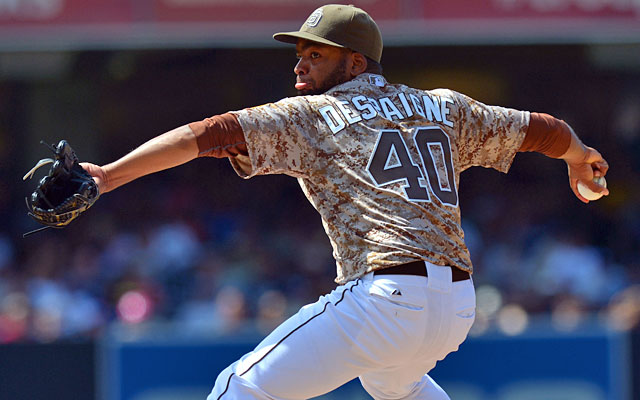 Chris Woodward has spent the last two seasons with the Dodgers

We heard about it being awful for years, but was it?

Then again, three trades in four days might be behind Jerry Dipoto's usual pace
Ohtani is arguably the best hitter and pitcher in Japan

The O's need rotation help, and Cobb is available for hire

The Red Sox and Cardinals are expected to make trade offers next