'How loud can this place get? That's how loud'
On a magical night in Baltimore, Camden Yards was alive, the way it once was. And the American League East race was alive, with the Orioles regaining a first-place tie with the Yankees with a crazy 10-6 win.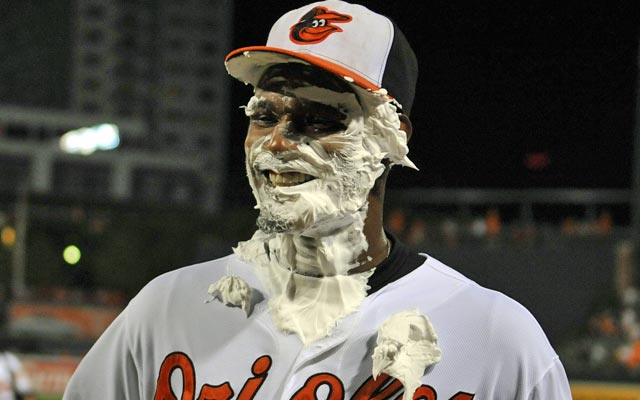 Adam Jones calls his homer the biggest hit of his life.
(US Presswire)
BALTIMORE -- How do you describe noise? How do you explain atmosphere?

How do you convince someone how things used to be, how things might be again someday, until they hear it for themselves, until they feel it for themselves?

Until there's a night like Thursday at Camden Yards.

You want to know what Baltimore baseball can feel like? This was it.

You want to know what Baltimore baseball can sound like? This was it.

"I've always asked [longtime Orioles trainer] Richie Bancells, 'How loud can this place get?'" Adam Jones said. "After I hit the home run, he said, 'That's how loud.'"


There's no guarantee this night leads to anything, even though it ended with the Orioles and Yankees tied again atop the American League East after a wild 10-6 Orioles win. There's no guarantee how this crazy ride of an Orioles season will end, even though games like Thursday's will win over a few more non-believers.

But for all the times Buck Showalter and various Orioles managers before him have tried to remind players of how things have been and how things could someday be again, there's nothing that could show it more than this night.

This night, with a sellout crowd that was completely dominated by Oriole orange ("Like a tangerine," Jones said). This night, with the Orioles honoring Cal Ripken, then delivering an "Orioles magic" game from the Ripken era, failing to hold a 6-1 lead but responding to the Yankees' five-run game-tying top of the eighth with a four-run bottom of the eighth.

Jones began it with a tie-breaking home run off David Robertson, and that felt appropriate. It was Jones who had chided the Baltimore fans on Twitter after they didn't show up in large numbers a couple weeks back against the White Sox, and Jones who then told them, "I wanna hear the 'O' chant and get chills."

He's been an Oriole for five years, and he committed himself for six more when he signed an $85.5 million extension in May. He's heard about Oriole history and he believes in Oriole history, but he had never felt Oriole history.

"The city is a baseball city," he said. "This is the first time I've gotten a feeling for it in my five years here."

There's little better than seeing a city awaken to embrace a team that has earned that love. It happened in 2006 in Detroit, happened in 2010 in San Francisco and has happened the last two years in north Texas.

It could happen here, so many have said, but it takes a season like this.

It takes nights like this, games like this.

"I remember coming in here in the other dugout, how tough it was," Showalter said. "If our players didn't know, they know now what this fan base is about."

Showalter tries to downplay a lot of this. He knows better than to say that this win is sure to change the course of a season, or the course of a franchise.

Perhaps it will. Perhaps this is a game we'll remember at the end of the month, either because the Orioles are in the playoffs or because the Yankees aren't.

It's too early to know that, just as it was too early to know a year ago today that the Red Sox would collapse, rather than almost collapse.

That collapse ended at Camden Yards, ended with the Orioles winning dramatically on the final day of the season. But that didn't feel like this.

It couldn't.

"I'm not a spoiler," Jones had said, last week at Yankee Stadium.

The Yankees have a ways to go to be like the Red Sox. They've turned a 10-game lead in mid-July into a tie in early September, but Thursday they reminded us that their offense isn't going to sleep forever.

This was a big loss for them, but hardly a devastating loss. But it was a huge win for the Orioles.

"A game we needed to win," Jones agreed.

Their biggest win yet.

"By far," he said.

Their biggest win in 15 years, their biggest win since the last playoff season of 1997, when Ripken was still a third baseman rather than a statue.

They've heard about those years, heard about those games. They've embraced Orioles history, and many of them made time pregame Thursday to go watch the Ripken statue ceremony.

They know that if they really are going to live up to that legacy, the biggest wins can't come in early September.

"That right there is the biggest hit I've ever had in my life," Jones said. "Hopefully I can have one later this month that's bigger."

They can have bigger games. They'll need bigger wins.

But Thursday will always stand out. Thursday will always be the night they found out for themselves what Camden Yards can be.
Plus the Indians are now 27-1 in their last 28 games. Here is everything you need to know from...

The soon-to-be 43-year-old Dickey said he wants to spend more time with his family

The two NL Central rivals opened a four-game series at Miller Park on Thursday night
The ballparks in Cincinnati, San Diego and Seattle will have expanded netting in place by Opening...

Mondesi spent six years as the mayor of San Cristobal in the Dominican Republic after reti...

The veteran skipper has been Mets manager since the start of the 2011 season