How R.A. Dickey went from the worst pitcher in Buffalo to ace in Toronto
Dickey was close to being made into a minor-league coach when a one-hitter in Triple-A Buffalo altered his career course.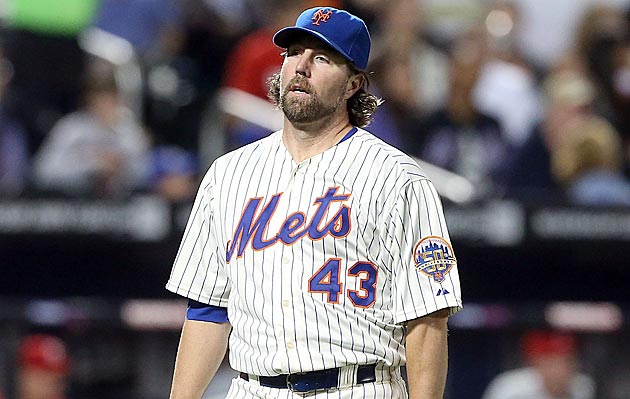 Not long ago, R.A. Dickey was one bad start away from being steered to his team's coaching ranks. (Getty Images)
Whether he knew it at the time or not, R.A. Dickey was nearing the end as a professional pitcher when he came to the Mets organization. They never told him, but one or two more bad outings, and Dickey was going to be recast as a coach. That was the plan.
Even his old friend Omar Minaya, the one who as Mets general manager rescued Dickey and gave him about his 50th chance to make it in the majors, was sizing up Dickey as a potential minor-league player-coach or even full-time pitching coach when Dickey threw a stunning one-hitter for Triple-A Buffalo and kept right on going.
This morning, Dickey, 38, has a brand new $30 million Blue Jays contract after two shockingly effective seasons as a Met in Queens followed by a year in which he stunned everyone (including Minaya) by winning 20 games for the struggling Mets and beating out the great young Dodger Clayton Kershaw to join Mets legend Tom Seaver as a winner of the National League Cy Young award. Some folks are even saying Dickey's acquisition by the Jays makes them the favorite in the division that's usually the toughest in baseball, the A.L. East.
He has moved 100 miles north, from Buffalo to Toronto, but he's a world away.
Everyone knows that the story of Dickey is one of the most miraculous in modern baseball lore. But few knew how close he came to the end, probably not even Dickey himself.
Nobody saw this coming. Not his old friend Omar, who have him a chance mostly because he knew him and liked him from his early Texas days, when he had his signing bonus cut following the surprise medical discovery of a missing ulnar collateral ligament and never came close to living up to his promise as a hard-throwing University of Tennessee Volunteer pitcher. Not Omar, and not anyone.
"Nobody was smart enough to think he was going to do what he's doing now," Minaya, now an executive with the San Diego Padres, said by phone. "That's the beauty of this game."
And, as Minaya said as well, that's the beauty of Dickey, who is as persistent as they come. He'd been through a decade and a half of itinerant, mostly mediocre pitching, finishing short stays with the Brewers, Twins and Mariners when Minaya took him in what others reasonably described as the favor of a friend.
And it surely looked like that was the case when Dickey got to spring training and was by all accounts the worst pitcher wearing a Mets uniform. He was also the first cut in a prelude to him becoming what by all accounts was the worst veteran pitcher in Mets minor-league camp, as well.
As such, Dickey started the year as the No. 5 pitcher in Buffalo's rotation. He got the surprise call to start the home opener, thanks to an injury to another pitcher, and wound up pitching well enough to stay in Buffalo's rotation for the time being. Still, Mets people were considering moving Dickey to the coaching ranks. "The perception was, he might be a good pitching coach," Minaya recalled.
Dickey wasn't getting many people out before throwing those surprisingly solid 4 2/3 innings as a fill-in starter in Buffalo, and he was also hurt by being about the last remaining knuckleballer going. He'd been throwing the trick pitch awhile but had yet to use it effectively to consistently retire major-league hitters.
"You just didn't know with knuckleball guys," Minaya said, voicing the prevailing and understandable position in major-league baseball, where knuckleballer pitchers would be extinct if not for Dickey.
Then came the first turning point. Dickey threw a one-hitter for Buffalo that put him on the radar. When Jon Niese had to miss a start with a hamstring injury, Randy Niemann, a Mets minor-league pitching coach at the time, told Minaya he thought Dickey was pitching the best at Buffalo. That's all Minaya had to hear.
He was headed back to the bigs.
And, as Minaya said the other day, "The rest is history."
Dickey, pitching on a start-to-start basis when he arrived in New York, threw an impressive six innings in his Mets debut against the Nationals, giving him one more chance. His job hanging in the balance, Dickey delivered a string of solid starts, remaining in the Mets rotation and eventually earning himself financial security with a multiyear contract that turned out to be a prescient move by new Mets GM Sandy Alderson.
Dickey will be the most underpaid Cy Young winner in years when he earns $5 million to be the ace of the A.L. favorite, but his new contract calls for him to be bumped to $12 million a year for the following two seasons, or more than 100 times he likely would have earned as a minor-league player/coach. Dickey's new deal also calls for him to contribute $300,000 to Jays Care, the team's charity arm, over the course of the contract.
Dickey, who led the N.L. in complete games (five), shutouts (three), innings (233 2/3) and strikeouts (230) has appropriately credited his old buddy Minaya for giving him one last chance. But Minaya, characteristically, and appropriately in this case, demurs.
"He's done this himself, it's a credit to him," Minaya said. "He never gave up."
Gallardo spent the first eight years of his career in Milwaukee

MLB revenues are at a record high right now, but teams aren't spending it on players

Chicago added Tyler Chatwood earlier this offseason but might not be done adding to the ro...
The Dodgers and Braves pulled off a whopper on Saturday

Sabathia will reportedly spend a 10th season in the Bronx

Fowler suffered a knee injury at Chicago's Guaranteed Rate Field