How trades can happen in August
The MLB trade deadline happened Wednesday, but it's a non-waiver deadline. Here's how trades can happen in August.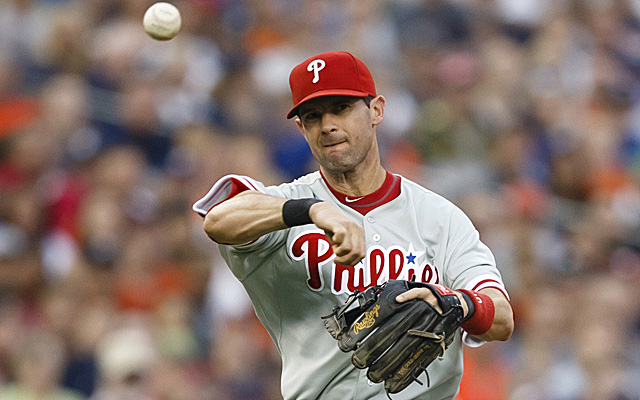 Non-waiver trade deadline: Grading the deadline | Trade Tracker
For the past several weeks, we've been worried about -- among other things, obviously, like Biogenesis and actual, on-field baseball -- the July 31 "trade deadline." But it's actually called the non-waiver trade deadline, because trades can still happen in August.
Note: If you already knew this and know how trades can still happen, kindly go back to our regularly scheduled programming.
Up until July 31 at 4 p.m. ET of each baseball season, it's essentially free-trade zone. Yes, the commissioner's office has to approve, but otherwise the obstacles are minimal.
In August, it's a bit more difficult. Someone like Michael Young of the Phillies is a good candidate to be moved in August. Here's how it works, for those unaware -- using Young as an example:
He must be placed on waivers. This isn't made public and lots of players go through the waivers process at any given time during any given season.
If more than one team places a claim on Young, the one with the worse (or worst, if more than two teams total place a claim) record in the National League wins. If no NL teams claim him, it goes to the American League and again follows the worst-to-best record method to determine which team wins the claim.
If a claim is awarded, the Phillies have three options. They could pull him back -- as they did last year when the Dodgers claimed Cliff Lee -- agree to a trade within two business days or just let the claiming club have him. In the latter case, the claiming team gets the rest of Young's contract (which is $16 million this year, prorated for how many games are remaining on the schedule at the time).
If Young clears waivers, he can be traded to anyone -- just as is the case before July 31 at 4 p.m. ET. Most players that are moved in August have cleared waivers. For example, the blockbuster trade last August that had the Red Sox sending Adrian Gonzalez, Josh Beckett, Carl Crawford and Nick Punto to the Dodgers was done after all the players had cleared waivers.
As with pretty much everything in Major League Baseball, there are more details involved in actually making the deals, but that's for the front office people to worry about. All we need to know is the above. Just plug in any player who might be dealt in the above paragraphs for Young and you have your answer as to how it can happen.
Outfield prospect Clint Frazier may be part of the talks

Boston wants to add two big bats to their lineup, not just one

Even more relievers signed on the final day of the Winter Meetings
Keep tabs on the top 50 free agents right here

The league is not happy Ohtani's medical information leaked

Kansas City and Baltimore were quite busy at the Rule 5 Draft