Sports fans constantly seek out what's new, and what's rare. When a rookie does something extraordinary, that performance checks both boxes. When that rookie is something less than a blue-chip prospect, the excitement rises. When you see what Astros rookie first baseman Tyler White has done so far this season, you might ask yourself what planet you're on.
Ten games into the 2016 season, and into his career, White is batting .438. He owns a .486 on-base percentage. And he's slugging .813. These numbers would be jarring for anyone -- only six players started the 2015 season with an OPS of 1.200 or higher, and only seven (including White) have done it this year.
But it's the impossibly long odds White faced to even get to the majors that make this early-season binge so unreal. The Astros picked him in the 2013 draft ... in the 33rd round. Consider White's background and body type, and that might actually seem high. He grew up in the tiny town of Mooresboro, North Carolina (population 304) and went to Western Carolina, hardly a baseball powerhouse. When the Astros announced his name on draft day three years ago, White stood 5-foot-11, and weighed about 250 pounds. His reward for being drafted 977th overall? A princely signing bonus of $1,000.
In the cutthroat world of professional baseball, players signed for the equivalent of pocket change tend to get screwed. When teams spend millions of dollars on a signing bonus for a top prospect, they have a vested interest to see that player succeed, and will go to great lengths to try to make that happen. Even if that means promoting such gleaming prospects ahead of lesser-regarded minor leaguers putting up much better numbers.
The story of Mike Piazza gets told often in baseball circles, not just because he was a 62nd-round pick who became a Hall of Famer, but because so few players drafted that low -- or close to White's 33rd-round status for that matter -- ever even make it to The Show. Of the tens of thousands of players taken in the draft's 51 years of existence, only 389 have ever made the majors when picked 977th or later ... and only a handful of those have gone to have impactful careers in the big leagues.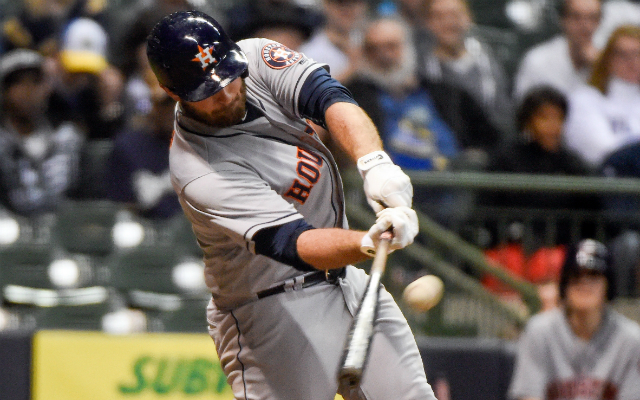 "We try to have a meritocracy as much as possible," said Astros general manager Jeff Luhnow. "We try to make it so that it doesn't matter how you came in, or what your bonus is. But in reality it can be extremely hard to stick to that, because of all the extra attention you end up paying to top picks, to the guys who got money. What we do try to do, though, is be aggressive about promoting guys, to push the up until they have a chance to fail. Often you push guys up to Double-A, or Triple-A, and their flaws are exposed. Tyler went to every level. At every level he succeeded. There was no way we were cutting him loose until we gave him a chance to fail. And there's no higher level than the one he's at now."
To reach this point, White immediately realized he needed to make changes. After his first season in the minors, he adopted a rigorous regimen of running, and eating only healthy foods, dropping nearly 30 pounds over that winter. He's since stayed committed to better fitness: Last winter, he won MVP honors in the Dominican league, then hit the gym aggressively when he returned to the U.S., lifting weights almost everyday, and cramming in tons of protein to gain strength, especially in his lower half.
The other big change has come in his hitting approach. White said he's always been a patient hitter, focusing intently on swinging only at strikes, even back in high school. By drawing tons of walks and hitting the ball to all fields, he carried his success into the minors, where he batted .311 with a terrific .422 on-base percentage over 294 games. But to take the next step and thrive in the majors, White felt he needed to do more.
"What I had to work on was, when I see a pitch up, hitting it, really hitting it with power," he said. "Rather than just spraying it for a single, I wanted to start to hit those for doubles or home runs."
White's blistering start showed off that patient but aggressive approach. His first major-league home run came at Yankee Stadium, a park that's always been tough on right-handed power hitters. Yet White's first round-tripper was an absolute blast, a ball belted over the wall just to the left-field side of dead center ... on a freezing-cold night in the Bronx to boot.
So here's the big question: Can this continue? Can a player that few other organizations even knew existed replicate the form that made him (along with the Rockies' Trevor Story) the first pair of rookies ever to win Player of the Week honors in the season's opening week?
For starters, White will need to adjust when pitchers adjust to him ... and they surely will. Thanks to the data geniuses at TruMedia, we can see where White's hot zones have been so far in his brief major league career: up and right down the middle, locations opposing pitchers will likely be more reluctant to challenge going forward.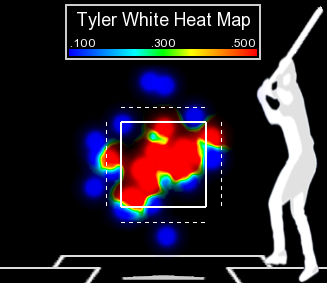 Still, that doesn't necessarily mean that White's numbers will completely crash. Thomas Brawner of the data science company Galvanize looked at all players since 1980 who've started a season with an OPS of 1.200 or better in their first 10 games. The most likely end-of-season results for such hot starters was an OPS between .800 and .950 -- numbers that would still rank as somewhere between better-than-average and very good by 2016 standards. There were also a handful of players who fared even better than that, most recently Joey Votto, who started the 2015 campaign on fire then cruised to a .314/.459/.541 line at season's end.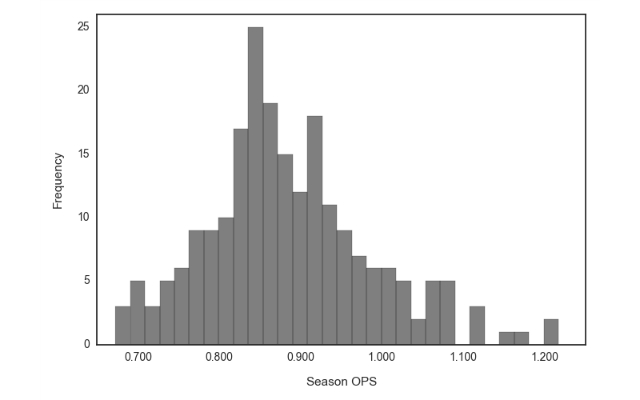 More broadly, White's bosses see encouraging signs that point to future success. Luhnow pointed to the old Bill James idea of signature significance, that when a player does something so incredible that it's nearly off the charts (even in a small sample of games), that can sometimes portend big results down the road. Where Luhnow once thought White's ceiling might be a solid OBP and 15-20 homers, what he's seen so far this year (including a foul ball hit earlier this week that almost hit the roof of Minute Maid Park near the foul pole), he now thinks 20-plus is a very realistic target.
White is similarly optimistic. With the thrill and novelty of being a big leaguer starting to die down, and the rookie no longer wide-eyed at the armada of flamethrowers coming out of big-league bullpens, White now believes he can settle in, read scouting reports of his own, and fare well in the majors.
Meanwhile, Astros skipper A.J. Hinch is downright bullish. Shifting from White's bat to his defense, Hinch said he was impressed with his first baseman's ability to field the position, especially given the quirks that come with playing on a team that deploys defensive shifts as frequently as Houston does. To Hinch, White's defense is a sign of a deeper understanding of the game.
"It's a matter of being in the right place in the right time, and so often doing the right thing," Hinch said. "He's not naturally a gifted defender ... but he makes the plays. He's not the fastest guy ... but he makes good baserunning decisions. He's not a highly toolsy hitter ... but he puts a good swing on the ball. He's a baseball rat, in the sense that he always puts himself in position to succeed."