Hunter Pence says he's the Giants' goat
Giants right fielder Hunter Pence has been the team's spiritual leader during their unlikely postseason run, but his play on the field hasn't lived up to his influence in the clubhouse.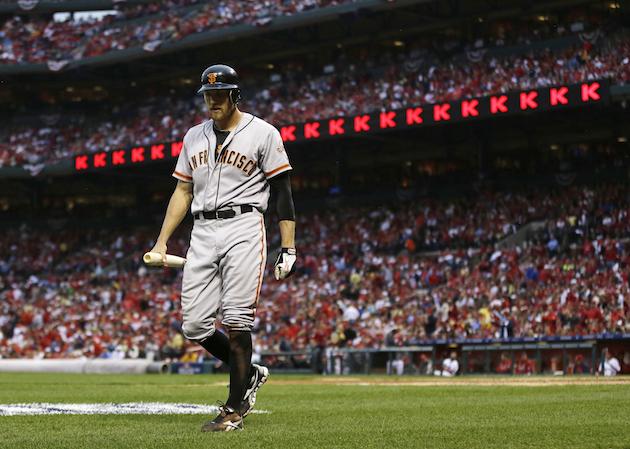 Hunter Pence was 0 for 4 with a strikeout in the seventh inning of the Giants' loss in Game 3 of the NLCS. (AP)
ST. LOUIS -- Before you could put the label on him, Hunter Pence put it on himself.
"This one, I'm the goat today and I didn't get the job done in big opportunities," Pence said. "I'm going to go home, try to learn from what happened. We have a big game tomorrow and be happy."
Pence, who has been given plenty of credit for his pregame speeches that fired up the Giants, may be getting it done in the clubhouse, but he hasn't been getting it done on the field. So far in the National League Championship Series, the Giants' No. 5 hitter is just 1 for 11, including an 0 for 4 night Wednesday in San Francisco's 3-1 loss to St. Louis in Game 3.
Giants manager Bruce Bochy said following the game, he'd discuss moving Pence down from his spot in the lineup as he's giving little in the way for protection for the team's best bat, catcher Buster Posey.
More on Giants-Cardinals
Columns
Stories
On Wednesday, Pence grounded into an inning-ending double play with two on in the third and then grounded out with one out in the fifth. But it was the seventh inning at-bat against Cardinals reliever Mitchell Boggs that represented the Giants' last and best chance to tie the game up. After Edward Mujica surrendered back-to-back one-out singles Pablo Sandoval and Posey, Pence had a chance to get his team back in the game or take the lead as they trailed by one. Facing a steady stream of sliders, Pence chased a slider out of the zone for the third strike, ending up on just one knee and looking as if he had zero chance against the Cardinals' righty.
Pence wouldn't get to the plate again and the Giants wouldn't put another runner on base.
"He's definitely not the goat," Posey said, noting the team as a whole went 0 for 7 with runners in scoring position. "You know, it's, I mentioned earlier, I know I feel confident every time he's up there with guys in scoring position because he did such a great job for us since he came over from Philly getting those runs in. It's never on one guy, we had other opportunities. "
Pence said he has confidence in himself, as well. Earlier this season, he said Jim Thome, then a teammate in Philadelphia before the two were separated by trades that sent them both to playoff teams, told him that when he has a bad game, he makes sure to go home and make sure to use it as a learning experience and get better for the next game.
That's what was on Pence's mind as he answered every question from the assembled media.
"Keep going, keep believing," Pence said. "Every time I go up there, I feel like I'm on fire and I'm going to catch something. That's just how I feel, no matter what happens."
In the postseason, he's hitting just .161 and has no extra base hits. Still, he's confident. Pence, an All-Star in 2011, didn't go hitless in four straight games during the regular season. However, he did go hitless in the final three of the regular season and the first two of the postseason, making him 5 for 40 in October.
So, you'd think it'd be difficult, at this point, for Pence to try to avoid the pressure of breaking out of a slump at the most inopportune time. How do you not put pressure on yourself, he was asked.
"You just don't," Pence said. "You just play."
Two lockers away, Brandon Belt was listening and said, "that's the best answer I've ever heard."
"Is it that easy?" Pence was asked.
"Yeah, it's that easy. A thinking mind is a heavy bat. How do you not apply pressure? Don't apply pressure. At the end of the day, when you go out there, prepare and attack while you're out there, if you don't get the job, continue to go, continue to learn. I've been through things, you just contain to go. … Every day is a new day. Today I'm the goat, tomorrow I could be the hero. You just keep fighting, that's all I've ever known to do."
For more baseball news, rumors and analysis, follow @EyeOnBaseball on Twitter, subscribe to the RSS feed and "like" us on Facebook.
The Grapefruit League and Cactus League seasons started on Friday

Data will be collected and then used to determine whether humidors are necessary in 2019

Spring training play began on Friday, and the Stoneman Douglas tragedy was on the mind of MLB...
Baseball players forced to take pictures usually lead to fun for all of us

One of the most celebrated programs in baseball is looking to continue its run

A closer look at the teams in the Cactus League and Grapefruit League