Hunter Pence wants his bat, 'Fryer,' back
The Giants sold Hunter Pence's broken bat from Game 7 of the NLCS during Monday's game, and Pence would like the bat, named "Fryer," back.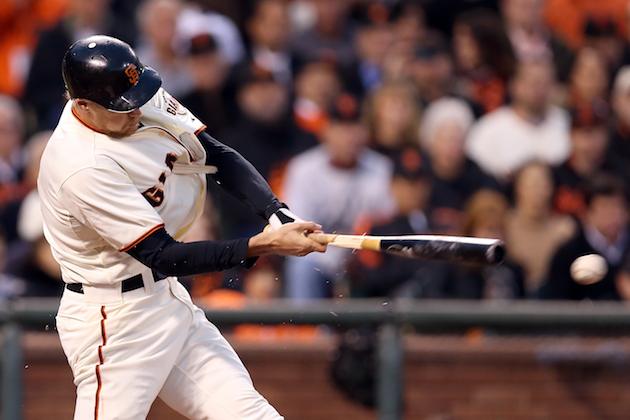 Hunter Pence's bat, 'Fryer' was sold for $400 on Monday. (Getty Images)
Hunter Pence has put out an APB for "Fryer," the bat that was the start of the Giants' five-run third inning in Game 7 of the National League Championship Series.
Pence broke his bat on his third-inning double that scored three runs. Replays showed -- over and over -- that the ball broke Pence's bat and then the barrel of the bat hit the ball two more times before going into center field. Pence drove in two runs and a third scored on Jon Jay's error, giving the Giants a 5-0 lead over the Cardinals. The Giants went on to win 9-0 and advance to the World Series.
The Giants authenticate and sell all broken bats at the team's dugout store at AT&T Park. By the time the game was over on Monday, the bat was authenticated, placed in the team store and sold for $400, according to Andrew Baggarly of CSNBayArea on Twitter.
Pence said that same bat was the one he used to hit a home run in St. Louis and he'd like it back. He can also identify it, because he names all of his bats (of course he does) and writes their name on the bat.
Monday's fallen soldier? Fryer.
Why is it called Fryer?
"I don't know," Pence told Baggarly (via Twitter). "It's whatever word comes to my mind, I write it. … It'll always be Fryer to me."
For more baseball news, rumors and analysis, follow @EyeOnBaseball on Twitter, subscribe to the RSS feed and "like" us on Facebook.
Charlie Morton will start either Game 3 or 4

Granderson, Verlander, Beltran and more are looking to reach the top of the MLB world

Houston's top relievers have been shaky this postseason
Our experts have a unanimous World Series pick

Otani's rare ability to hit and pitch will need to be accounted for in realms beyond real...

Kenny White has won 8 of his last 10 MLB Over-Under picks and has a strong play for Game 1