Hunter Pence's pregame speech, 10th inning single inspire Giants to play another day
Hunter Pence fired up his teammates before Tuesday's Game 3 of the NLDS and came up with a big hit in the team's 10th inning rally.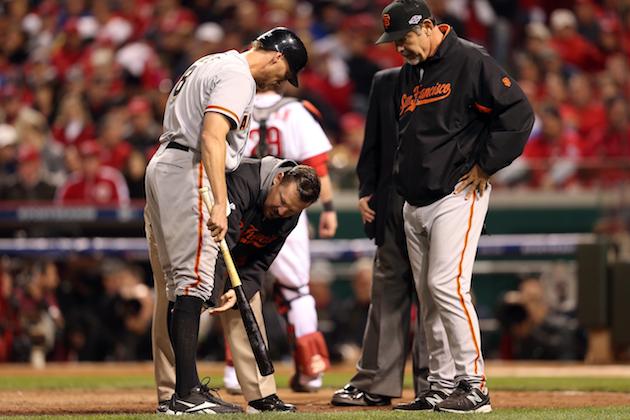 Hunter Pence suffered a cramp in his calf in the 10th inning of the Giants' Game 3 victory (Getty Images)
CINCINNATI -- Certain players look natural on a baseball field. They glide, their athleticism shines as they run around the bases or swing the bat. Giants outfielder Hunter Pence is not one of those guys.
Pence looks awkward. He looks awkward in how he wears his uniform, he looks awkward at the plate, he looks awkward in the field. And he may never have looked more awkward than he did Tuesday, as he legged out a single in the 10th inning of the Giants' 2-1, 10-inning victory over the Reds to keep the Giants' 2012 season alive.
More on Giants-Reds
Related links
Who wins World Series?
Pence's single wasn't the game-winning hit, nor did he score the decisive run. But he forced the matter, and fought off not just Jonathan Broxton's fastball, but a cramping calf that caused the trainer to come out in the middle of his at-bat in the 10th. With a bench already emptied and the bottom of the lineup coming up, Pence knew leaving the game wasn't an option. So he stayed in and followed Buster Posey's leadoff single with a single of his own -- and a limping run on to first base.
"I was fine. I had to make it through the frame," Pence said afterward. "Maybe it helped my at-bat because I couldn't move my legs."
He and Posey later advanced on a passed ball with two outs and Posey scored on an error by Reds third baseman Scott Rolen, which forced a Game 4 and allowed the Giants to keep going another day.
If Pence's 10th inning single was an emotional lift at the end of the game, he was also responsible for an emotional lift before the game. Although Pence didn't want to address his pregame address to his team, his teammates said it made a difference.
"I won't get into all of it. He was excited, he came out and said he enjoys this team, he doesn't want to stop playing with this team, so we've got to come out tonight and find a way to get it done," Jeremy Affeldt said. "Hunter was lively, he was pacing, he was getting loud, he was getting excited. He could have said nothing and how he said it, how he addressed the team, his approach to the message he gave, I think it just got everyone excited. He could have rattled off some poem, but the way he did it, he would have gotten guys excited. It was like a pre-football game type deal."
Said starter Ryan Vogelsong, "It wasn't so much what he said, it was the intensity he did it with. It was a great speech -- it wasn't anything too much off what you'd think you'd hear -- but it was the intensity he did it with. I can't speak for everyone else in this room, but it was just the emotion that was in it and the truthfulness you could feel in it. It was a good speech. It was the emotion in that, it hit home."
In fact, it almost worked too well for Vogelsong, as he allowed three hits and a walk in the first inning, but a baserunning gaffe by Reds leadoff man Brandon Phillips limited Cincinnati to just one run in the inning, and the Giants pitchers limited them to a single hit the rest of the way.
"I did my best to try to control the excitement of it and the buildup and it was hard that first inning, I felt like I was going 100 mph and I tried to slow myself down and when I got out of the first inning, I felt that," Vogelsong said.
Like Pence, Vogelsong is one of several key Giants who weren't a part of the team's 2010 World Series run. That fresh blood is important and helpful, said Affeldt, a member not only of the 2010 Giants World Series champions, but also a member of the 2008 Rockies team that lost in the World Series.
"I think guys like that, they get in a situation, they realize they don't want to go home and know what it's like," Affeldt said. "Some of the guys on this team have a ring, some of these guys have multiple rings and been to the World Series a few times, and we've got it. But other guys don't, and they really want it. You know how hard it is to get there, that's where the experience comes in. It's a really hard thing to do. These other guys who have experienced it, we know it's hard but we want to get there too."
Angel Pagan is another one of those players who wasn't with the Giants two years ago, but understands this team still has a chance to move on. While the 2010 Giants never faced an elimination game, the 2012 version had one right off the bat after dropping the first two games of the NLDS at home.
"It's a win-or-go-home situation and I'm not ready to book my flight to Puerto Rico," Pagan said. "There was no time for panic. If you panic, you don't win this game. You have to go up there and play with determination and that's what we showed tonight. We came here to win three games in a row, we didn't come here to win one game, to not get swept. We came here to win this series. We won this game. We've got to put it behind us. We've got to focus on [Wednesday's] game."
Despite being limited to just one hit in the first nine innings of the game, San Francisco managed to take advantage of Reds starter Homer Bailey's one troublesome inning in the third, as he hit leadoff man Gregor Blanco and then walked shortstop Brandon Crawford -- the No. 7 and 8 hitters in the lineup. After a Vogelsong sacrifice, Blanco scored on Pagan's sacrifice fly.
That was the entirety of the Giants offense until a sixth-inning single by Marco Scutaro with two outs to break up the no-hitter and then the 10th inning offensive explosion against the former Dodger and Royal closer.
It wasn't the prettiest of victories, but that only makes sense that it was inspired -- both in the clubhouse and on the field -- by not the prettiest of players. Pence, in addition to his awkwardness on the field is currently sporting a hatchet job of a haircut and a scruffy beard. While injured Giants closer Brian Wilson looks like someone who is trying resemble a serial killer, Pence looks like an actual serial killer. That look and intensity had little to do with his Patton speech, at least one teammate said, but it doesn't hurt the mental image of a madman urging his teammates on to a victory to stave off elimination.
"It's all about, at this point, we're playing as hard as we can to play another game tomorrow," Pence said. "That's all it is. That's what it's about. This is a group of guys that loves each other and we're going to go out there and play the kind of baseball you saw today."
For more baseball news, rumors and analysis, follow @EyeOnBaseball on Twitter, subscribe to the RSS feed and "like" us on Facebook.
CBS Sports HQ Daily Newsletter
Get the best highlights and stories - yeah, just the good stuff handpicked by our team to start your day.
Please check the opt-in box to acknowledge that you would like to subscribe.
Thanks for signing up!
Keep an eye on your inbox for the latest sports news.
Sorry!
There was an error processing your subscription.
'I feel bad for you,' Boone told Brennan Miller

Here is everything you need to know about the day in baseball

Also, watch SportsLine on CBS Sports HQ live at 6 p.m. ET for all today's best bets
The Dodgers took exception to Neris' celebration

Rivera famously gave the late Blue Jays and Phillies ace a baseball while explaining his cutter...

These kids are out to change Philadelphia fans' reputation