Hurdles remain in Mets-Rockies deal for Tulowitzki, Gonzalez
Colorado is said to covet some of the Mets pitching prospects in talks for stars Troy Tulowitzki and/or Carlos Gonzalez. But Rockies owner is said reluctant to trade stars now.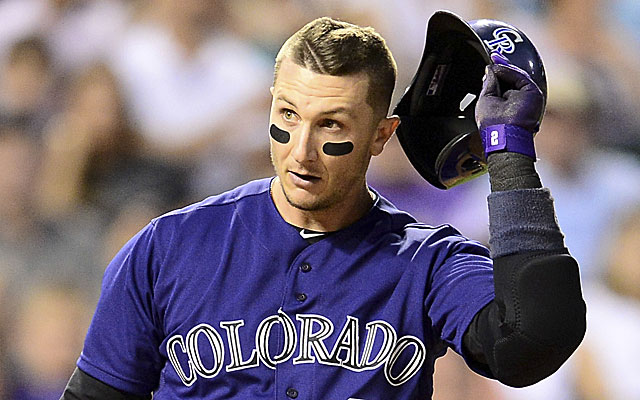 More MLB: Power Rankings | Expert Picks | Latest news & notes | Fantasy news
The Rockies and Mets would seem to be perfect trade partners.
Colorado has star players at the very two positions the Mets need in shortstop Troy Tulowitzki and left fielder Carlos Gonzalez, and it needs to think about retooling things after another year fighting and losing the altitude/injury battle.
The Mets have a stash of young pitching prospects, just the sort Colorado so badly needs.
And, in fact, Rockies people have identified the Mets as one of the teams -- perhaps the perfect team -- that could potentially make a trade of at least one or of their two cornerstone players work. Colorado likes the Mets' young pitchers, according to people familiar with their thinking, in fact much more than they like some other teams that have shown interest in Tulo and CarGo.
No surprise, the Mets have checked in again with Colorado, as Joel Sherman of the New York Post reported, and as expected the teams will talk again about Tulo and CarGo.
The two teams should have some interesting conversations since they do seem to be such a positional match. However, the chances of a deadline deal involving Tulo and Cargo still seem remote, at best.
The Mets seem reticent to break up their nice stash of young starting pitchers, though they'd be silly not to at least consider one or both players that could transform a perennially questionable offense.
The real issue, though, is the reluctant Rockies.
Rockies owner Dick Monfort has given others around baseball the impression he doesn't want to make major moves, much less trade his favorite player, who happens to be Tulowitzki. Tulowitzki himself has given a subtle blessing to trade him as he's frustrated by the team's sagging fortunes, as was reported here, but people close to the team say Monfort likely needs more of an overt request from Tulo to really consider trading his favorite player.
Things are rough around the Rockies now, as injuries and the inability to overcome all the issues that come with high altitude and Coors Field are overwhelming them at the moment. Even so, rather than rebuild or restart, ownership is said to worry over how a trade of a beloved cornerstone player such as Tulowitzki might be received. CarGo is also beloved, but he wasn't homegrown, he isn't having nearly the monster year Tulo's having, and perhaps there might be a little more chance there.
But beyond all that, there I may not be real urgency to make the big trade now. That's certainly true about the Rockies, who may be able to do just as well in winter. And it's also true about the Mets who aren't sure yet whether they're a buyer or seller.
In any case, it's clearly worth talking about.
The Rockies badly need pitching and are said to like almost all the Mets' pitching stash. Almost any deal likely would have to include either young righthander Zack Wheeler or righthanded prospect Noah Syndergaard, who came in the R.A. Dickey trade. But the Mets also have prospects Rafael Montero and  the emerging Jacob deGrom, who's becoming a Rookie of the Year candidate, and some slightly more veteran pitchers such as Jon Niese and Dillon Gee. The Mets also have that rare prospect from Wyoming, outfielder Brandon Nimmo, who could interest Colorado.
The Mets may, in fact, be the most logical trading partner for Colorado.
The Marlins have young pitchers but not the wherewithal to take Tulowitziki and/or Gonzalez (and they need to try to lock up their own star Giancarlo Stanton).
The Mariners have pitching prospects, but they are concentrating on enhancing their 2014 chances (Tulo is on the disabled list at the moment).
The Rangers have great prospects but they're mostly hitters.
The Red Sox, who will need to address shortstop and the outfield certainly after this year, are the other team that makes sense, as they possess many prospects, both pitchers and position players. But everyone has their own taste, and the Rockies are said to most like the Mets prospects.
The lefty starter is coming off a terrible season

After acquiring Ian Kinsler and Zack Cozart in recent days, the Angels are trending upward

Cozart's coming off a big season as the Reds' shortstop
The veteran slugger spent the last eight seasons with Cleveland

The Padres may be poised for an active winter

Yes, Bryce Harper is going to make a lot of money next winter