Hurting Dodgers coming apart at the seams as Cards seize 2-0 NLCS lead
Two games in, it's difficult to imagine how things could be going worse for the Dodgers. They're in a deep 2-0 hole, Hanley Ramirez and Andre Ethier are hurting, they couldn't win with Zack Greinke or Clayton Kershaw pitching and the Cardinals are doing everything right. ...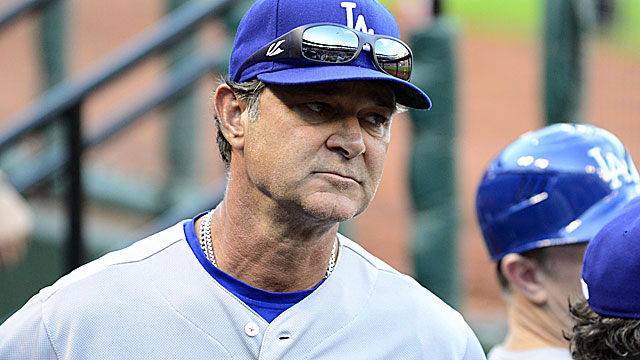 ST. LOUIS -- Clayton Kershaw was ready, but you knew this wasn't good for the Dodgers by the time he walked to the bullpen to try and pitch them even in this series.
Andre Ethier couldn't play. His foot was still hurting from going 13 hard innings a night earlier. Hanley Ramirez couldn't move. His side was still throbbing from taking a 95 mph fastball to the ribs 16, 17 hours earlier. Manager Don Mattingly warned Ramirez might have to be scratched, and he was.
Now, it's the Dodgers who are in danger of being scratched. Emerging Cardinals ace Michael Wacha made sure of that by annihilating them Saturday.
Two playoff games could hardly have gone worse for the Dodgers. By the time they finished losing Game 2, 1-0 on a warm afternoon, you couldn't help but wonder if they were taking this series back home for last rites.
"Two very good wins," Cards manager Mike Matheny said. "Two very tough wins when you face starters like that."
The Dodgers have thrown Zack Greinke and Kershaw and still been rope-a-doped.
They are 1 for 16 with runners in scoring position and stranded a total of 16 runners.
They've been shut out over the past 19 innings, and scored only twice in 22 innings so far.
All that energy Yasiel Puig provided in June, July and August? He looks like a battery in need of recharging now: 0 for 10 in this series with six strikeouts, and he's stranded eight baserunners. Somebody better find the cord to plug him back in, quick.
"Obviously, he's frustrated," Dodgers manager Don Mattingly said. "Yadier [Molina, St. Louis catcher] back there does a good job of yo-yoing him, showing him enough breaking balls and showing him the fastball. And it's back to the breaking ball.
"Yadier is doing a nice job as far as yo-yoing him back in forth and keeping him in the rocking chair. That's where I think we see his inexperience kind of come up."
At this point, Puig is more toasted than the ravioli in this town. He doesn't know what's coming and what's going.
"We're trying to make pitches," Molina explained. "Stay down. Be aggressive. Offspeed. Don't give him anything to hit."
The Cubs in August, this ain't. And Puig is perplexed, clearly. Best contact he has made in two games came in the first inning Saturday with Mark Ellis on second base. Problem was, it was with the dirt in the right-handed batter's box, when he angrily slammed his bat into the ground after swinging through strike three to end the inning.
He's swinging from his heels, reaching for outside pitches, contorting himself on inside pitches, even going so far as to land on one knee during one swing-and-miss Saturday.
Quizzed afterward, Puig insisted that it's the same swing he has had all year.
Asked if this should be a case of crediting St. Louis pitchers or whether he's simply overanxious at the plate, through his translator he said: "A few pitches [I] thought were out of the zone were called strikes. I'm giving it my best."
The Cardinals have quickly established a vise grip on this series because they're schooling Puig and, without Ramirez, they can dance around Adrian Gonzalez and then go right after the rest of this lineup.
In one sense, it was difficult to get a true measure of Wacha's greatness because, minus Puig, the lineup the Dodgers rolled out looked suspiciously like something created back in May when they couldn't get out of their own way en route to the NL West basement. Nick Punto at shortstop. Skip Schumaker in center field. Apparently, Luis Cruz was otherwise occupied.
While the kid was throwing blanks, Ramirez was off getting X-rays at a local hospital. They turned up negative, but he still suspects he has, at minimum, a cracked rib. He will go for a CT scan Sunday in Los Angeles before Game 3 arrives Monday.
"I was trying to play the whole day," Ramirez said. "But at the last minute, when I was trying to hit, it didn't work."
A couple of swings off of a batting tee in the indoor batting cage, and "it hurt bad."
At this point, it looks like maybe the best way Ramirez can help get the Dodgers back into this thing is by playing psychologist.
"I told him last night, but he's young," Ramirez said. "You've got to make a plan before you go to the plate. He's got to learn.
"I'm going to talk to him on the plane. You have to try and erase everything and come back with a new mind on Monday."
Maybe Ramirez could grab the telephone on the Dodgers' charter and make that announcement to everyone right after the captain announces that they've reached 10,000 feet and everyone is free to turn on their portable electronics.
New minds? That might be the only way to inject some drama in this NLCS yet. The Cardinals have been playing all postseason without their most dangerous offensive threat, slugger Allen Craig (foot).
And they've been able to make it work.
Wacha retired 13 consecutive Dodgers from the first through the fifth innings, turning the screws beginning immediately after Ellis stroked a first-inning single with one out. The kid fanned Adrian Gonzalez, then, after Ellis swiped second, blew away Puig with another strikeout.
When A.J. Ellis doubled with two out in the fifth, Wacha fired a called third strike past Nick Punto. With runners on first and second and two out in the sixth, Wacha fired another strike three past a wildly swinging Puig, then fanned Uribe.
There was, literally, no margin for error for Kershaw. And even at that, he nearly met the impossible specs the Dodgers had laid out for him. The game was decided in the fifth, when David Freese, Mr. World Series 2011 MVP, started the inning with a double and then scooted to third on a passed ball. Fastball down the middle, and A.J. Ellis, terrific and underrated all season, just missed it. Jon Jay followed with a sacrifice fly, and that was that.
There was no fancy explanation.
"Right down the middle, and I missed it," Ellis confirmed.
Same with the Dodgers. And so much for the idea of their invincibility because Greinke and Kershaw were set up to make four starts in this series.
Now they go back to Los Angeles, where Cards ace Adam Wainwright will be waiting, all oiled and lubed. Facing him even after splitting the first two games of this series would be daunting enough. But down 0-2?
Of course, few would have believed that the Cardinals would have walked through the Greinke-Kershaw carwash and emerged on the other side completely dry. This game, to its everlasting credit, refuses to be boxed into the predictable.
"It's kind of like a microcosm of our entire season," A.J. Ellis said. "Two well-pitched games from our aces who have done it all year, a scuffling offense ... it's what happened early in the season, especially with runners in scoring position.
"Over the past 24 hours, you've gotten a full 162-game look at the Dodger season. Now we go home, and hopefully you get the 42-8 stretch. Hopefully, that's the product we put out there."
Cozart's coming off a big season as the Reds' shortstop

The veteran slugger spent the last eight seasons with Cleveland

The Padres may be poised for an active winter
Yes, Bryce Harper is going to make a lot of money next winter

Outfield prospect Clint Frazier might be part of the talks

Boston wants to add two big bats to their lineup, not just one