Huston Street doesn't want a trade, but many contenders need 'pen help
Padres closer Huston Street does not want to be traded, but too many contending teams will be seeking bullpen help at the deadline for him to stay put.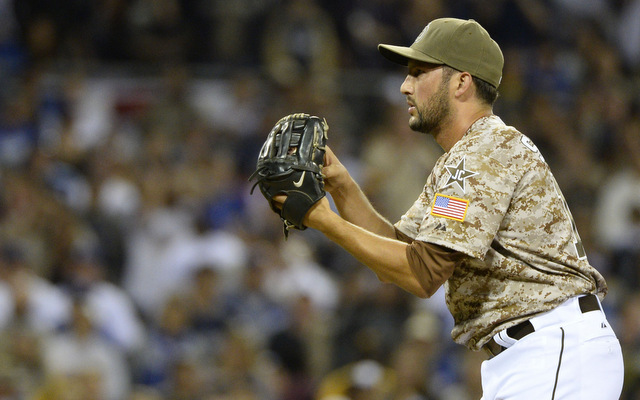 More MLB: Power Rankings | Expert Picks | Latest news & notes | Fantasy news
Thanks mostly to their offensive incompetence, the Padres come into Friday's action with the fourth worst record in baseball at 28-38. They are 6.5 games out of a wild card spot and would have to jump eight teams to get into postseason position.
There have already been rumblings front office and coaching staff changes may be on the horizon, with long-time manager Bud Black reportedly in danger. That's usually what happens when a team is on pace to lose 85-plus games for the fourth straight year and sixth time in the last seven years.
The last thing a bad team needs is a high-priced closer. So, with the trade deadline approaching, Huston Street and his $7 million salary figure to be shopped around. He doesn't want to leave San Diego despite the team's struggles, however. Here's what he told ESPN's Jerry Crasnick earlier this week:
"I don't want to be traded," Street said. "I like my group in here. I think we can definitely hit better, and I think all the guys in here would say that. If we do, we've proven that if we score three to four runs, we'll win a lot of games.

"To me, it's really a question of, 'Does the organization think we can win?' I believe we can win. That's why I signed back here."
That said, Street has been around for a little while now and he knows this is a business. He's been traded twice before -- once in a package for Matt Holliday, once in a pure salary dump deal -- and he doesn't have any sort of no-trade protection in his contract. If a trade happens, it happens.
"It's a part of the game," Street said Tuesday from Citizens Bank Park. "It's not going to distract me. I'll give the same answer I have year after year: I have no control over it. I don't have a no-trade clause, so there's nothing for me to consider.

"If the phone rings and they say, 'Hey, we shipped you,' then you just put on a new uniform and try to get to know your teammates and go to battle for a new team."
It has been 10 seasons since the 30-year-old Street broke into the big leagues with the Athletics almost right out of college. He was named 2005 AL Rookie of the Year following a 23-save season and has since piled up 252 career saves. Street has had some injury issues but has otherwise performed anywhere from good to outstanding in his career. Never bad.
So far this year Street has gone a perfect 18 for 18 in save opportunities. His performance has really been off-the-charts: 1.08 ERA and a 0.76 WHIP in 25 innings. He's struck out 26 and walked only seven. Righties are hitting .146/.196/.229 against him, lefties not much better at .132/.214/.237. Street has been truly dominant in 2014.
The number of contending teams in need of another excellent reliever is all of them. Every team could use one more dominant reliever. If you're within shouting distance of a postseason spot and have a realistic chance to contend, there is room for an experienced late-inning arm like Street on your roster, even if he only assumes a setup role.
No contending team is more in need of bullpen help right now than the Tigers. Joe Nathan has been a disaster (7.04 ERA) and Joba Chamberlain doesn't inspire much confidence as a backup plan. The Orioles and Angels could also slot Street right into their closer's role. Would the Athletics bring him back to complement Sean Doolittle despite having a high-priced flop in Jim Johnson still on the roster? The Blue Jays could also get involved.
Street told Crasnick he doesn't want to be traded -- for what it's worth, his contract includes a $7 million club option for next season, so the Padres could decide to keep him and bring him back next year -- but San Diego continues to slide in the standings and he might be their most marketable trade chip. Dealing him before the deadline makes a ton of sense and there should be no shortage of suitors.