Ibanez closing in on Ted Williams' home run record by a 41-year-old
With two more home runs on Friday, Seattle's Raul Ibanez is just five away from tying Ted Williams' record for a player age 41 or older.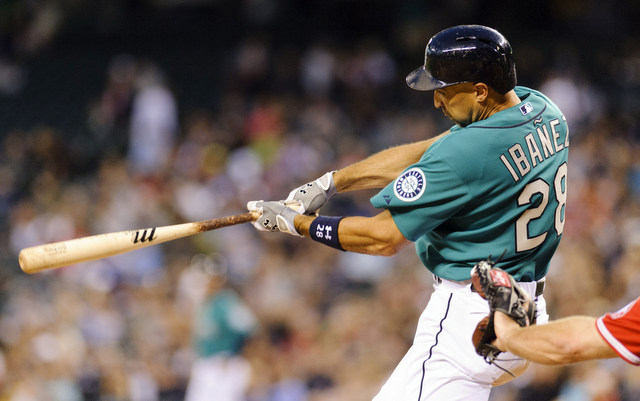 More MLB: Scoreboard | Standings | Probable Pitchers | Sortable Stats | Odds
With two more home runs on Friday night, Mariners slugger Raul Ibanez is now just five homers away from tying Ted Williams' record for the most long balls by a player age 41 or older. They were Ibanez's 23rd and 24th home runs of the season.
Here are the top home-run seasons by players age 41 and older, courtesy of Baseball-Reference:
Williams, Red Sox -- 29 HR in 1960
Barry Bonds, Giants -- 28 HR in 2007
Bonds -- 26 HR in 2006
Ibanez -- 24 HR in 2013
Darrell Evans, Tigers -- 22 HR in 1988
Dave Winfield, Twins -- 21 HR in 1993
All of those players were 41 except for Bonds in 2007; he was 42. Evans holds the record for homers by a player age 40+ with 34 for the Tigers in 1987.
Ibanez, who turned 41 early last month, started this home-run binge with the Yankees last September. He was hitting just .222/.294/.415 on the morning of Sept. 22 before hitting two homers against the Athletics that afternoon. He homered two games after that, then again about a week later. Ibanez added three more homers in eight postseason games to give him seven dingers in 19 games.
Those weren't just meaningless homers, either -- six of the seven either tied the game or gave the Yankees the lead. Five of those six were hit in the ninth inning or later. Ibanez was clutch personified, and that has carried over into 2013; half of his 24 homers for Seattle this season either tied the game or gave them the lead.
Interestingly enough, Ibanez looked close to finished two years ago, which wasn't all that surprising given his age. He hit .245/.289/.419 (91 OPS+) for the Phillies in 2011, though he did swat 20 homers. He was putting up a similar line last season for the Yankees before hitting all those outrageously clutch late-season homers. Ibanez couldn't hit lefties (.556 OPS from 2011-12), and his outfield defense is poor, which is why New York signed him as a platoon DH. Brett Gardner's injury forced him into a larger role.
During his first five months with the Yankees, Ibanez worked with hitting coach Kevin Long and kept tinkering. The two had known each other from their time with the Royals, so they had a relationship already in place. Ibanez also worked with long-time big-league hitting coach Rudy Jaramillo last spring. "If you can work with anybody, work with Rudy," said Long even though Jaramillo was not employed by the Yankees.
Months and months of adjustments finally took late last season and have carried over to this year. Ibanez signed a one-year pact with the power-starved Mariners, his third stint with the team. He's hitting .264/.313/.576 (147 OPS+) this season, but notice his batting average and on-base percentage aren't all that different than what they were from 2011-12. His production has spiked because his power, at age 41, jumped a notch. His 24 homers are already the third most of his 18-year career.
Williams is the only player in history with a higher slugging percentage (.645) in their age-41 season than Ibanez has this year. At this point, it appeares inevitable Ibanez will hit the five homers needed to become the all-time single-season home-run king for 41+ years olds, and he has a very real chance of passing Evans for the most homers by 40+ years old as well. Not bad for someone who looked to be on the verge of retirement just 10 months ago.
The lefty starter is coming off a terrible season

After acquiring Ian Kinsler and Zack Cozart in recent days, the Angels are trending upward

Cozart's coming off a big season as the Reds' shortstop
The veteran slugger spent the last eight seasons with Cleveland

The Padres may be poised for an active winter

Yes, Bryce Harper is going to make a lot of money next winter