Ichiro, 40, wants to play 'many' more seasons after 2014
Despite being 40 and on the decline, future Hall of Famer Ichiro Suzuki wants to play "many" more seasons and is not considering retirement.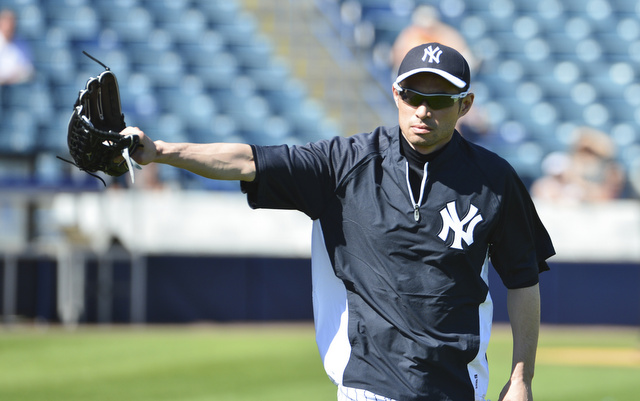 MORE: Spring Training | Scoreboard | FA tracker: position players | FA tracker: pitchers
Despite being pushed into a part-time role at age 40, Yankees outfielder Ichiro Suzuki is not planning to retire after the season or anytime soon for that matter. Here's what he told Wallace Matthews of ESPN New York:
"Retirement from baseball is something I haven't even thought about," he said.

Asked how many more seasons he thought he could play, Ichiro laughed. "Not just a few," he said. "Many. For me, I feel there's no reason for me to retire right now."

...

"I don't know how I'm going to feel once the season starts," he admitted. "I don't know what it's going to be like. But right now, it doesn't change the way I prepare myself throughout the spring."
The Yankees added both Carlos Beltran and Jacoby Ellsbury on big money contracts this winter, plus they signed Brett Gardner to an extension late last month. Alfonso Soriano is under contract for 2014 as well. For all intents and purposes, Ichiro will be a fifth outfielder who pinch runs and plays late-inning defense this summer. He isn't holding any grudges, however.
"When I first signed here I knew what I was getting into," Ichiro said. "I knew every year there would be changes and things would happen that maybe we can't control. But I can't allow that to affect the way I prepare or go into the season."
Over the last three seasons, Suzuki has hit .273/.305/.356 (86 OPS+) in nearly 2,000 plate appearances. That includes a .262/.297/.342 (75 OPS+) batting line last season. That's a far cry from his insane 2001-10 peak and production that warrants a spot on the bench.
It's way too early to know if any MLB club will bite and sign Ichiro after the season, when his contract expires. Returning to Japan to play figures to be an option as well. NPB clubs always seem to be willing to bring back former stars.
Ichiro is currently sitting on 2,742 MLB hits, so he'll need to play through at least 2015 to have a chance at 3,000 career hits in the big leagues. He also has 1,278 hits in Japan, giving him 4,020 professional hits combined.
Where might the Orioles third baseman land?

Kinsler will slot in at second base for the Angels

The Marlins got a better return for Ozuna than Stanton or Gordon
The two teams are going about things in very different ways

The Marlins are indeed in teardown mode under new ownership

The Marlins still have more attractive pieces