If it's close, the Orioles win, at a rate that is making history
After another one-run win Saturday night and another two-run win Sunday, the Orioles are now winning exactly 70 percent of their close games. Only three other teams in baseball history have succeeded at that rate, none since the 1954 Indians.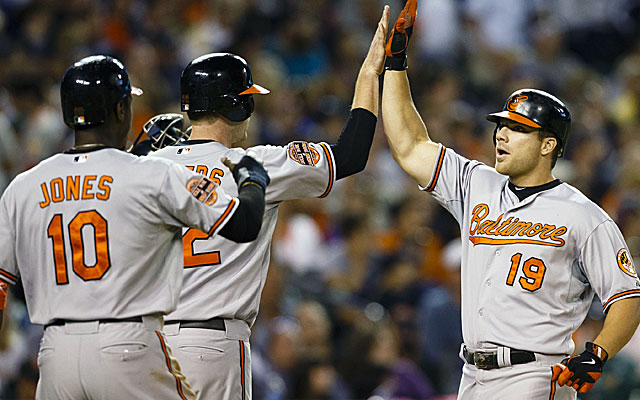 The Orioles are 42-18 in one or two-run games for a .700 winning percentage in those contests.
(US Presswire)
If it's close, they win.

One-run game? Orioles win.

Two-run game? Orioles win.

If it's close, they win, at a rate unheard of for more than half a century.

With their 7-5 win over the Tigers on Sunday, the Orioles improved to 66-55 overall. But they also improved to 42-18 in games decided by one or two runs.

Yes, 42-18. The Orioles have won 70 percent of their close games.

The last team to do that was the 1954 Indians(who won a lot of every kind of game, on the way to a 111-43 record).
The only other teams in modern baseball history to win 70 percent of games decided by one or two runs were the 1906 Cubs and the 1909 Pirates.

The 2002 "Moneyball" A's, who celebrated their 10-year reunion this weekend, came close, with a 53-23 record in games decided by one or two runs, according to research done through baseball-reference.com.

Why are the Orioles so good in close games? Some of it, no doubt, is due to luck. Some people will look at the Orioles' severely negative run differential (they've allowed 43 more runs than they've scored) and say that a lot of it is luck.

But you could also credit it in part to the Orioles' outstanding bullpen. The eighth-inning/ninth-inning combination of Pedro Strop and Jim Johnson has been the best in baseball this season, allowing the Orioles to go 50-0 in games they lead after seven innings.

Johnson has converted 37 of 40 saves, and the Elias Sports Bureau credits him with a major-league high 16 "quality saves," defined as one where he either enters with the tying run in scoring position or protects a one-run lead for a full inning. Strop has a 1.51 ERA and 21 holds with just four blown saves.

The strong bullpen has also helped the Orioles go 12-2 in extra-inning games.

The Orioles are 23-6 in one-run games, which would be the best winning percentage in baseball history (the 1981 Orioles were 21-7). They're 19-12 in two-run games, which ties the Yankees as second-best in baseball this year, behind the Reds.

Meanwhile, the Orioles are 18-28 in games decided by four runs or more. Only the Twins, Rockies, Marlins and Astros have been worse.

Oh, and that run differential. It's minus-43, the same as the Royals and worse than the Phillies.

At this point, it doesn't matter.

When it's close, the Orioles win. So far, that's been good enough.
Wright was arrested at his home Friday

The former Tigers teammates were voted into Cooperstown by the 16-person Modern Era Commit...

The Yankees still have room for a good-sized signing even after Saturday's trade with Miam...
St. Louis gets some much needed help for their bullpen

Keep tabs on the top 50 free agents right here

Morrow thrived with the Dodgers last season