If teams call Padres, Quentin open to waiving no-trade in right deal
Carlos Quentin would be better off in the American League, and could become a trade target next month if he starts hitting like he can.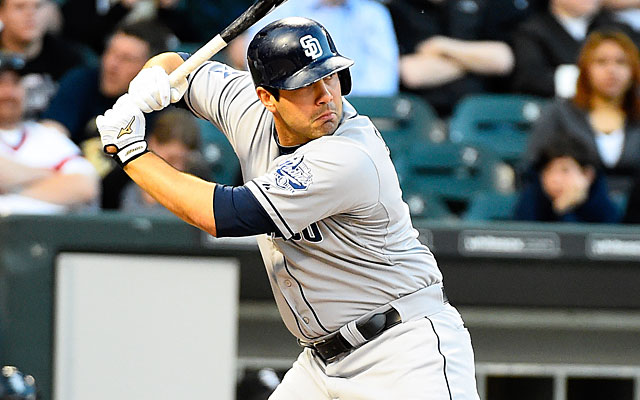 More MLB: Power Rankings | Expert Picks | Latest news & notes | Fantasy news
When slugger Carlos Quentin signed a $27 million, three-year contract with his hometown Padres a couple years ago, it seemed like a great idea for both sides. The Padres got a rare middle-of-the-order bat for a seemingly reasonable wage, and Quentin got to stay home and play for the team of his youth.
However, injuries have severely limited his playing time and of late at least even curtailed his effectiveness, so the thought has at least occurred to almost all concerned that perhaps Quentin might be better off playing in the American League, where he could DH and rest his troublesome knees on occasion.
Assuming he starts swinging the bat like usual -- his current .637 OPS is exactly 200 points below his stellar .837 career mark -- Quentin looks like he could become a prime trade candidate next month.
Of interest then is the complete no-trade clause in Quentin's contract, a major part of the equation when he signed for what was literally a "hometown" discount. The pertinent question thus becomes: Would he be willing to approve a trade out of his hometown for the chance to enhance his career and perhaps play in a playoff race?
Padres people believe a healthy Quentin gives the offensively challenged team their best chance to win, and that's probably true, but they are also realistic to know that eventually it may be better for all involved if he went to the American League, where being a DH could give his chronic knee pain a chance to subside.
Quentin has been limited to barely more than half the games since joining the Padres, having logged 86 and 82 games each of the past two seasons before playing 26 more games this year. He still can be an offensive force -- he had an eight-game hitting streak just after coming off the DL for the first time this year, even though he had only one at-bat in three of those games -- but his salary isn't looking as cheap as first thought at the moment, not with a .192 batting average that seems to fit right into the historically limp Padres lineup.
Quentin makes $9.5 million this year, and is due $8 million next year, with a $10 million mutual option in 2016 that vests if he can somehow play 320 games in the three years of his deal, a seeming unlikelihood if he has to keep playing the field.
The Padres are last in baseball is almost every important offensive category, and a healthy Quentin, an RBI machine at his best, is their most dangerous offensive player. But if he can't stay healthy, he can't help anyone. So it's only logical for them to think about trying to find him a new home once he starts hitting like he can.
And Quentin, a smart Stanford man, apparently understands this, as well.
While he wouldn't necessarily approve just any AL team that may call, sources say he would be amenable to considering trades and open to approving at least some teams that may call. In other words, he wouldn't force the Padres to keep him.
While San Diego higher-ups haven't yet officially approached Quentin about the possibility of a trade, they seem to be aware that he's ready to be reasonable should the situation arise. It isn't clear exactly how they know he's willing to play ball with them, but they do.
Quentin's first goal of course is try to help his hometown team win games at the moment. Of course, if he does that by playing the way he can, teams should start calling and in what promises to be an extremely thin market he could become one of the more coveted available lineup upgrades this summer.
The lefty starter is coming off a terrible season

After acquiring Ian Kinsler and Zack Cozart in recent days, the Angels are trending upward

Cozart's coming off a big season as the Reds' shortstop
The veteran slugger spent the last eight seasons with Cleveland

The Padres may be poised for an active winter

Yes, Bryce Harper is going to make a lot of money next winter