If the season ended today: An all-small market AL wild-card game
There is still a little more than five weeks to go in the 2013 regular season, but here's a look at what would happen if it ended today.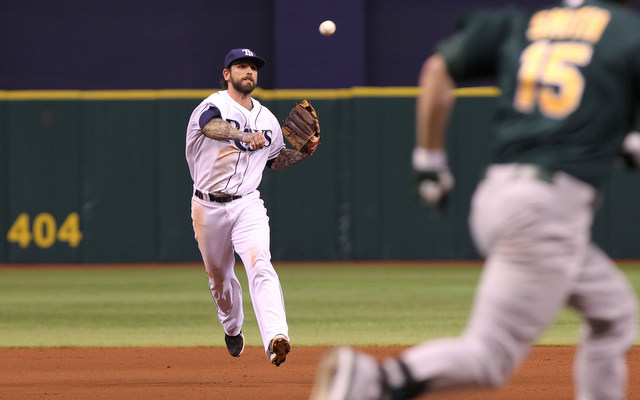 More MLB: Scoreboard | Standings | Probable Pitchers | Sortable Stats | Odds
It's Friday, which means it's time for our weekly snapshot of the 2013 season and its various playoff and statistical leader races; all sorts of fun stuff. The season doesn't end today, thankfully, but here's what would happen if it did:
• ALDS 1: Texas Rangers vs. wild-card winner
• ALDS 2: Detroit Tigers vs. Boston Red Sox
• Wild-card game: Tampa Bay Rays vs. Oakland Athletics
The Rangers and Tigers have the exact same record (74-53), but Texas gets the nod as the top team in the AL because they won the season series 4-3. The Rays (1.0 GB) and A's (2.5 GB) are still plenty close to the Red Sox and Rangers, respectively, to win the division. Detroit has a comfy five-game lead in the AL Central. The playoff picture in the so-called Junior Circuit changes almost daily.
• NLDS 1: Atlanta Braves vs. wild-card winner
• NLDS 2: Pittsburgh Pirates vs. Los Angeles Dodgers
• Wild-card Game: St. Louis Cardinals vs. Cincinnati Reds
Barring a surprise collapse, these are the five teams that will qualify for the postseason out of the NL. The Braves and Dodgers have significant leads in their respectively divisions, but the order of the three NL Central teams is still to be determined. Pittsburgh has a one-game lead on St. Louis and a two-and-a-half game lead on the Reds. Those three could finish in pretty much any order.
Most intriguing playoff matchup
• Rays vs. Athletics
This is nothing more than my preference -- which is subject to change at a moment's notice, by the way -- but I think it would be neat to see baseball's two low-payroll darlings square off in the one-game, winner-take-all wild-card game. Both clubs are extremely well-run and it would be fun to see which cast-off or scrap heap pickup becomes the hero. Brandon Moss? James Loney? Roberto Hernandez? Jesse Chavez? Who knows.
Most intriguing potential World Series matchup
• Red Sox vs. Dodgers

Personal preference again, but Red Sox-Dodgers could be a juicy World Series matchup following last August's blockbuster trade. The Sox are where they are because they were able to shed all that payroll and add depth this past winter while the Dodgers are where they are because Adrian Gonzalez has been a beast and Carl Crawford has been pretty damn good (when healthy). Boston-Los Angeles would provide endless blog material.
• AL: Cleveland Indians
• NL: Arizona Diamondbacks
Arizona is the only NL team with a winning record that is not currently in playoff position. They're a full seven games back of the Reds for the second wild-card spot and not all that close to making some noise in September. The Nationals are just 1.5 games back of the D-Backs and could take over that "best non-playoff team in the NL" crown.
The Indians have the best non-playoff record in the AL this week, but not by much. The Orioles are only a half-game behind them and the Yankees are only a half-game behind them. Now that the Royals have faded away, those three are the only clubs with a realistic chance of crashing the AL playoff party. Cleveland is currently 2.5 games behind the A's for the second wild-card spot.
• AL batting champ: Miguel Cabrera (.354) -- Despite all the nagging injuries, Miggy has a comfortable 21-point lead on Mike Trout .
• NL batting champ: Yadier Molina (.332) -- Molina, who just came off the DL, is only two points ahead of Chris Johnson.
• AL ERA champ: Hiroki Kuroda (2.41) -- Felix Hernandez's rough start last time out knocked him down to third with a 2.62 ERA. Anibal Sanchez is second at 2.45.
• NL ERA champ: Clayton Kershaw (1.72) -- The difference between Kershaw and second place (Matt Harvey, 2.25 ERA) is almost the same as the difference between Harvey and sixth place (Madison Bumgarner, 2.82 ERA).
• AL position player WAR champ: Trout (7.4) -- Cabrera is second at 6.7 WAR.
• NL position player WAR champ: Andrew McCutchen (6.6) -- A knee injury has sidelined Carlos Gomez recently and knocked him off the pace. He's second at 6.4 WAR.
• AL pitcher WAR champ: Chris Sale (6.0) -- The ChiSox southpaw just edges out Felix Hernandez (5.7 WAR).
• NL pitcher WAR champ: Kershaw (7.1) -- Again, the gap between Kershaw and second place (Adam Wainwright, 5.6 WAR) is the almost the same as the gap between Wainwright and eighth place (Jorge De La Rosa, 4.2 WAR).
• Kershaw is on pace to finish with the lowest ERA since Greg Maddux in 1995 (1.63 ERA). It would also be the lowest ERA in Dodgers history, just edging out 1966 Sandy Koufax (1.73 ERA).
• Sale has a very outside chance of becoming the first pitcher to qualify for the ERA title with more wins above replacement than actual wins. He's sitting on 6.0 WAR and a 9-11 record.
• With more than a month to go, Chris Davis has already hit more home runs (46) than anyone in 2011 or 2012.
• At 1.21, Mariano Rivera is on pace to finish with his highest WHIP since moving into the bullpen full-time.
• Edward Mujica is on pace to finish to finish with the best K/BB ratio (14.00) among full-time relievers (min. 50 IP) since Dennis Eckersley in 1990 (18.25).
• The Houston Astros are in line to become the first team in history with the first overall pick in three consecutive drafts. This will be their third straight year with the worst record in baseball.
Let's see how SportsLine forecasts the race for MLB's 10 playoff spots

Monday kicks off the final week of MLB action. Let's take a look at everything that went d...

No other rookie in baseball history has hit more home runs than Judge has this year
Jays have said goodbye to Encarnacion and will to Bautista. Should they move on from Donaldson,...

Judge's big September means Jose Altuve has some serious competition for the award

Goldschmidt? Rendon? Blackmon? Stanton if he hits 62 HR? Who would be your pick?