If the season ended today: Braves top dog
It's time yet again to take a look at where we stand, should the season be ending right now.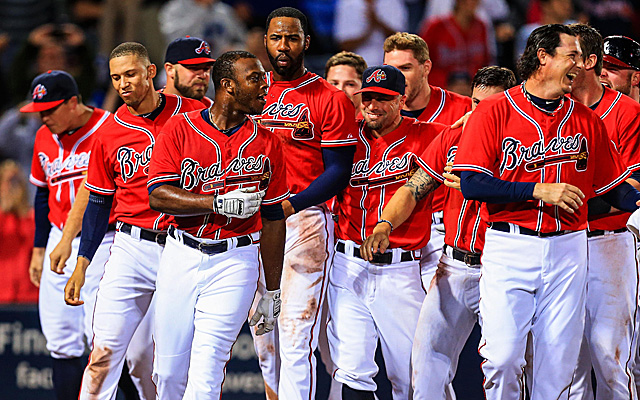 More MLB: Scoreboard | Standings | Probable Pitchers | Sortable Stats | Odds
It's time yet again to take a look at a snapshot of where we'd be if the season ended right now. Dive in.
This is ridiculously close. The Tigers would be the top seed by just one percentage point (.582 to .581) over the Red Sox and one game over the Rangers. Moreover, the Rangers would top the A's by a half-game -- which ain't happening at the actual end to the season -- and the Rays would host the A's in the wild-card game due to a half-game lead. Simply put: The five would-be playoff teams in the AL are only separated by a total of 1.5 games. This is insanity. What a six-week finish this should be. 
With their extended surge, the Braves have now catapulted up to the top seed in the NL (with the best record in baseball), holding a 2.5 game advantage. The Pirates and Dodgers still hold leads in their respective divisions and the Cardinals would get to host the wild-card game by virtue of a measly half-game lead over the Reds. 
Most intriguing playoff matchup
NLDS: Pirates vs. Dodgers
It doesn't get much different than this. It's the Hollywood luster of Los Angeles and its gigantic payroll against small-market, blue collar Pittsburgh. The Pirates haven't had a winning season since 1992 while the Dodgers have been to the playoffs six times since then. The Pirates have been at or near the top of the NL Central since the second week of the season while the Dodgers were dead and buried after 72 games -- only to go on a historic resurrection.
Most intriguing potential World Series matchup
This is all a personal preference, as the above 10 potential playoff teams yield numerous delicious possible World Series bouts, but I'm going simply with the small-market/cross-country angle. The only problem is we'd have to deal with the annoying "ratings" talk from the NFL crowd. As I've said before, it's as tiresome as a dude who is 6-foot-6 screaming at a dude who is 5-foot-10, "I'M TALLER THAN YOU!" every single day. We get it. The NFL gets better ratings. Can't we still enjoy our game?
The Diamondbacks remain the only NL team with a winning record that wouldn't make the playoffs and trail the Reds by six games. The Orioles are four out, with the Indians, Royals and Yankees hot on their heels. The AL as a whole is pretty intriguing, because the Yankees rank ninth in winning percentage and are 7.5 games out of having the best record. That's 60 percent of the league within striking range of the best record.
AL batting champ: Miguel Cabrera (.358) -- Mike Trout is in second place with a mark of .330, so this continues to appear a formality.
NL batting champ: Chris Johnson (.336) -- Johnson was a throw-in with Justin Upton in an offseason trade, and he's set to lead the NL in batting. Yadier Molina (.325) is currently in second place.
AL ERA champ: Felix Hernandez (2.28) -- Hiroki Kuroda is nipping at his heels at 2.33.
NL ERA champ: Clayton Kershaw (1.88) -- Matt Harvey has dropped to 2.23, so Kershaw's lead is only getting bigger. No pitcher has finished with an ERA below 2.00 since 2005, when Roger Clemens had a 1.87 ERA
AL position player WAR champ: Break out the venom! Mike Trout leads with a mark of 7.2. Miguel Cabrera is at 6.3.
NL position player WAR champ: It's Carlos Gomez at the top (6.5) by a nose over Andrew McCutchen (6.4).
AL pitcher WAR champ: Chris Sale (6.0) just tops Felix Hernandez (5.9)
NL pitcher WAR champ: Kershaw at 6.3 with the surprising Jhoulys Chacin (5.4) checking in second I've noted before, but he deserves more credit than he's getting as he has a 1.87 ERA when he isn't forced to pitch in Coors Field.
This is from last week but it still works: "Detroit's Max Scherzer is of course 17-1. The record for most wins in a season while losing only one game? Elroy Face, who went 18-1 out of the bullpen for the 1959 Pirates."
Miguel Cabrera would be prevented from a second straight triple crown based upon a six-homer deficit to Chris Davis.
Cabrera, by the way, leads the majors in every major rate stat (batting average, on-base percentage, slugging percentage and OPS).
The Pirates have the NL leader in both triples (Starling Marte) and homers (Pedro Alvarez).
Wil Myers appears poised to become the AL Rookie of the Year with the fewest games ever played in a season by a position player to win the award. 
Joey Votto is absolutely dwarfed by teammate Brandon Phillips in RBI despite being the far superior player. He simply has far fewer RBI chances.
The NL leader in hits is a man who was traded by the Angels for less than a half season of Zack Greinke last year: Jean Segura.
The NL leader in total bases is sneaky MVP candidate Paul Goldschmidt.
Keep an eye on Shin-Soo Choo's hit-by-pitch total. He's at 23. No one has been hit by more than 30 pitches in a season since 1998 (Jason Kendall, 31).
Neither Josh Donaldson nor Brian Dozier have talked about a new contract extension

Francisco leads the Dominican Winter League with seven home runs

Thome deserves enshrinement and here's why the case against him does not hold up
The Twins have already fortified the bullpen with Addison Reed, and now they want to address...

The Orioles likely want pitching, and the Indians have plenty of it

Halladay died in a November plane crash off the coast of Florida