If the season ended today: Tiebreaker to decide NL Central
With a little more than two weeks left in the regular season, it looks like a tiebreaker game may needed to determine the NL Central winner.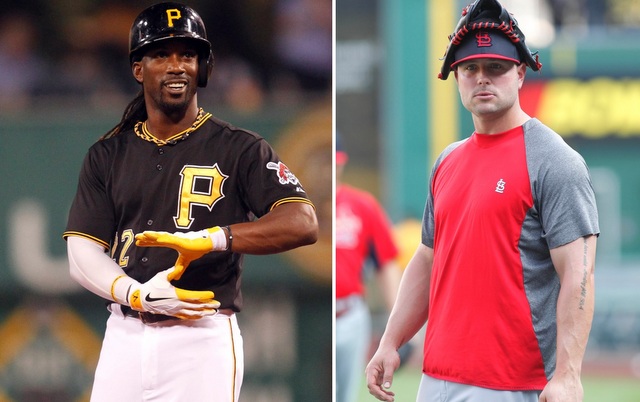 More MLB: Scoreboard | Standings | Probable Pitchers | Sortable Stats | Odds
We're going to be taking daily looks at the various playoff races starting next week, so this is the final entry into the "if the season ended today" series. It was all in good fun and in no way intended to be some kind of serious analysis. Here's a snapshot of where things stand right now:
• ALDS 1: Boston Red Sox vs. wild-card winner
• ALDS 2: Detroit Tigers vs. Oakland Athletics
• Wild-card game: Texas Rangers vs. Tampa Bay Rays
The A's managed to open up a nice little 3.5-game lead in the AL West and the other two division races are pretty much over with. Both the Rangers and Rays are reeling and in danger of losing their wild-card spots -- the New York Yankees (1.0 GB), Cleveland Indians (1.5 GB), Kansas City Royals (2.5 GB) and Baltimore Orioles (2.5 GB) are all right on their heels.

• NLDS 1: Atlanta Braves vs. wild-card winner
• NLDS 2: Los Angeles Dodgers vs. tiebreaker winner
• Wild-card game: Cincinnati Reds vs. tiebreaker loser
• Tiebreaker game: St. Louis Cardinals vs. Pittsburgh Pirates
The Braves and Dodgers have huge division leads, but the Cardinals and Pirates are currently tied atop the NL Central with identical 85-61 records. Under the old system, they would use head-to-head record to determine who won the division and who was the wild-card team. Under the new system, they will have to play a one-game tiebreaker to determine the division winner. So they'd have to play a one-game playoff to figure out who plays in the next the one-game playoff. Fun stuff.

Most intriguing playoff matchup
This is a personal preference thing and it changes pretty much on a near-daily bases. Today I'm thinking it's that tiebreaker game between the Cardinals and Pirates. Both teams would still qualify for the postseason, but they'd be battling for an automatic bid to the NLDS rather than having to play a winner-take-all wild-card game. How desperate will each team be to avoid that wild-game play-in game? I'm guessing very. No one wants their season to come down to one single game.
Most intriguing potential World Series matchup
Another personal preference. I'd like to see the Athletics and the Pirates in the Fall Classic even though Fox would hate it for broadcasting reasons. The A's are a fun team to watch and the Pirates are up-and-coming. It might not be the sexiest World Series matchup, but I'd love to see a Jarrod Parker-Gerrit Cole showdown in Game 7.
• AL: Yankees
• NL: Washington Nationals
The records say it is the Yankees in the AL, though you could easily make an argument for the Indians, Orioles or Royals. All four of those teams have flaws but I think New York has the best chance to overcome them. Then again, Cleveland has a really soft schedule down the stretch.
Washington has separated themselves from the pack in the NL, but it's probably too little, too late at this point in terms of threatening for a playoff spot.
• AL batting champ: It's still Miguel Cabrera (.349) over Mike Trout (.335).
• NL batting champ: Michael Cuddyer (.334) narrowly over Chris Johnson (.330).
• AL ERA champ: Anibal Sanchez (2.50) has a nice lead over Yu Darvish (2.84).
• NL ERA champ: Clayton Kershaw (1.92) with the shut-down Jose Fernandez (2.19) a distant second.
• AL position player WAR champ: Trout (8.4) by a mile over Josh Donaldson (7.0).
• NL position player WAR champ: Andrew McCutchen (7.7) by a mile over Carlos Gomez (6.6).
• AL pitcher WAR champ: Chris Sale (7.1) has a huge lead over Sanchez (5.8).
• NL pitcher WAR champ: Kershaw (6.8) is up by a half-win over Fernandez and Jhoulys Chacin (both 6.3).
• With an 86 OPS+ and 6.1 WAR, Andrelton Simmons currently has the fourth highest WAR among players with a sub-100 OPS+ in history. The three guys ahead of him are 1989 Ozzie Smith (7.3 WAR and 97 OPS+), 1988 Ozzie Smith (6.6 and 98) and 2002 Darin Erstad (6.4 and 86). Hooray defense.
• One year after posting the best record in one-run games in baseball history (29-9), the Orioles have baseball's worst record in one-run games in 2013 (16-27). Funny how that works.
• The last four NL Cy Young Award winners ( R.A. Dickey , Kershaw, Roy Halladay and Tim Lincecum ) have a combined 3.81 ERA and 1.19 WHIP in 652 innings. Take away Kershaw and it's a 4.75 ERA and 1032 WHIP in 436 innings.
Keep it locked right here for everything you need to know about the world of baseball Tues...

There have been several racially charged incidents at Fenway Park this year

Washington's right fielders have sputtered offensively since Harper went down
The good news? Wichita still has a chance to win the series Tuesday night

The 2017 season is going to shatter the all-time collective home run record

Ferrell somehow avoided going to the ground