If Yankees still want Cano, have they abandoned luxury tax goal?
With the signing of Brian McCann, needing to retain Robinson Cano and several other holes to fill, the best guess is the Yankees no longer care about paying the luxury tax.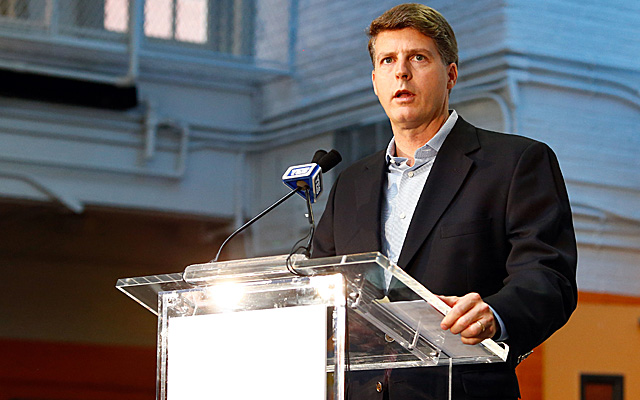 Related: Yankees sign Brian McCann to five-year deal
The New York Yankees have landed Brian McCann on a five-year, $85 million deal. Robinson Cano is still sitting on the free agent market unsigned and surely they'd like to retain him. Putting these things together and realizing the Yankees have several other holes to fill, that $189 million luxury tax figure looks awfully small compared to where things may end up in the Bronx.
All we've heard about the Yankees and salary in the past year or two is that they want to stay under the luxury tax threshold, but that seems a distant memory in light of how things appear to be going this offseason.
After all the arbitration deals are completed, the Yankees should be sitting at around $120 million in salary holdovers, if not more. McCann's deal takes them to $137 million (unless it's backloaded, which it may well be). My best guess is Robinson Cano ends up getting about $25 million per season, which would take things to $162 million.
That would only leave $27 million to play with. And, again, there are holes.
They need to land some starting pitching help -- unless the Yankees want Ivan Nova , David Phelps , Michael Pineda (if healthy) and Adam Warren in the rotation behind CC Sabathia heading into next season.
Plus, do the Yankees actually want to head into next season with Vernon Wells , Alfonso Soriano and Ichiro Suzuki as the outfield options flanking Brett Gardner ? This is where Carlos Beltran has been connected in rumors.
There are also concerns about depth on the left side of the infield, with Derek Jeter and Alex Rodriguez injury risks and Brendan Ryan being a light hitter. This is where Jhonny Peralta has been connected to the Yankees in rumors.
Of course, the plot thickens here. A-Rod could be suspended for the entire season, meaning the Yankees would have $26 million extra to play with for the 2014 season -- but it also means they'd need a starting third baseman (Peralta?).
If Cano signs elsewhere, the Yankees would have a lot more money to play with, too, but they'd also have lost their best player and would desperately need to find a way to replace his production.
What seems the most likely scenario from here is that the Yankees have abandoned caring about the luxury tax due to missing the playoffs for the second time since the 1994 strike. That very well might mean a spending spree. Remember, last time they missed the playoffs, they went on an offseason spending spree and won the World Series the next year.