If you don't root for Mets' Wright, 'you need to re-evaluate priorities'
As the Poster Boy and Official Host Met for the first All-Star Game in Queens since 1964, David Wright is having a blast. Now, if only his team would improve. And we're not talking his NL team.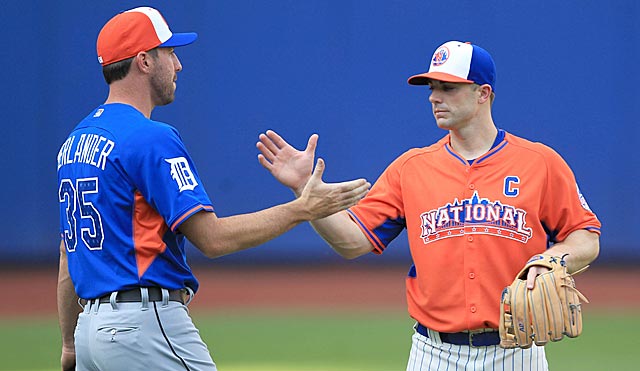 NEW YORK -- Just look at David Wright under normal circumstances. He reeks baseball, hot dogs and Big Apple pie.
Now as the face of this New York All-Star Game, the hometown hero is having the time of his life.
Except for just one little formality.
"Being the center of attention and winning, we haven't done that for quite some time," said Wright, whose Mets haven't been relevant since 2008. "But we're on our way."
You won't find a more pleasant representative of this game than Wright, who agreed to an eight-year, $138 million contract extension with the club last December after general manager Sandy Alderson sold him on a plan for success.
His loyalty to the Mets' organization runs thicker than the Queens' accents you hear around here. His drive to lift his team toward October success is well-documented.
But this week, with the Mets buried in fourth place in the NL East at 41-50 at the break, being the local Poster Boy for the first All-Star Game hosted by the Mets since 1964 will have to do.
"Don't get me wrong, being the center of attention for this is nice," said Wright, who in March was named as only the fourth team captain in Mets' history. "But you want to be the center of attention for what the New York Mets are doing."
That said, as much as this guy has battled through -- concussion (2009), stress fracture in his back (2011), epic team collapse (2007), another collapse (2008), a move to enormous CitiField, which sapped his power numbers (2009) -- he absolutely deserves this moment as Poster Boy for a New York All-Star Game.
"He's very deserving," says NL coach Terry Collins, who doubles in his day job as Wright's Mets' manager. "To me, he epitomizes what professional baseball players are.
"He got booed in Pittsburgh for three days, and I understand that. But if you're a baseball fan and you don't root for David Wright, you need to re-evaluate your priorities."
Wright was booed in Pittsburgh last week for the transgression of not initially choosing Pirates slugger Pedro Alvarez for Monday night's Home Run Derby.
In his role as Host Met, Wright was named captain of the NL Home Run Derby contingent. As such, he got to name the other three competitors. He first picked the Rockies' Carlos Gonzalez, then chose Alvarez when CarGo backed out because of an injury.
The whole thing got blown way out of proportion, as such things Home Run Derby are wont to do. Ah well, that's life in today's argumentative society. Alvarez said Monday he felt badly for Wright because, among other reasons, the two are good pals.
Wright is one of those guys with the gift to make everyone he meets feel like a friend. And, more important where the Mets are concerned, his talent remains All-Star caliber. He's hitting .304 with 13 homers and 44 RBI so far this season.
"He shows up every day," Collins says. "He always wants to play.
"My God, two years ago he played with a broken back for two weeks. He's a man's man."
Wright said Monday there is one small thing he would change about this week's events.
"I'd like to speed up the media session and slow down the actual baseball part of it," Wright, 30, joked.
At least, you were joking, right David? Right?
He talked Monday about making a special point to arrive in the NL clubhouse early so he could simply sit at his locker and enjoy watching the other Stars arrive. He savored the moments watching them search out their lockers, unpack their cleats and batting gloves and just "feeling that excitement."
"I'm very fortunate; this is my seventh All-Star Game," he said. "To represent this team in this stadium, it's going to be the ultimate.
"This is going to be one I'll remember for a long time, that's for sure."
Check out all of Sunday's action, including a single-season record getting closer to falli...

Judge's 48 homers trail only McGwire's 49 in single-season rookie history

The Reds still have one of the best hitters in the game in Joey Votto and a rising star in...
Maxwell joins a growing movement across sports

The Yankees punched their ticket to the playoffs with a win over the Blue Jays on Saturday

Sabathia's stance seems to be an increasingly popular one among athletes