Ill Harper the hitting hero despite 'hacking' all game long
If anyone was interested to know, yes, Bryce Harper can hit while very ill.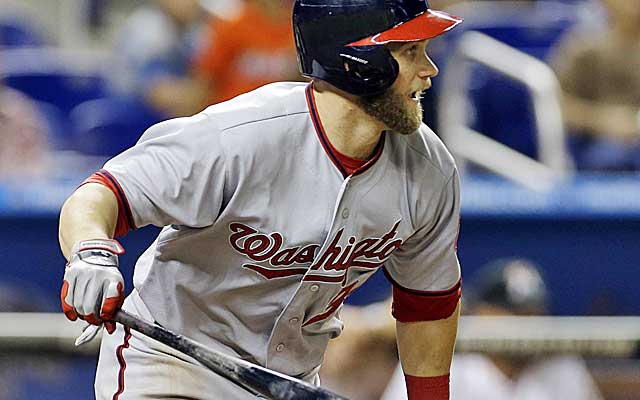 MIAMI -- The legend of Bryce Harper continues to grow.
Harper was so ill that he vomited multiple times during his Nationals' 6-1 victory over the Marlins on Wednesday night yet managed to gather four hits, including an infield single that he legged out for the fourth one.
"I threw up four times in the trash can,'' Harper appeared to say (he talked so low it was hard to hear). He did confirm later he threw up, though he used the word "hacked'' the second time.
Harper, who missed the game on Tuesday due to his flu and took a pregame IV to help hydrate, was so ill that he stayed away from teammates on the bench and said his main goal when he went to the plate was not to vomit on the field.
He actually did quite nicely at bat, mixing in a double among his four at-bats and raising his average to .364. Harper, who's now 5 for 6 with two home runs against Marlins righthander Ricky Nolasco this year, said he felt he had to play. "I didn't feel very good at all,'' he said, "but my team needs me.''
Manager Davey Johnson said this was the first game that Harper didn't smile throughout. In fact, Harper didn't smile at all, according to Johnson. The hits didn't help, either. He felt ill after each one. Yet, he kept right on hitting.
At this point, he appears unlikely to be stopped anytime soon. "Let's hope not,'' Johnson said. "He expects a lot of himself.''
Apparently so.
Maxwell joins a growing movement across sports

The Yankees punched their ticket to the playoffs with a win over the Blue Jays on Saturday

Sabathia's stance seems to be an increasingly popular one among athletes
Plus the A's and Brewers have hope, Giancarlo goes deep again, and much more

Matt Chapman and Matt Olson give the A's hope

Despite an awful month, the Dodgers are again NL West champions