I'm with the new stat (WAR) & the young execs in this poll, Trout's the A.L. MVP
All the execs lined up with WAR to say Mike Trout's the new MVP while all the scouts were aligned with the older stats and percentages that say it's too close to call between Trout and Miguel Cabrera.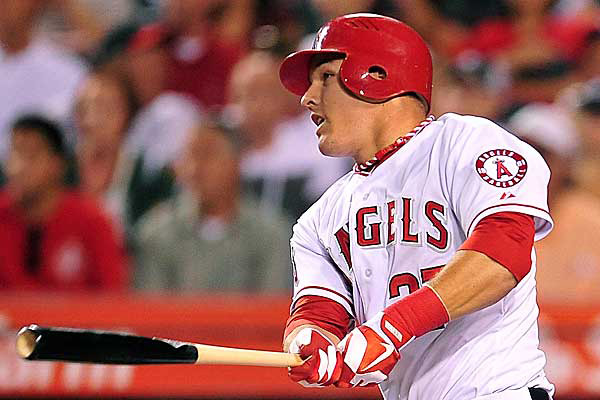 According to the stat WAR, Mike Trout to overwhelming this year's AL MVP.
(US Presswire)
Among insiders in baseball, there seems to be two schools of thought on the interesting American League MVP race. One is that it's a two-man race between Angels center fielder Mike Trout and Tigers third baseman Miguel Cabrera. The other is that Trout's the guy, clear as can be.
Based on a very limited unscientific survey done today, scouts polled see it as a two-man race. The executives favor Trout.
The execs went 4-0 for Trout, the scouts went 4-0 for "too close to call.'' That's a very small sample size, but perhaps it says something.
The scouts surveyed are a bit older than the execs, who may more often view the new stats that favor Trout, or maybe they give them more weight.
I know by age I'm not in the younger group. But I do agree with the younger group in this case.
I see the AL MVP as a one-man race with Trout the winner.
Interestingly, the old stats see it as a two-man race, with the difference between Trout and Cabrera negligible. Trout has a .328/.393/.571 slash line to .326/.392/.587 for Cabrera. Trout's a bit behind in home runs and RBI with 27 and 77, but he missed three weeks and is the Angels' leadoff hitter.
Meanwhile, according to the newer stat WAR it's one of the greatest runaways in MVP history, with Trout now having an otherworldly 10.0 WAR to Cabrera's 5.7. Cabrera isn't even second in WAR, as the Yankees' Robinson Cano has a 6.3 WAR.
Surprised as I may (and my readers may be, too), I think WAR has it right here. I'm not quite sure how WAR has Trout as more than 50 percent better than anyone else and 80 percent  better than Cabrera, and couldn't begin to tabulate how much better he is. But I'd agree that he's been much better than anyone else.
WAR seems far from perfect in other instances, so I'm not ready to disregard the older stats. For instance, Jamey Carroll has a better WAR than Derek Jeter, 2.6 to 2.5. That's absurd.
And Denard Span has a better WAR than Josh Hamilton, 4.0 to 3.7. Even more ridiculous.
I doubt anyone would seriously argue that Carroll and Span have been more valuable than Jeter and Hamilton, who unlike Carroll and Span should make the voters' ballots.
As for why Trout is lapping the field in WAR, I know WAR counts defense and baserunning, and Trout has been spectacular on both fronts, among the best in the game in fact. He's made a number of catches over the wall, and he's stolen 44 of 48 bases. Cabrera isn't viewed as being great or even especially good at third base, but I'd give him a lot of points for being a team man, for clearing first base for Prince Fielder and for playing third adequately.
In other words, it's hard to fairly give Cabrera a negative defensively since he helped his team for the switch. So his 5.7 WAR may not do him justice.
There's really nothing bad to be said about Cabrera.
Except that he isn't Trout.  Trout has been otherworldly, even if the old stats don't entirely show it. When it comes to the raw totals, part of the issue is because Trout wasn't called up until April 28 due to his injury-and-illness-ravaged spring training.
But here are some more things to consider about Trout. Since his April 28 promotion, he's scored 112 runs in 117 games. Since April 28, the player with the next highest run total is Andrew McCutchen with 84. Bryce Harper, oddly enough, is next with 81, and Alex Rios is second in the AL with 76 runs.
 So in other words, Trout has scored 36 more runs than anyone else in the A.L. since he's been up. And incidentally, he has the most steals since his promotion (Rajai Davis is next with 36) and tied for the most hits with Jeter, with 157.
Trout, battling it out with Cabrera in a head-to-head series this weekend, hit a leadoff homer off Justin Verlander on Saturday, and later in the game went over the fence to rob Prince Fielder of a home run. Then Trout hit a leadoff home run Sunday, finishing the series swept by the Angels 3 for 11 with two home runs and a double.  Cabrera was 1 for 9 with with four strikeouts and a GIDP.
It felt a bit like the late summer series last year between those two teams when Verlander basically clinched the Cy Young award after Jered Weaver had a Motown meltdown, getting ejected for buzzing Alex Avila after allowing a home run to a showboating Carlos Guillen. From here, Trout seems way in the lead. Even if some scouts and some old numbers don't suggest that's the case.
 "I would probably go Cabrera,'' one scout with an N.L. team said. "It's almost like he's replaced Pujols as the best hitter in the game. Plus, I'd hate to give a guy the MVP award and see everyone figure him out next year. Cabrera's the guy who's never won the award, and the other guy is 20 years old [now 21].''
"Instinctively, I take Cabrera. I love what he is,'' said another scout with an NL team. "Trout has been incredible, he's the real deal. But for me, I have enthusiasm for Cabrera, he's the guy who can get the team through the month.''
"The MVP isn't settled,'' said a scout with an AL team. "Trout is the frontrunner, but Miguel Cabrera could still impose his magnificent bat on the final tally.''
"It's a two-man race, with Trout and Cabrera,'' said a fourth scout, also with an NL team.
Oddly, the execs were also in agreement, but only with each other. All said Trout is the best all-around player, and they did so without hesitation.
"He's way better than everybody else and has been critical to his team's success,'' one NL exec said. "[The Angels] would probably be under .500 without him.''
I'm with the younger execs and the newer stat. Trout's the MVP.
The former Tigers teammates were voted into Cooperstown by the 16-person Modern Era Commit...

The Yankees still have room for a good-sized signing even after Saturday's trade with Miam...

St. Louis gets some much needed help for their bullpen
Keep tabs on the top 50 free agents right here

Morrow thrived with the Dodgers last season

Boston needs a power bat, among other things