Immediate review says: Good for MLB for expanding instant replay
Even those of us who remain purists at heart must admit, it's well past time for baseball to move into the Digital Age and embrace instant replay. News from Cooperstown, N.Y., is a good start. And if some aspect doesn't work as planned, it can always be tweaked. ...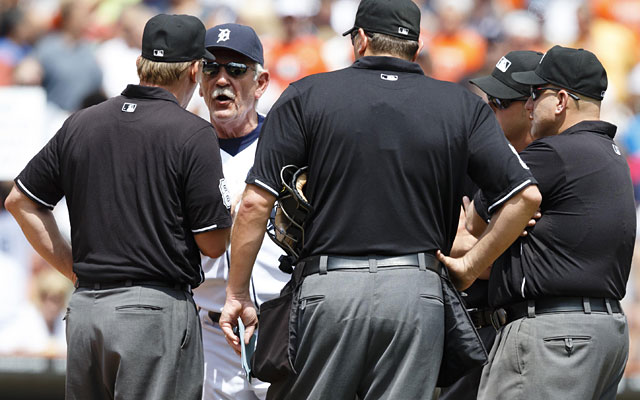 As we speak, we're looking at seriously expanded instant replay for the 2014 major-league season ... and the Athletics are fighting their butts off to not be seriously screwed by instant replay in 2013.
Let that serve both as a panacea and as a warning.
Yes, baseball is waaaay overdue for expanded instant replay. It cannot arrive soon enough. Too bad we won't get it in time for this October's playoffs.
And that's coming from a cranky old purist who still mutters about the lack of old-school stirrups in today's game.
Yet whatever system is implemented -- and most of what we're hearing sounds pretty good -- there also will be kinks to work out and, undoubtedly, at times, Gatorade-curdling moments.
Like what happened to the A's at the hands of Angel Hernandez and Co. in Cleveland in May. At this moment, Oakland trails Texas by two games in the AL West. Hernandez completely blowing the call on a should-have-been Adam Rosales home run in the ninth inning May 8 still may well send the A's wobbling into a fragile one-game wild-card playoff instead of steaming into October as AL West champions.
That's Exhibit A as to why New, Improved and Expanded instant replay is needed, and the sooner the better.
It's also Exhibit A as to how, even with Better Instant Replay, we may not get 100 percent money-back satisfaction.
That said, news from the owners' meetings this week is encouraging. Or, as commissioner Bud Selig called it, "historic."
It's also more than a little bit ironic that a game often accused of being stuck in a previous century voted to plow deep into the digital age in lovely Cooperstown, NY, of all places, where sometimes cell phone signals are more difficult to latch onto than typewriters and quill pens. (And, believe me, that is not a knock).
The gist of what the owners will vote on and are expected to pass in November: Managers will be allowed one challenge of umpires' calls during the first six innings of each game, and two from the seventh inning onward.
Challenged calls will be reviewed by an umpiring crew at MLB headquarters in New York City. Braves president John Schuerholz, a member of the rules committee who is proposing this change, said that 89 percent of incorrect calls made in the past will be reviewable.
Instant replay will not extend to balls and strikes, and that's about the only area that will remain off-limits.
Otherwise, beginning in 2014, assuming the owners approve this, the umpires will get some help. Instead of a manager arguing a call on an attempted steal of second base, that argument can be circumvented by replay.
Quite simply, it's time. It's beyond time.
If I can sit at home and use my TiVo instant replay button to jump back seven seconds and re-watch a play, then it is just plain nuts for baseball NOT to figure out a way to expand replay without adding significantly to the time of its games.
Joe Torre, also a member of the committee proposing this idea, always has been hesitant to implement a "manager's challenge" because he thinks managers already have enough on their plate. The manager's challenge is the one part of this that leaves me skeptical.
But if Torre, Schuerholz and Tony La Russa, three of the smartest baseball men of our age, can't figure out a better way to do this ... then maybe a better way doesn't exist.
Here's the problem with skipping the manager's challenge aspect and simply having that umpiring crew back in New York decide when a call should be overruled: You would need 15 different umpiring crews watching the games in New York, not one.
Because one umpiring crew cannot watch every game at once, spot a questionable call in, say, Cleveland, quickly ring Progressive Field and stop play ... and spot another questionable call in, say, Houston, that happens within two minutes of the Cleveland play.
So until the owners want to employ a replay monitor for every single game -- a "fifth" umpire, if you will, assigned to each game from New York -- it's simply not feasible.
But who knows? Maybe the owners will wind up spending millions more and do just that if the manager's challenge system doesn't work as intended.
The guess here is that it will. Because, again ... Schuerholz, La Russa and Torre, that's a wealth of Abner Doubleday IQ.
Of course, when baseball loses the feed of a couple of games back to headquarters in New York and replay suddenly is not available for a controversial call and the umpires blow it, the screaming will surface all over again.
As I say, nothing is perfect. Nothing can be perfect, not even instant replay.
But the point is to keep nudging the ball as close as we can get to perfection, isn't it?
Where might the Orioles third baseman land?

Kinsler will slot in at second base for the Angels

The Marlins got a better return for Ozuna than Stanton or Gordon
The two teams are going about things in very different ways

The Marlins are indeed in teardown mode under new ownership

The Marlins still have more attractive pieces