IMPORTANT: Brewers retained EOB Heavyweight title over weekend
With yet another series win, the Brewers are still the Eye on Baseball Heavyweight Champions of the world.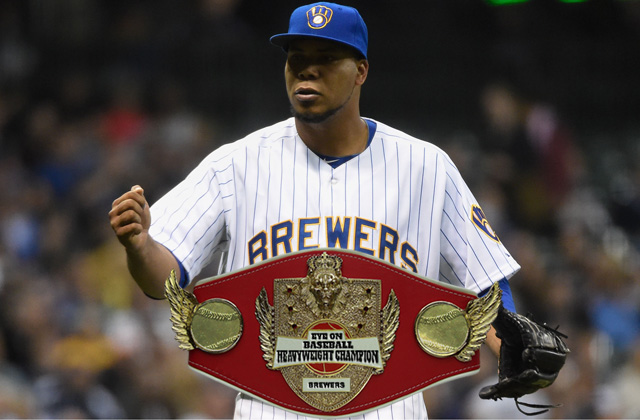 More MLB: Power Rankings | Expert Picks | Latest news & notes | Fantasy news
They only needed to win two of three games to retain the all-important Eye on Baseball Heavyweight Championship, but the Milwaukee Brewers went out and swept the Pittsburgh Pirates for good measure this past weekend. Among other things -- like having the best record in baseball -- this means the Brewers are still the champs.
Wait, what?
Yes, some unfortunate people still don't know what this means. That's OK, though, we'll catch them up. The Eye on Baseball Heavyweight Championship is a fictional but unbelievably important creation by us EOB writers. We started it last season. The Giants won the 2012 World Series, so they entered the 2013 season with the belt. In order to win the belt, a team must win a series -- not a game -- from the champs. A tie, in a two- or four-game series, won't cut it. It has to be a series win.
So, heading into 2014, the World Series champion Red Sox were the belt-holders. They won their first series of the season and retained the championship. The Brewers, though, swept the Red Sox in Fenway Park to steal the belt and haven't lost since.
Next up for the Brewers is the St. Louis Cardinals and this is a big series. Not only are the Cardinals the favorites to win the NL Central and trailing the Brewers by three games, but they also held the belt longer than any other team in 2013. You know they care immensely about this prestigious strap. The Brewers probably do, too. I mean, why wouldn't they. There may even be a fight this series due to tensions being so high. It's that important.
2014 Title History
Red Sox: March 31-April 5
Brewers: April 5-present
In conclusion, I'll save you the trouble: This is news because it's awesome. That's how/why.
The Marlins are indeed in teardown mode under new ownership

The Marlins still have more attractive pieces

The A's need outfield help, and the Cardinals have a glut
Minnesota has designs on the best starting pitcher available on the free agent market

The Cardinals have long coveted the Miami outfielder

The superstar slugger is eligible for free agency after next season