Important link: Prince Fielder sliding into bases
The Tigers' Prince Fielder hits monster homers, but his sliding ability is very underrated.
More MLB: Scoreboard | Standings | Probable Pitchers | Sortable Stats | Odds
There aren't many players in the game more fun to watch than Tigers slugger Prince Fielder. The dude hits monster home runs and drums up elaborate high-five routines with his teammates, all of which are a joy to watch.
As an added bonus, Fielder is also a really big guy and it's kind of funny to watch someone that size run the bases. It's even more fun to watch him slide into bases. So fun, in fact, that there is a tumblr dedicated to chronicling Fielder's slides, which is aptly named Prince Fielder Slides. Simple enough.
There are only a handful of entries so far, but this one is my favorite:
It's even better when you rotate it counter-clockwise so it looks like Fielder is falling off a cliff before grabbing onto the base for dear life: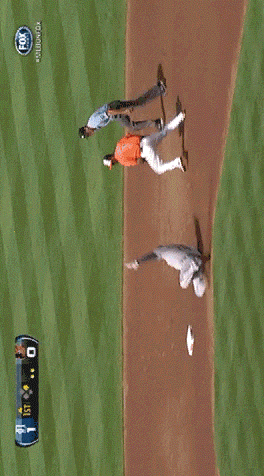 To paraphrase long-time big leaguer John Kruk: These guys aren't athletes; they're baseball players.
Needless to say, make sure you click the link and check out all of Fielder's slides.