IMPORTANT: Mets old bullpen car for sale on eBay
The seller is expecting between $20,000 and $30,000 for the old Mets bullpen car, but bidding begins at $10,000.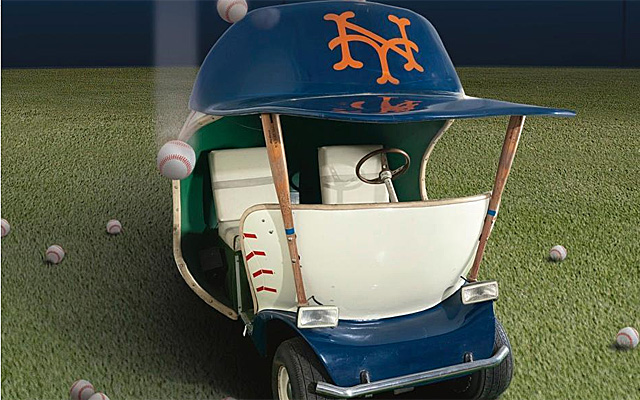 If you have roughly $30,000 burning a hole in your pocket and would like to own an awesome, vintage, MLB bullpen cart, you're in luck. The Mets' original bullpen car is listed on eBay, with bidding set to open at 8 p.m. ET Wednesday evening. Bidding begins at $10,000, but the seller's estimate says $20,000-$30,000.
UPDATE: It sold for a whopping $90,000.
Take a look at the car above and pay special attention to the seats. They are bases! More, via the official eBay listing:
A fantastic example of whimsical Major League Baseball marketing from the late 1960s, used intermittently at Shea Stadium for more than 20 years. Highlights of its use include a memorable appearance at the 1986 World Series versus the Boston Red Sox and then again in 2003 when Mets Captain John Franco drove Mets legend Tug McGraw onto the field as part of the team's celebration of the legendary 1973 team. Immortalized by its dramatic appearance at the monumental 1986 World Series Championship in which it entered the field of play following the culmination of the Game Seven win, it promptly ran out of power adding further delight to the victory celebration.

Presented in largely original condition and displaying a lovely patina throughout, it is fully operational and represents an iconic of piece of New York sports history celebrating one of the City's most memorable and important World Series Championship wins.
This is so cool for any baseball fan, but especially Mets fans. Hopefully one of our dear Eye on Baseball readers makes the purchase. If so, I want pictures/videos of your first ride.
Gallardo spent the first eight years of his career in Milwaukee

MLB revenues are at a record high right now, but teams aren't spending it on players

Chicago added Tyler Chatwood earlier this offseason but might not be done adding to the ro...
The Dodgers and Braves pulled off a whopper on Saturday

Sabathia will reportedly spend a 10th season in the Bronx

Fowler suffered a knee injury at Chicago's Guaranteed Rate Field