Improved August numbers could lead to trade for Justin Morneau
Justin Morneau is reportedly on trade waivers, and with his improved hitting in August, the timing could be right for a deal to be made.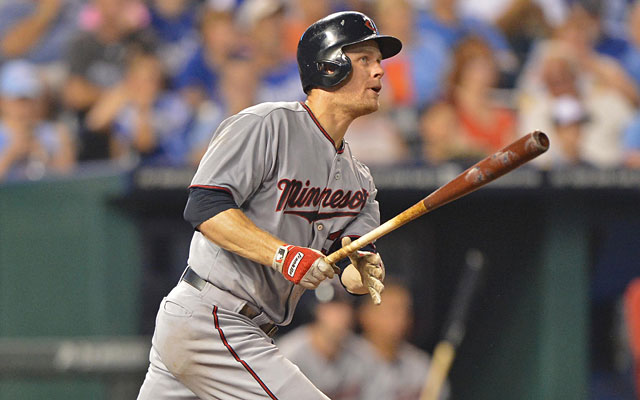 As Scott Miller wrote late last month, Justin Morneau didn't help the Twins' chances of trading him when he slumped badly in July.
The good news for the Twins, potentially, is that Morneau's numbers are much improved this month. And the numbers aren't lying, according to one scout who has seen the Twins recently.
"He's swinging the bat much better than he was," the scout said. "His body looks more lively, too."
Now the question is whether the Twins will be able to work out a trade, and how many teams they'll be able to talk with about Morneau. They put him on the trade waiver list Monday, according to a report from Peter Gammons and confirmed Tuesday by major-league sources, which means they'll find out Wednesday afternoon if any team has put in a claim.
If one team claims Morneau, the Twins can only trade him to that team (or keep him, or simply give that team the contract). If multiple teams put in a claim, the team that was lowest in the standings is the only one the Twins could deal with.
If no team claims him, the Twins would be free to deal Morneau anywhere.
The Orioles were believed to be the team most interested in Morneau in July, so it would hardly be shocking if they put in a claim on him now. The Orioles have struggled with production out of the DH spot, and could have Morneau and Chris Davis share DH and first base.
The Orioles' position in the standings (behind the Red Sox and Rays, and with a worse record than the Rangers and A's) would help them in the event multiple teams put in claims. Priority for claims first goes through the Twins' own American League, so a team like the Pirates would basically need for every other team to pass.
Morneau is in the final months of a five-year, $80 million contract (he has about $4 million to go of this year's $14 million salary), so there's little incentive for the Twins to keep him. When he slumped to a .596 OPS in July, with just one home run in the final 17 games of the month, it looked like they would have little choice.
But Morneau finally hit another home run on the first day of August, and he has hit five more in 11 games since then. His August OPS is .969, which would be his highest for any month since May 2010.
The lefty starter is coming off a terrible season

After acquiring Ian Kinsler and Zack Cozart in recent days, the Angels are trending upward

Cozart's coming off a big season as the Reds' shortstop
The veteran slugger spent the last eight seasons with Cleveland

The Padres may be poised for an active winter

Yes, Bryce Harper is going to make a lot of money next winter