Improving Padres made quiet try for Headley, but free agency looms
Padres star third baseman Chase Headley and the Padres aren't on the same page in negotiations.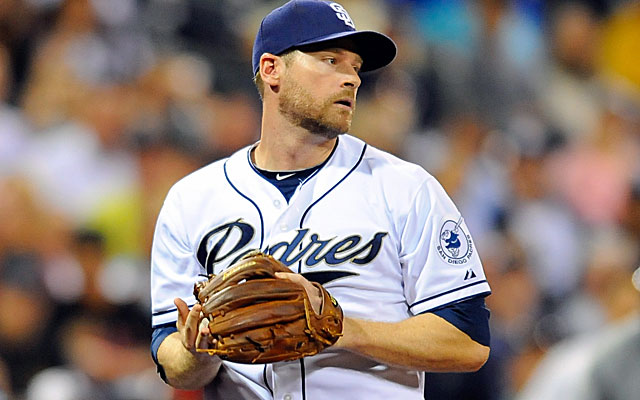 MORE: Spring Training | Scoreboard | FA tracker: hitters | FA tracker: pitchers
SCOTTSDALE, Ariz. -- The Padres made a quiet try this winter to lock up star third baseman Chase Headley, but it appears now that he's destined to become a free agent.
It isn't known what the Padres offered Headley over the winter, but the sides were far enough apart that there's no discussion ongoing. They only both agree at this point that free agency after the year is the most likely scenario for Headley.
Padres managing partner Ron Fowler said last May that the team intended to make an offer that would make Headley the highest-paid Padre ever, seeming to suggest the team would top the record $52 million Jake Peavy contract. Fowler's comment caught Headley off guard, and talks were tabled until after the season, when the Padres made their quiet try.
"This has been a topic for a couple years. There's been dialogue. Both sides have tried. We just haven't been able to agree to the essential deal parameters," said Padres general manager Josh Byrnes, who declined to discuss the talks over the winter. "There are no active discussions. But the door's always open."
Headley's agent, Casey Close, didn't return a message.
While the door is open, there is indication, Headley, who is eligible for free agency after this season, isn't ready to put down his baseball equipment and re-start negotiations. He made it clear in talking to Padres writers at the start of spring that his focus is on the field, and that he had no intention of doing anything to change that. Headley is seen as a very serious player who meant what he said.
The Padres, deep in positional talent and improving on the mound, look like they could be a surprise team in the National League. Josh Johnson, also a free agent after the year, looks ready to have a nice year back in the National League, and added experience should benefit the young team.
"It's not fair to the guys in the clubhouse to have anybody's attention focused on anything but trying to win and trying to do your best for the team," Headley told Padres writers when he got to spring training.
The team has informed Headley, who hit .250 with 13 home runs and 50 RBI last year after a monster 2012 season, that it intends to make him a qualifying offer, as things stand now. The Padres had decent chances to trade Headley, especially at the deadline in 2012, but they benefited by his huge second half that year, and his presence gives them a chance to threaten this year. The Padres like Headley, 29, and haven't completely given up the idea of bringing him back, but they probably understand he'd have to fall back into their lap at this point.
And if he isn't completely out of their price range now, if he comes close to repeating his 2012 season, when he led the National League with 115 RBI, he most certainly will be.