In a rotation with Strasburg and Gio, Zimmermann may be Nationals ace
Jordan Zimmermann has the best numbers of any Nationals starter this season, and one scout following the team says it's not a fluke.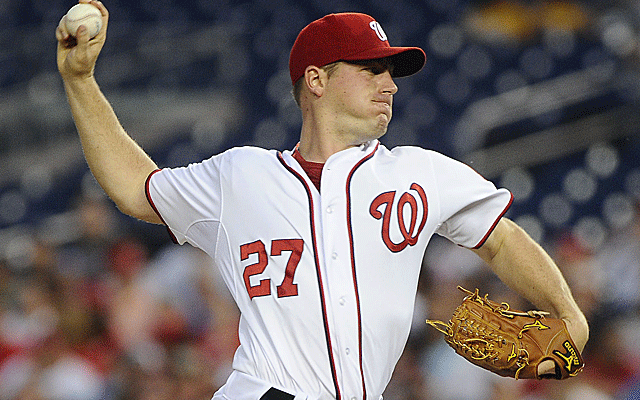 In Sunday night's 3 to Watch, I suggested that neither the Tigers nor the Nationals would have their ace available for this week's two-game series in Washington.
Monday afternoon, a scout who has followed the Nationals told me why I was wrong.
"Jordan Zimmermann is the ace of their staff," the scout said.
The early-season numbers would certainly suggest that. Zimmermann is off to a 5-1 start, with a 1.64 ERA that ranks four in the National League. The numbers say Zimmermann has outpitched Stephen Strasburg, the Nationals' opening day starter, and Gio Gonzalez, the 21-game winner and Cy Young vote-getter.
But the scout's opinion was based on more than just numbers. He didn't say Zimmermann is pitching better. He said that Zimmermann is better.
"His stuff is so much better than Strasburg's," the scout said. "Strasburg's stuff has gone backwards. Zimmermann is throwing 95-96 [mph], with two different breaking balls that he throws for strikes. The hitters will tell you it's tough to pick up. And he's so free and easy."
As for Gonzalez, whose 4.97 ERA is three runs higher than it was at this time last year, the scout said hitters have adjusted to him.
"They're starting to do what American League hitters did, and get him into high pitch counts," the scout said.
Meanwhile, in Zimmermann's last two starts, against good-hitting lineups from the Reds and Braves, he has pitched 17 scoreless innings while allowing just three hits.
The Tigers won't see Strasburg or Gonzalez. They won't, however, miss the Nationals' ace.
He starts Tuesday night.
In the last several years, lots of droughts have ended in MLB

The most likely scenarios are Dodgers winning in five or six games

Despite a seven-game ALCS, the Houston rotation lines up nicely for the World Series
Sabathia and the Yankees are a perfect fit for each other

Bregman threw out Greg Bird at the plate to preserve the Astros' lead

The 2017 World Series begins Oct. 24